How to Burn AVI to Blu-ray/ DVD on Mac & PC
It's true that the manner of enjoying our video has gone to digital these days. We use smartphone to watch quality 1080p AVI movies online via wifi; we use tablet to play downloaded .avi videos and TV shows on our vacation, we upload interesting .avi footages to YouTube and Facebook to share with friends. However, the creation of a DVD or Blu-ray on Mac/ PC from AVI and other files is still an effective way to store and share home movies, kids growth memories, and more - Whether you want to enjoy them on your home entertainment system with family, send to friends as a festival gift; or just keep the data safe from accidentally deleted on your device.
AVI is a container file format used for digital video, it uses lots of different combinations of audio/video codecs to encoding data in container. You can find Xvid .avi, DivX .avi, MJPEG .avi, MSMPEGV3 .avi and HD h.264 .avi video files in our AVI video collections. Thanks to disc burning software, burning AVI files to Blu-ray or DVD on a Mac & PC that you then can view on your home theater is not only possible, but simple.
There're plenty of Windows and Mac based AVI to Blu-ray converters that tackle this sort of thing out there. Today we're going to use a program named Blu-ray Creator, a cross-platform utility to convert and burn your AVI to a Blu-ray on Mac and Windows machine.
This program one of the most popular DVD and Blu-ray Disc burning software available for Windows. Using it you can easily create DVD and Blu-ray from almost every modern digital format including (high-/standard-defintion) AVI, MP4, H.264, WMV, MOV, MKV. You can also use it to create disc folder, ISO image or photo slideshows. If you're running a Mac, you may use Blu-ray Creator for Mac to convert your video files including .avi onto a Blu-ray in Mac, or to DVD disc.
The installer is fairly straight-forward and so requires no instructions.
The process of burning AVI video to Blu-ray in Mac or Windows machine is simple enough - Add your AVI movie clips, choose your preferred menu template and burn. The creation of Blu-ray disc from other digital videos is simple enough as well. You can see another instruction about how to burn MTS to Blu-ray on Mac here.
The following is the basic guide, let's begin:
How to Burn an AVI file to Blu-ray and DVD for Mac OS X
STEP 1
Put the AVI file(s) to the software
Launch the Blu-ray Creator, from there you select the AVI file(s) that you want to burn into BD with clicking on the "Add Video" icon on the top menu. This will bring up the file browser in which you locate the files on your local computer folder and click Open.
On the right side of added item, you can hit the "A" option, and then select external subtitle streams to the item.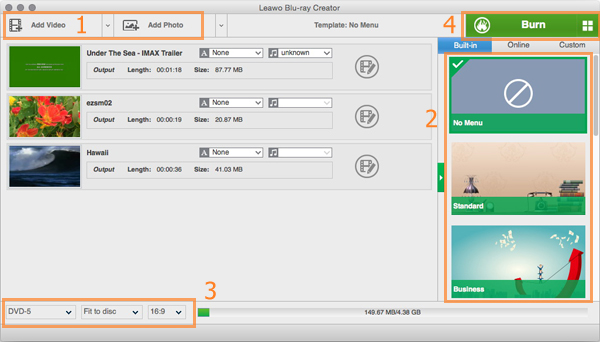 Please be aware that as you add items, keep an eye on the space remaining total at the foot of the window. Generally, a DVD-5 disc can hold 4.7 GB data, and DVD-9 is 8.5 GB; while a BD-25 storage capacity of 23 GB, and BD-50 is 50 GB.
Then insert to a blank Blu-ray disc into your computer.
Now that we have our AVI video files loaded, you will set the Menu style to "No Menu" or select a menu template from the built-in list on the right side pane.
The AVI to Blu-ray converter for Mac has an array of diverse but well designed styles of disc menu templates available for you to choose from, so that you can enrich the creation of a disc.
You can then preview what your menu will look like by clicking on the center of the menu (a picture with eye will display when you move mouse on it).
If you wish to customize the overall format of the templates, simply click on the 'PEN' icon in the top left corner to enter the editing mode. And you are also allowed to add your own music and photos as background sound and image to the menu by clicking on the options in the bottom left corner.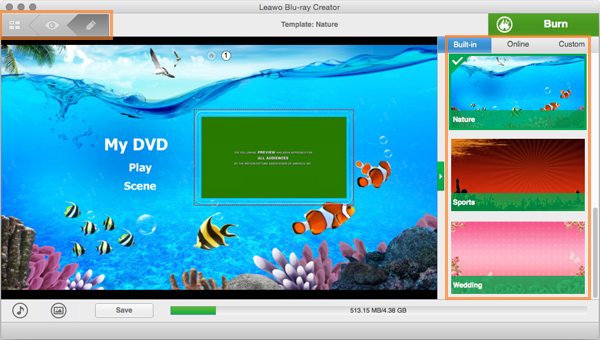 STEP 3
Set output options
After you have selected a menu, you now will have to set the output settings. Click the green "Burn" button on the upper right corner, a small window appears where you will configure the output parameters.
In "Burn to" option, in our case, we need to create a Blu-ray from AVI video in Mac, so here we have to tick the third box which shows related information with the inserted disc.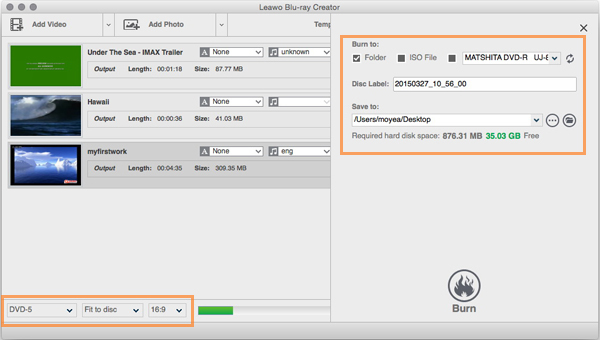 STEP 4
Start AVI to Blu-ray converting
The last step, click the "Burn" button again (see screenshot above) to begin burning AVI onto Blu-ray disc on Mac computer. Be patient.

The burning process can take some time depending on the type of Blu-ray, the AVI files that have been selected to be burned and the power of your Mac.
After the process finished, you can pop the disc into the Blu-ray player in your home entertainment system to make sure the disc plays correctly.
That's it! Have a good time with your Home's Big Screen!