How to Burn H.264 Video to Blu-ray/ DVD on Mac & PC
H.264 is a video compression format to encode HD video content in a container like mp4, avi, mkv; it is widely used for the distribution of digital video streams, such as videos from YouTube, Facebook and the iTunes Store. The H.264 is also known as being one of the standards for Blu-ray Discs.
Despite the world has gone to digital era, there is still a necessary for many of people to convert and burn H.264 movies to a Blu-ray or DVD on Mac & PC – whether it's just for a backup of regular data from being deleted accidently or to watch your favorite h.264 video files on a standalone Blu-ray player with a big HDTV.
Find more about how to burn iMovie project to Blu-ray disc.
The question of how to burn H.264 (MPEG-4 AVC) file onto a Blu-ray / DVD (so that it can be viewed on the home theater) is often asked, as well as a question about what BD burning program you should get to burn the file. Luckily, to burn videos, audios or digital photos to optical disc, create disc folder and back up to ISO image, there's numbers of versatile utilities that masters all of these tasks.
Blu-ray Creator for Mac is just the tool that takes care of pretty much of works involved in burning disc. It allows you to convert the h.264 video to Blu-rays and DVD discs on Mac as well as other type of files as input, and has pre-built menu templates available for you to produce quality discs very quickly. If you wish to add your own song tracks and image file as background to the menu, this Mac H.264 to Blu-ray converter also gives you customization options to get the job done.
It's a cross-platform program, if you're running a Windows machine and need to burn your H.264 movie to Blu-ray or DVD, please check out Blu-ray Creator for Windows.
Once you download and install it you will be ready to convert and burn H.264 files to Blu-ray (or DVD) directly or to an ISO file to burn later on. Other burning tasks like MKV to Blu-ray, MTS to Blu-ray, etc., are exactly the same as the H.264 burning.
Here we take the Mac process for example.
How to burn h.264 video(s) to a playable Blu-ray on Mac
STEP 1
Copy your H.264 item(s) to the program
Fire up the program. You can simply use drag-and-drop feature or click "Add Video" option on the top menu to put individual H.264 files or an entire h.264 folder onto the program screen. A bar at the bottom indicates how much space is left for the type of disc.
Next, insert a recordable Blu-ray disc with enough free space to your Mac.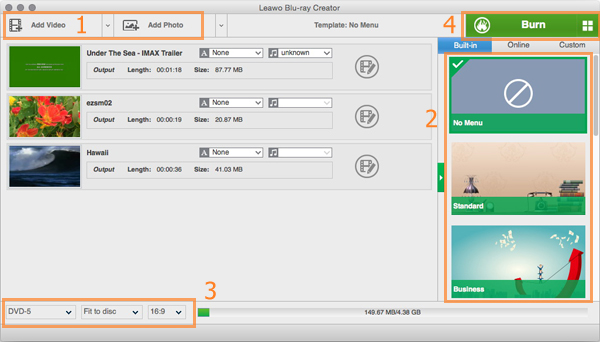 After the items imported, the screen should look like the picture above, where you can accomplish some basic video editing for the items by clicking on the "Edit" icon on the right side. It is an optional step.
STEP 2
Select a menu to enrich the creation of disc
If you would like the Blu-ray to have a menu, select a menu template from the right-hand side of the window. The h.264 to Blu-ray Mac converter includes pre-installed multiple templates for you, and has online download service available.
You then may preview the menu by clicking the thumbnail of the menu; it will look like the picture below: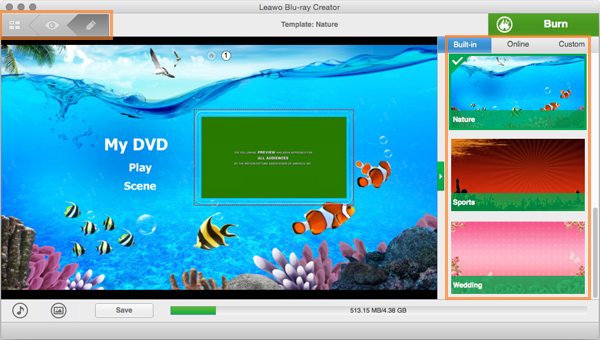 Next, if you wish to edit the menu, click the 'PEN' icon on the upper left-hand side next to 'EYE' icon, this will activate the editing. Every item of the original menu can be re-edited.
For those who would like to add your own files to the background, use the 'SONG' and 'PHOTO' option on the bottom left side.
Click the Green "Burn" button on the upper right corner of the screen, a small window pops up.
From there in "Burn to", you will see your three options. The first for a disc folder, the second for an ISO File and the third one for a Blu-ray disc. In "Disc Label" type a name for your disc.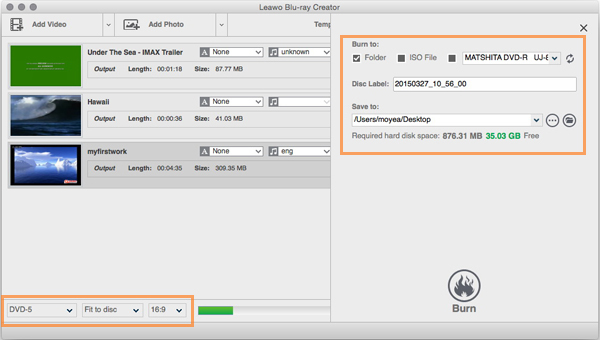 On the lower left side, you can select BD-25 (single-layer) or BD-50 (dual-layer) discs of any type to burn the project to, and set a burning speed and resolution. Here we select BD-25, Fit to disc and 16:9.
STEP 4
Start burning h.264 on Mac to Blu-ray
It's time to begin burning h.264 to Blu-ray on Mac OS X now. Click the "Burn" button on the small window, and let the program do its rest.

When the creation of Blu-ray disc from h.264 quality file start, the software displays the individual remained time as well as the time remaining to complete the process in the progress bar.
That's it!
More Tech Tips
FLAC to MP3 Mac - convert the audio tracks from lossless .flac to .mp3 format