How to Burn iMovie Project to Blu-ray/DVD
iMovie is a video editing software application included in Macs that lets you process common and high-definition video from AVCHD camcorders and H.264-compressed video from MPEG-4 or QuickTime Movie files, and export to create beautiful movies and Hollywood‑style trailers. If you are a fan of physical media, you may want to create Blu-ray or DVD disc to store and share the video project you done in iMovie. That is what we're going to talk about - how to burn an iMovie project to a Blu-ray or DVD on Mac.
iMovie itself does not support any creating of Blu-ray and DVD. For playback iMovie project on a designated Blu-ray/DVD player, you need a disc burning app that creates the video-disc. If your video files exported from iMovie play correctly in QuickTime player, you can just drag it into the iDVD of iLife suite and it can burn to DVD on your Mac. But to create Blu-ray disc from iMovie video on your Mac, you'd need third party applications.
Since iDVD is discontinued by Apple for years, there's no free built-in alternative in Mac to burn iMovie file to DVD, not to mention the latter Blu-ray. How can you burn an iMovie project to a Blu-ray and DVD without iDVD?
Fortunately, Blu-ray Creator for Mac is one such tool. It's an all-in-one yet easy-to-use utility for Mac that has the ability to make both DVD and Blu-ray disc from your iMovie project with only a few clicks. It also supports a wide range of photo / video file formats (not just the iMovie video projects) as input like Mac MP4 to Blu-ray, M4V to Blu-ray, etc., and allows you to burn files to ISO image, disc folder and photo slideshow.
If you at the same time have a PC machine and wish to burn iMovie video project from your Mac onto a playable Blu-ray and DVD on your PC system, please try Blu-ray Creator for Windows.
Tips: As the picture quality of a DVD has a limit to 480p in resolution, you would lose a lot of quality when you try to burn copies of quality iMovie files that have a higher resolution such as 720p and HD 1080p to DVD. Instead, we suggest you burn them to a Blu-ray.
To ready the burning process, you should first export iMovie project as video files, the general steps are below:
1. After you've finished editing your movie in iMovie, click Share --> File in iMovie 10.0 (or Share --> Export Movie in iMovie'11/'09/'08). Click on Next.
2. Type in a name and set a path for your movie and click Save.
See also: how to burn Photos slideshow to Blu-ray disc on Mac.
How to convert iMovie movie file to Blu-ray and DVD for Mac OS X
STEP 1
Import iMovie movie file(s)
Launch the software, drag your exported movie files from iMovie into the main window.
Alternatively, click on the "Add Video" button on the top menu to have your iMovie projects loaded.
Next, check out the calculator bar on the bottom to make sure how big a Blu-ray you'll have to prepare, and insert a recordable BD disc into the drive that connected with your Mac.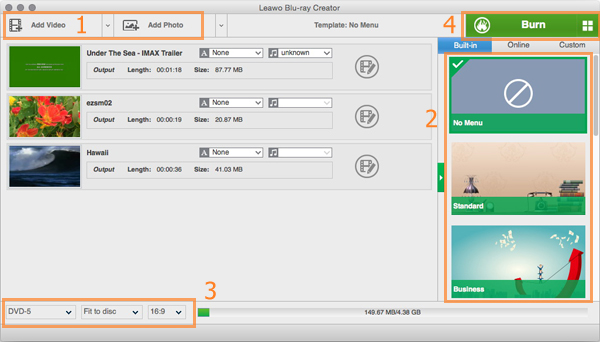 STEP 2
Choose a menu or not
The next step is to select a Blu-ray menu template for your creation. On the right side of the screen, there are a variety of menus available for you to choose from.
You can preview how the menu you select looks like by clicking on the thumbnail of the menu, and you can see the effect on the left side of the portion.
Additionally, you can edit the menu by clicking the 'PEN' icon on the upper left side, from there you can customize the menu texts, move the items position and change the background image/track of the menu to a picture/song of your choosing through the 'MUSIC' and 'IMAGE' icon on the bottom left side.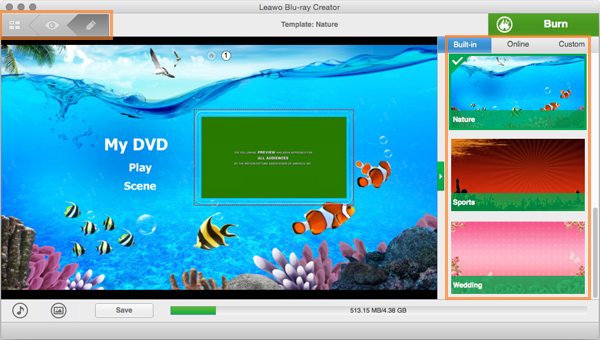 Once you've configured the menu, click the green "Burn" button on the top right corner, you'll be presented with a dialogue window like the screenshot below, where you choose what you want to convert your iMovie files to. The program has three options for you to burn iMovie project: DVDs and Blu-ray, ISO image, as well as creating disc folder.
On the bottom left corner, set your disc related values: type of disc, burning speed, and frame ratio.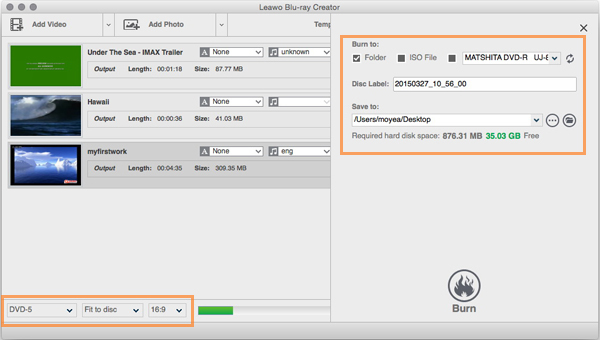 STEP 4
Burn iMovie project onto Blu-ray in Mac
Now you are ready to burn. Again, hit the "Burn" button on the bottom of the settings screen. The app will begin converting your iMovie video file to Blu-ray for Mac.

And then after hours wait, depending on the size of iMovie movie file and your Mac's hardware, you're done!
There you go! To make sure the new created Blu-ray plays correctly you can test it out on a BD player.