How to Burn M4V to Blu-ray/ DVD on Mac & PC
Nowadays, most of us likely to watch our M4V movies and other digital files onto handheld devices like iPhone, iPad, but there is still sometimes a need to burn a M4V to a Blu-ray or DVD that can be played on a regular BD or DVD player. For example, you create a slideshow with favorite footages in iPhoto and exported it to a M4V file, instead of viewing it on an iPhone, you would prefer to get the M4V burned to Blu-ray so you can then distribute it to parents to play in home theater center with a Blu-ray player.
Actually, burning M4V files to a Blu-ray or DVD on Mac and Windows doesn't have to be difficult or time-consuming, as long as you get a right disc burning application. Please bear in mind that as DVD's only support a standard definition display with image, if your M4V videos have the resolution higher than 480p, such as 720p, 1080i, 1080p or above, your modern videos won't look their best in DVD. Instead, converting and burning the quality M4V videos to Blu-ray disc is a better option.
If you're running Mac OS X, Blu-ray Creator for Mac is one of the most popular options for disc burning. It lets you easily convert videos in M4V format to Blu-rays and DVDs in Mac, and supports converting a huge number of audio and video file formats such as WMV, AVI, MKV, MP4, MOV to Blu-ray. The software also covers other of your optical needs, including support for burning disc folder, ISO image and photo slideshow.
The application provides a cross-platform version – Blu-ray Creator for Windows for Windows users to create DVD and Blu-ray from M4V or other digital video files in PC machine.
To learn how to use Blu-ray Creator to convert a M4V to a Blu-ray or DVD for Mac OS X or Windows system, just run through the steps in our simple guide. Here we take the Mac process as example.
How to burn a M4V file to fit on a Blu-ray & DVD for Mac OS X
Open up the software, you will find the main screen is very intuitive. Everything is pretty straight forward
You can then drop-and-drag M4V video files you want to fit onto a Blu-ray onto the program, or use "Add Video" button to finish the file-adding.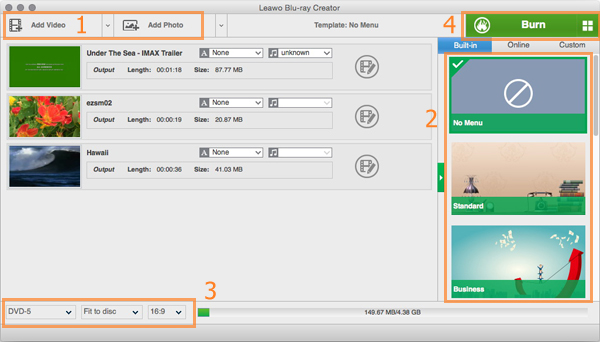 The Mac M4V to Blu-ray converter program has a useful progress bar on the bottom that shows how much space on the disc you have used, so you have a choice to decide what type of disc you can use for the burn.
Then insert a blank disc (BD or DVD, depending on your need) to the computer.
STEP 2
Select the Menu style
The app includes many pre-installed menu templates you can choose from. Simply click on the thumbnail of the menu on the right portion of the window, the preview will automatically display on the left portion.
To edit the menu you select, click the 'PEN' icon on the upper left-hand side. Here you can change the button text, font type and color of the menu. Also, you can add your own music and digital photo as background through the options at the footer left side of the window.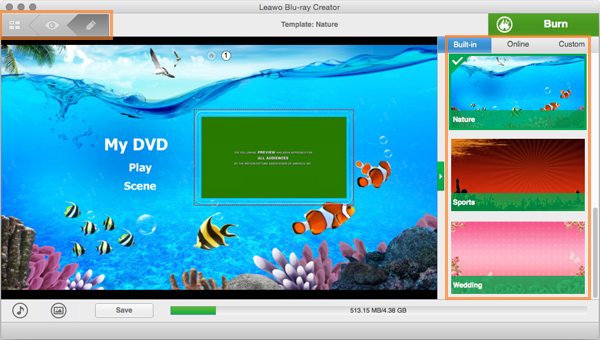 The settings panel will pop up as soon as you click the "Burn" button at the upper right side of the main screen. In panel, you will need to choose the way you want to burn your M4V videos. There are 3 options available for you: Folder, ISO File and BD/DVD disc. In our case, we tick the "BD/DVD" option to create a DVD or Blu-ray disc from M4V file.
Yes, It's a good idea to tick the "ISO File" option at the same time, so if something goes wrong during the disc burning process you don't have to encode your video file again.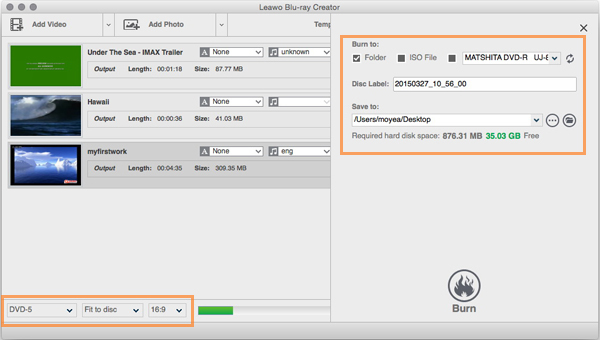 STEP 4
Begin burning M4V to Blu-ray or DVD on Mac OS X
The simple step, click the "Burn" image button (see screenshot above) and let the program do the rest.
The program will now start burning your M4V videos to a Blu-ray or a DVD in Mac, and a few minutes or hours later your new Blu-ray / DVD Video disc will be ready.

That's it! You can now pop the disc into your disc player and watch it on your entertainment center. Enjoy!