How to Burn MKV to Blu-ray/ DVD on Mac & PC
MKV (.mkv) is one of the most used container files for high definition (1080p, 720p) digital videos. It can combine multiple video files, audio files, subtitles and chapters, as well as rich metadata all in one.
There is nothing worse than downloading some high quality 1080p MKV movies or TV shows, only to stream them onto MKV player on your personal computer. And even if you have portable devices like smartphone and tablet to play the MKV files on the go these days, it's still nice sometimes to burn those MKV files (audio+video) to Blu-ray to view in a BD player to share with family and friends.
Although some Blu-ray players in market can decode a few file types including .mkv extension to play (MKV) video files directly, you would better burn .mkv to Blu-ray on Mac & PC to create a really BD movie disc so that you then can put it onto all brands of BD players. See also: QuickTime files to Blu-ray.
The only problem is that how can you get a reliable MKV to Blu-ray converter that can be used to create a movie Blu-ray disc from MKV files on Mac OS X or Windows environment?
Thankfully, there are a lot of ways to go. Blu-ray Creator for Mac is quite handy when it comes to Blu-ray and DVD and burning MKV videos to it.
It is a feature-rich application that has been popular for quite a long time. It supports all types of digital videos including MKV as an input, and burns to both Blu-rays and DVDs with stylish templates. As an added bonus, it can burn your (MKV) video files to Blu-ray/ DVD folder or ISO image file to use later on your computer. Besides, you can also use it to create photo disc slideshow from any video, music, photo files. For those who're a Windows PC owner, please go with Blu-ray Creator for Windows to get your files burn.
Here below is a Mac guide which will show to burn a MKV file to Blu-ray for Mac.
How to convert MKV videos to a playable Blu-ray in Mac
STEP 1
Put MKV source files onto the program
Insert a blank Blu-ray disc to the external BD drive connected with your Mac.
Open up the program, you will find a simple wizard-based main interface which makes operation very easy. The .mkv to Blu-ray converter is aimed at both the beginner and advanced users, and therefore keeps its categorized burning options as easy-to-understand as possible.
Now, click the "Add Video" button on the top menu bar, this will bring up a dialogue window before you. Navigate to your local folder and pick your MKV video files you want to burn to fit onto a Blu-ray. Or simply use drag-n-drop feature to copy your MKV onto the program.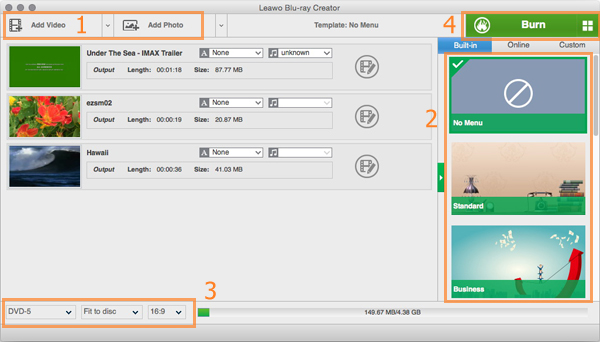 Optional. Select your video item and hit the 'Edit' button on the right side. This is where you'll be doing a lot of your customization of video: Trim, Watermark, Crop, Effect and 3D.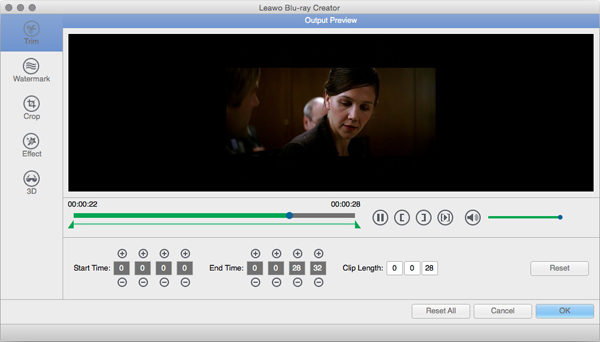 STEP 2
Select a Blu-ray menu templates or not
On the right pane of the window you have stylish BD menus that you can choose from to enrich your MKV video creations. The Mac MKV to Blu-ray converter includes pre-designed different styles (Nature, Sports, Wedding, Business, Education and Holiday) of templates for you. you can design the main / chapter menu and submenus.
After you apply a menu template for video, you can preview it on the left pane.
By clicking the 'PEN' icon on the top left side (see screenshot below), you have the ability to customize the default menu, which is very cool if you just create a disc as a gift. Menu texts can be re-write, and all items can be re-arranged in position. For the 'Music' and 'Image' icon options on the bottom left side, you can add external audio track that you want to include in the menu as background music, and external digital photo as background image.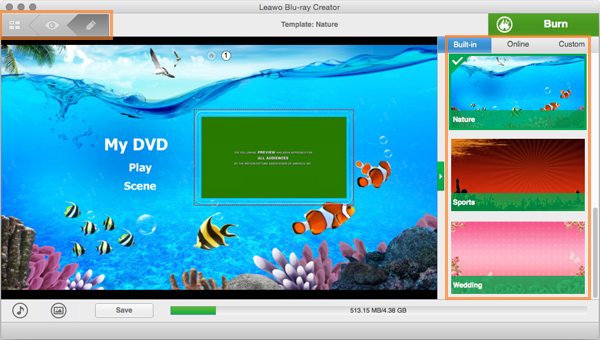 STEP 3
Configure your project settings
Next, on the bottom left side of the main screen, set the corresponding values to "BD-25" or "BD-50", "Fit to disc" and "16:9".
Then, click the green "Burn" button on the top right side, this displays a small window where you have to tick the option related to your inserted disc in "Burn to", and set a Disc label if required.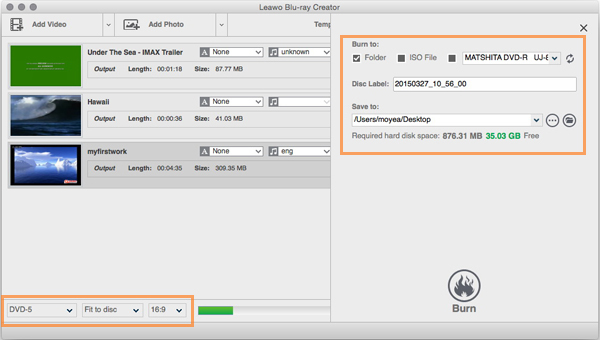 STEP 4
Begin converting MKV to BD on Mac OS X
Now that you've got all stuff sorted out, now to get started burning your MKV to Blu-ray disc for Mac.
Click the "Burn" button again (see screenshot above), let the program do the rest and you're off.

That's it! After the MKV burning complete, you can pop the disc and view it on your big TV using a Blu-ray player.
More Tech Tips
MKV to MP4 Mac - transcode videos in .mkv format to an MP4 digital file type