How to Burn a MOV to Blu-ray/ DVD on Mac & PC
Nowadays, we may be more likely to enjoy our favorite QuickTime .mov and other movie files with a smartphone or a portable tablet, but physical BD and DVD media are still a very useful option to store and share your files. You are capable of creating DVDs from common MOV files, and Blu-ray movie disc from full quality 1080p MOV file on Mac and Windows, so that you can play on a regular dvd/BD player and watch on a big TV.
There are a variety of free ways to burn your MOV to a DVD with a computer. While Microsoft offers a built-in DVD authoring utility - Windows DVD Maker to burn music, movies and photos for Windows 7 users, Mac users can do such things without having to find other software as long as you have the iDVD of iLife suite. However, things get tricky when it comes to converting an MOV to fit on a single Blu-ray for Mac and PC machine. Both Windows DVD Maker and iDVD can't recognize Blu-ray (BD) disc.
So, in that case, you need one piece of BD-targeted burning software. While there are lots of options out there available, we suggest Blu-ray Creator for Mac for the tasks. It is a Swiss Army knife for Macs that lets you create both regular DVD and Blu-ray disc from MOV video file and a variety of other formats like home made videos and digital photos. It'll even help you touch up the items before you burn them to Blu-ray disc. The software also runs on Windows, you can go and check it out here - Blu-ray Creator for Windows.
The following I'm going to show you how to burn QuickTime MOV to a Blu-ray (in Mac) that will play in a regular Blu-ray player. The steps are simple enough - Import your videos, set up BD menu if you'd like, and then burn.
How to burn .mov files to a playable Blu-ray / DVD for Mac OS X
STEP 1
Add your MOV files (most formats are supported)
Insert a blank recordable Blu-ray disc to the computer, and open up the program.
To add individual (HD) .mov video to the program, click the "Add Video" button on the top left menu bar.
To add a whole slew of (HD) .mov files, hit the arrow icon next to "Add Video" and choose the "Add Video Folder" option from the drop-down menu.
Alternatively, dragging the QuickTime mov files you need to be burn to Blu-ray onto the window of this Mac app.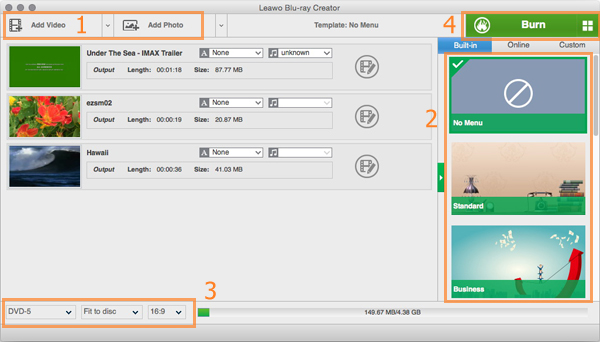 Tip: The MOV to Blu-ray converter allows you to create photo BD slideshows, you can take videos, music as well as photos as input and burn them all to a disc.
STEP 2
Customize a Blu-ray menu or not
On the right side pane of the screen, there are a great set of built-in stylized templates you can choose from.
Preview the menu: After you have template selected, you can preview it on the left pane to make sure that it navigates the right way. See the screenshot below.
Edit the menu: You can also edit the menu for a personalized looking. Click the 'Pen' icon on the top left side to enter editing mode - you edit the menu text, move the position of every item on the center of the pane.
Please keep in mind that if you wish to add external background music, videos and image to the menu, you may click the 'music' and 'photo' icon options on the bottom left side to finish the task.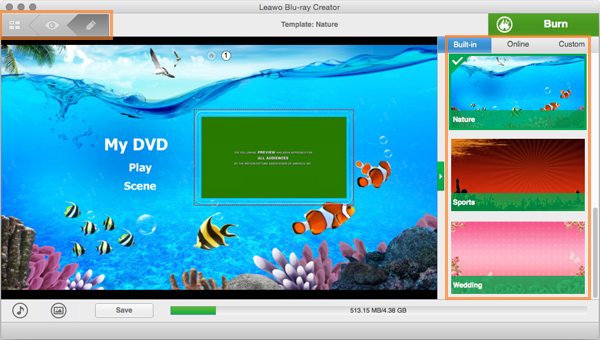 Next, let's take a look at the output settings and make sure everything's as you want it.
On the lower left side of the main screen, in our case, as we want to burn the mov video to a Blu-ray, so we here set the value to "BD-25" or "BD-50", and "Fit to Disc", and "16:9".
After that, click the big green "Burn" button on the upper right side, this will display you a small dialogue box where asking you what you want to burn the files. Make sure that the "Burn to" parameter in the box is set to your BD disc. If you want to burn to "ISO file" or "Folder" as the same time, you tick them all.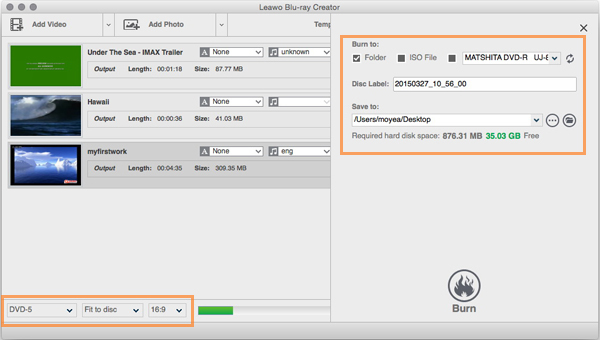 STEP 4
Burn MOV to Blu-ray on your Mac with a click
Again, you simply hit the 'Burn' button. The disc will start to burn.

That's it! Now just sit back and wait for the software to finish to process of converting .mov to Blu-ray for Mac.
After the conversion is complete, you may eject the disc and give a test if the BD works on your BD player.
Enjoy!
Here are the full instructions for TV shows to Blu-ray.
Related External Source:
iDVD: iDVD was part of the iLife suite. It is designed by Apple to be used to create standard DVDs with videos such as .mov made by applications such as iMovie, iPhoto, FCPX projects. It can't help you burn (.mov) videos to a Blu-ray disc. The bad news is that it was no longer provided by Apple in new Macs.