How to Burn Photos Slideshow to Blu-ray/ DVD on Mac & PC
The world has gone digital. As for a Mac user, Photos application is a great digital photograph manipulation software to organize, edit, print digital photos and create beautiful slideshows to share on Mac, iOS devices, iCloud, and even your PC anytime. While the situations are changing, there's still a real need to create a Blu-ray from slideshow exported from Photos for Mac, whether you want to make a beautiful gift for sending to friend, or just keeping the precious moments for yourself.
The good news, there are a library of Blu-ray converters out there do a very respectable job of burning Photos slideshow to Blu-ray on a Mac, as well as making Blu-ray from slideshows you made in iPhoto, which is discontinued and removed from the Mac App Store by Apple in 2015 after the OS X Yosemite 10.10.3 released.
If you're looking for a simple way to take the iPhoto or Photos slideshow and burn to a Blu-ray then Blu-ray Creator for Mac is going to be your first choice. It is a versatile piece of software that can handle both Blu-ray and DVD burning from anything includes every movie files, photos, slideshows, music you can think of. It allows you to select from a list of different menu templates. If you need more control, the program has built-in editing tools to edit your slideshows, add soundtrack, and tweak things like brightness, contrast, saturation and more.
When you've transferred slideshows created in Photos or iPhoto from your Mac to another Windows machine, you can then use Blu-ray Creator for Windows to get iPhoto/ Photos slideshow to Blu-ray and DVD disc.
Before the actual burning task, you should export the slideshow out of Photos or iPhoto as a movie file by using the "Export" button in the toolbar. Just one note - in "Format" pop-up menu that you want to choose a file type for the exported slideshow, 480p (standard definition) is good for standard definition TV, in that case, you can choose to burn the Photos/ iPhoto slideshows to DVD. Or if you want play the slideshow on a HD TV, you'd better choose 720p, 1080p or 4K, and at the same, burn the photos slideshows to Blu-ray on Mac.
Related: how to burn Sony, Panasonic, Canon Camcorder 1080p movies to Blu-ray.
How to burn slideshow created in Photos or iPhoto to Blu-ray
STEP 1
Import slideshows to the program window
Adding slideshows can be as easy as dragging the iPhoto/ Photos slideshows you want to transfer to Blu-ray in Mac and dropping to the program window.
Alternatively, you do this in usual way via "Add Video" button on the top left-hand side of program.
Meanwhile, disc information appears at the bottom area. The green bar tells you the amount of disc space your Photos slideshows will take.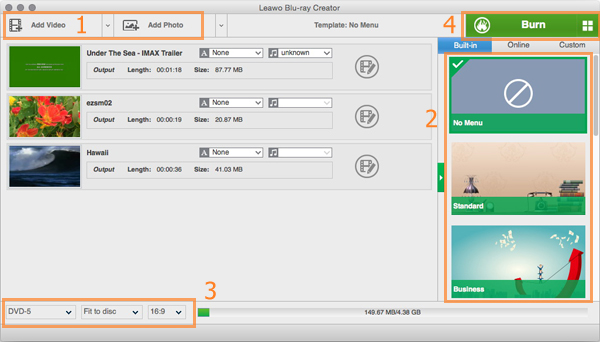 By the way, after the source files loaded, there will be an Edit icon displaying on the right side, you can click it to enter editing window and do some basic editing, it is self-exploratory.
STEP 2
Select a Blu-ray disc menu or not
On the right section of screen, this Mac Photos slideshow to Blu-ray converter provide you with a group of pre-installed great disc menu templates, you can also download some online or create your own custom menu.
After you apply a menu, you can preview how it looks by clicking the "Preview" icon which will appear when you put the mouse over the center of menu thumbnail on the right section. Also you're allowed to add your own pictures and songs in the background though the options at the lower left side of screen, as shown below.
At the top left side, there are 3 icons available - Start, Preview, Edit. Simply click the "Start" icon to back to main interface.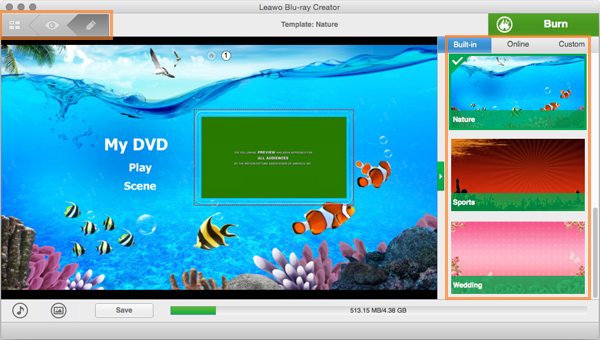 STEP 3
Configure the output settings before burning
Now, move pointer to the lower left side, select your disc type: "BD-25" or "BD-50", then "Fit to Disc" (recommended!), and "16:9" for wide screen or "4:3" for standard screen.
Next, hit the "Burn" button on the upper right side of screen, you'll see an opening panel where there are choices for burning your iPhoto & Photos slideshow to Blu-ray disc, or to Folder, or even to ISO File in Mac.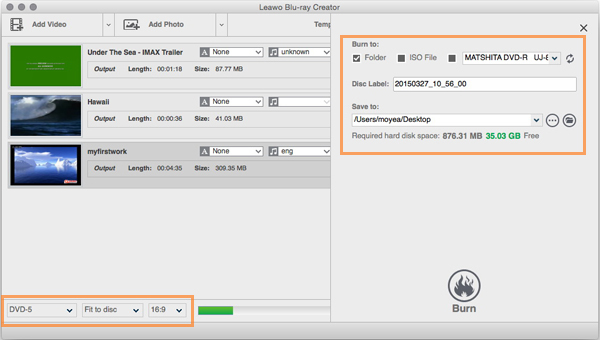 STEP 4
Begin converting your Photos slideshow to Blu-ray
Now, you're ready to proceed to Blu-ray burning.
Again, press the "Burn" icon to start burning iPhoto & Photos slideshow to Blu-ray on Mac OS X.
The burning process will take several minutes especially if your slideshows are high definition. You can check the entire process though a progress bar and cancel it anytime.
After you create a Blu-ray, you're going to play it on a Blu-ray player and watch your slideshows through a big TV screen.
Enjoy!