How to Burn QuickTime Video to Blu-ray/ DVD on Mac & PC
With the rapid development of internet and the widespread use of smartphones, tablets and smart devices, sharing media files with family and friends has never been easier than ever, but that doesn't mean burning your media files such as QuickTime video (MOV, QT) to Blu-rays and DVDs on Mac & PC is a thing of the past. You can play a physical BD/DVD media with QuickTime movie on a BD/DVD player and watch on big home screen; you can sent it as a festival gift to a good friend, you can just keep your data safe from an old computer.
There are several programs that tackles this sort of things, but if you want something reliable and easy to use, Blu-ray Creator for Mac is the way to go. It is one of the most popular disc makers that brings superior physical media burning features to your Mac, and packs them into a simple yet easy-to-follow interface. Apart from converting your QuickTime file to a Blu-ray and DVD in Mac, the application also supports a wide range of digital video, audio and image file formats as input, and burn to disc folder, ISO image and photo slideshow.
For those who're using a Windows computer and wish to convert QuickTime movie files to Blu-ray and DVD and play it in a BD/DVD player, please try the program's PC version: Blu-ray Creator for Windows. Both of them make disc authoring ridiculously easy, no matter what operating system you are running - Mac OS X or Windows.
Tip: If you have already had iLife Suite on your Mac, you can use the iDVD to burn the QT or other digital videos to a DVD (BD not supported); and built-in Windows DVD Maker for Windows 7.
Now, let's begin the real process of creating a DVD and Blu-ray from QuickTime video file on a Mac (I'm running a Mac with OS X Yosemite, so take it as example).
How to convert and burn QuickTime video to Blu-ray / DVD for Mac
STEP 1
Add QuickTime video files
Launch the program, you will see the program's main interface. This is where you will drag and drop your QuickTime file(s) to be burned to a Blu-ray or DVD. Alternatively go to "Add Video" to load the files. It looks like this: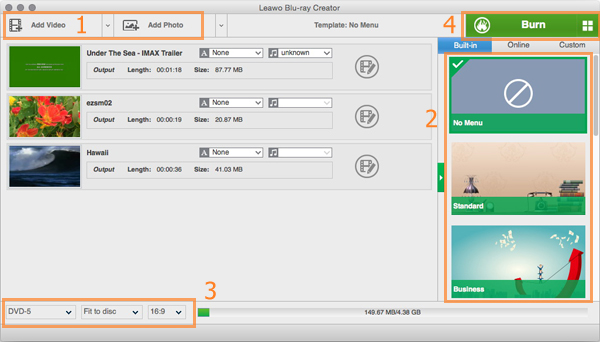 The QuickTime to Blu-ray converter for Mac will calculate how much space you've used for a type of disc after the source filed loaded and show you the information on a bar on the bottom.
Next, insert a blank recordable DVD or Blu-ray into disc drive.
If you're creating a disc as a gift or just making the creation more stylish, you may select your preferred template from pre-designed menu styles on the right portion of the application.
Also, you can preview the menu to see how it looks like by clicking on the thumbnail of the corresponding template, the preview will show on the left portion.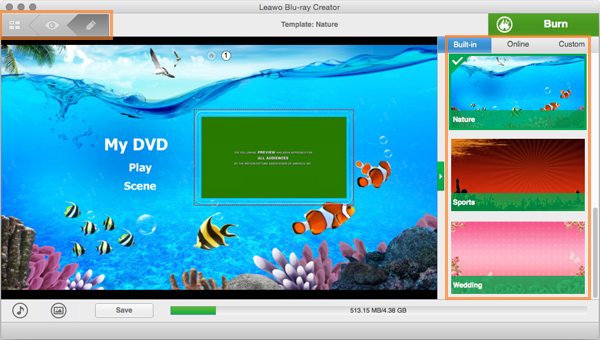 In preview window, you can also click the 'PEN' icon on the upper left-hand side to edit the menu: change the button text, color, font-size, arrange the items order as you like.
On the footer of the screen, there are "Song" and "Image" option available for you to add external audio track and photo as background.
Once you're happy with the way your menu looks, click on the "Burn" button at the top right side of the window. This Mac application will display a window asking you to configure the output settings. Here we only need to tick the Blu-ray /DVD disc output option in "Burn to".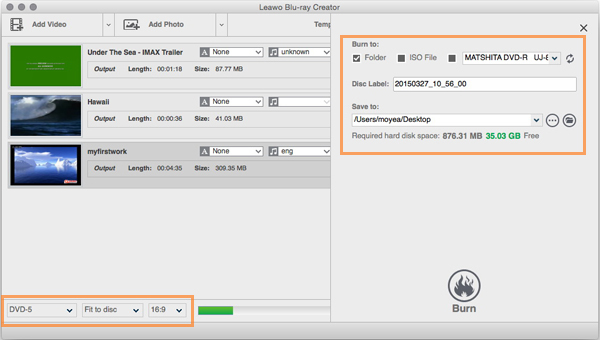 STEP 4
Burn QuickTime videos to Blu-ray or DVD in Mac
Click "Burn" image button on the footer of the window (see screenshot above" to start the burning.

After a few minutes or hours, depending on the length of your QuickTime videos and output settings you take, the Blu-ray or DVD will be complete.
That is it!