How to Burn Episodes of TV Shows to Blu-ray/DVD on Mac/PC
If you have downloaded a full season of a TV show onto computer, you might wonder how would you go about burning the TV show to Blu-ray or DVD so that you can play it on your DVD player connected home theater centre in the living room. Not only does it have a comfortable area to enjoy episodes of TV show with kids, it has a larger screen along with a better sound system.
Since the free Windows DVD Maker was discontinued by Microsoft in its operating systems starting with Windows 8, you'll need to use a third-party tool to burn TV shows to DVD disc, not to mention the episodes of TV series to Blu-ray burning task. How about Mac users? We have to admit that iDVD was ever a full-featured DVD burning tool towards producing home movies DVD with beautiful Apple-designed themes, but it was no longer included in Macs since 2011 either. You have no choice but get other tool on internet when it comes to burning episodes of a TV show to Blu-ray or DVD on Mac.
In this article, I'll talk about a program called Blu-ray Creator. It's a cross-platform disc authoring program tool works for both Windows and MacOS. It will let you transfer episodes from TV shows to a Blu-ray or DVD on Mac and Windows, and also take videos of pretty much any format to burn onto Blu-ray/ DVD with a menu from a given list of templates. The application also allows you to add sound track and image as background for your disc.
It should be noted that if your quality TV series video files having a resolution with 720p, 1080p or higher, you'd better put those high-definition TV episodes onto a Blu-ray, rather than a DVD, to be view on your personal Blu-ray player. DVD discs had been limited to a maximum resolution of 480i (NTSC) or 576i (PAL). See also: how to burn HD MP4 movies to a Blu-ray.
Hit the link above to download the copy of the Blu-ray converter on your machine. The installation process is quick, with an on-screen wizard walking you through the process.
How to convert TV shows to a playable Blu-ray for Mac OS X or Windows
STEP 1
Add episodes of a TV series to the program
The easiest way to add episodes is to locate them in your library, drag and drop the album into the burn list. You can also import them into the program simply by selecting the "Add Video" option in the upper left corner of main screen, and then choosing the episodes of TV shows you wish to convert to Blu-ray from its respective save location on your computer.
As BD has a larger capacity (up to 128G) than DVD's, you're allowed to import multiple TV shows to one Blu-ray.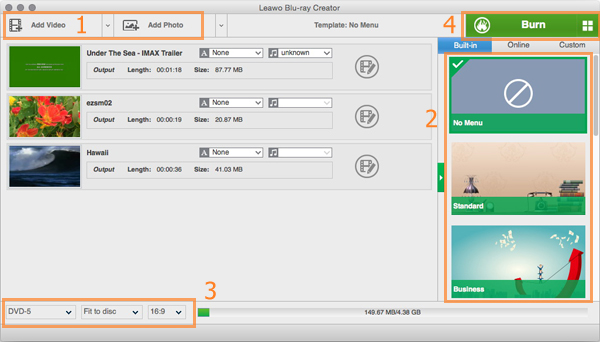 At the bottom right side of this Blu-ray converter's program, a green bar will tell you the amount of space it takes on the disc.
STEP 2
Add a menu for easy navigation
Once you have added all episodes, go ahead and customize a Blu-ray menu from the menu templates list on the right portion.
Simply choose one of them from the list, move mouse to the center of thumbnail and then click the appearing EYE icon to see how the menu will look like.
On the top left side, there are 3 icons - "Back", "Preview" and "Edit". If you want to change the menu text or position of individual element of template, click the "Edit" icon, in the new window you can edit the text and select the font type, size and color, and drag the element to your desired position.
One of my favorite features is there are options on the lower left side of window to give you the ability to add external music and photo to the menu. This is especially fun when burning TV shows to Blu-ray on Mac/ PC and using the show's theme song as your background music.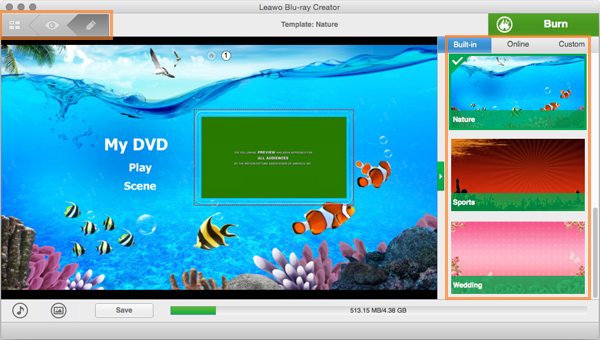 If everything set up, click the "Back" option on the top left to back to main screen.
STEP 3
Set output settings before burning episodes
Insert a blank Blu-ray disc (BD-25 or BD-50) to the optical drive on your computer.
It's time to configure some output options.
1) Go to the lower left side of main screen, select a disc type, the burning speed and aspect ratio.
2) Next, hit the green "Burn" button on the upper-right side of the application window, in the Blu-ray options dialog that pops up, you'll be required to select the output type (BD disc, Folder, or ISO file), disc label and path.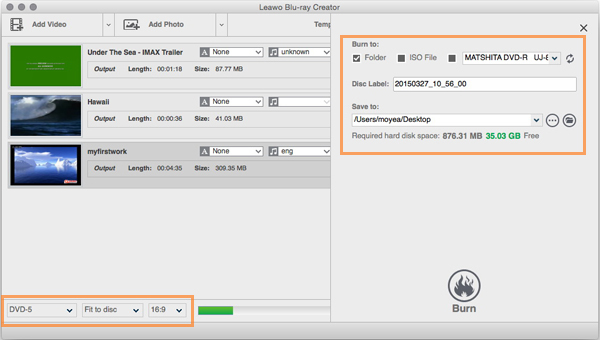 STEP 4
Start converting TV shows to Blu-ray disc in Macs & PC's
That's about it. Now just click "Burn" button again and let the program do the rest.
You'll get a popup dialog with the progress of burning TV shows to Blu-ray on Mac or Windows. The progress times may vary, depending on a few things, such as power of your computer hardware, the amount of episodes of TV series you fit onto the Blu-ray, as well as your output settings.