How to Convert a Movie from 4K to 1080p
4K (4096 x 2160) resolution is being increasely adopted in the cinema industry at the time, more and more 4K digital cinemas are being used for shooting and mastering 4K films. And 4K technology is gradually spreaded in other industries as well, such as the healthcare industry. As an average consumer, you can purchase Ultra HD 4K TV set from manufacturers like Sony, Samsung, LG on the market.
Why convert 4K to 1080p resolution?
Although 4K gets all the buzz these days for its great improvement in video display image on a larger screen application, as of 2016, there is still very little video content that's actually in 4K resolution available for the consumer market. What's more, 4K playback problems could be anything from hardware demand on your machine, incompatible media player, to bandwidth-intensive and file size issue.
When you try to stream a 1hr40min of 4K movie that comes in more than 80GB onto a portable device, for example, it may cause the crash of the built-in media player app, and your battery probably wouldn't last the duration with the little processor playing 4k video, let alone the storage space on your device. Downscaling the 4K to a more lower resolution like 1080p to make file playback smoothly has become an absolute-must.
4K to 1080p converter for Mac & PC
It's worth noting that the 1080p standard will still work on the comsumer market in several years to come, converting a 4K movie to 1080p movie is a wise choice. Luckily, there are a vast array of 4K converters available out there to handle with 4K resolution videos. For that purpose, we prefer Video Converter.
It's an easy-to-use and comprehensive utility for downscaling UHD 4k video down to 1080p and other more useful sizes (720p, 480p) in Mac OS X and Windows, letting you watch them on your computer, TV sets, and portable devices (presets packed in it) smoothly. It also allows you to convert any kind of digital videos to your desired format, along with numerous video and audio parameter settings for tweaking on file size and video quality.
This tutorial will provide instructions for compressing your video resolution from 4K to 1080p on Mac, for example, without changing original file extension. Okay! Let's do it.
How to change a video resolution from 4K to 1080p on Mac OS X
Stage 1 – Add 4K movies to this 4K converter for Mac
Open up the application, go to the top menu and select "Add File", in the dialog, choose the 4K footage (4096 x 2160) you want to downscale the resolution of. Then press Open.
You can continue adding 4K movie files to the software until you're satisfied with your selection. The software allows you to batch process multiple files at a time.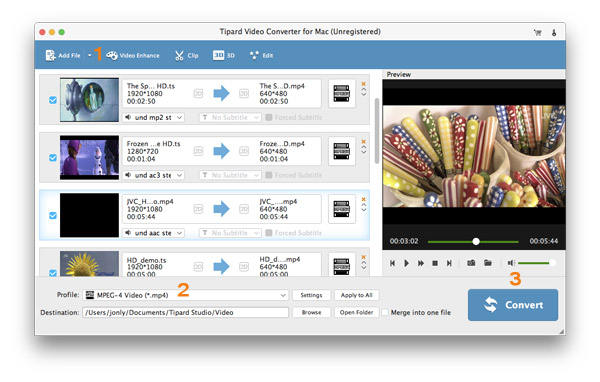 Stage 2 – Configure output settings
Press the "Profile" drop-down menu, which is located at the lower left-hand side of the window. From where you can select a list of output format profiles and presets if you need.
In our case, we just need to change the 4K resolution to 1080p, so leave this field alone.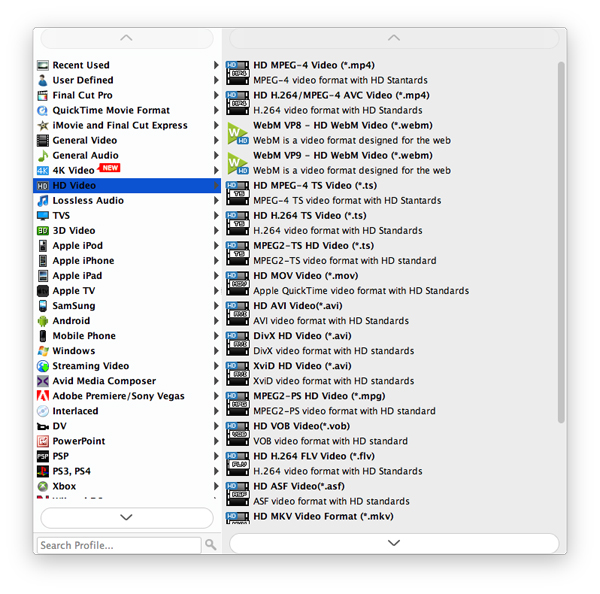 Go head to "Settings" button next to "Profile". In the "Resolution" field, you can see the application defaults to leaving the video at whatever resolution your video already is. For our purpose, what you need to do is simply change the original 4096 x 2160 value in the box to 1920 x 1080, as image shown below. 1080p is still HD, but takes up quite a bit less space.
You can alter other settings if required including codec, bitrate, framerate, audio sample rate, etc. – however, if you don't know what you're doing, you'd best leave them at their default value.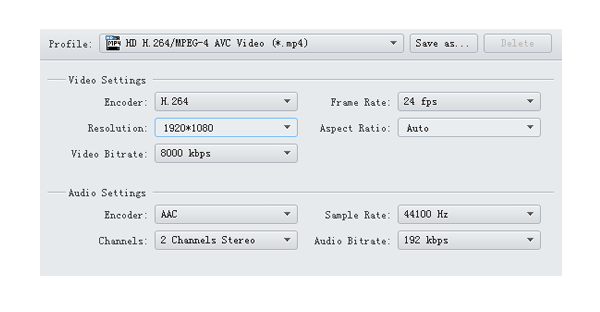 Then back on the main interface of the application. Click the "Browse" button in "Destination" field to choose where to save the resulting 1080p video files.
Edit (optional)
One very useful feature of the 4K video converter for Mac is that it enables you to edit the video to get a good-looking final file. You can trim and crop the video, put effects on it, add image/text to it, remove video noise and more. To do this, click the "Edit" icon button on the top menu and go to the editing window.
Stage 3 – Starting converting 4K video to 1080p video on Mac
Click the blue "Convert" button at the bottom right side of the program window, the 4K to 1080p conversion process will start.
You can monitor its progress on a new window while the conversion is taking place. It will take some time while this 4K converter downscales the video of 4K Ultra HD and save into 1080 resolution.
Be patient.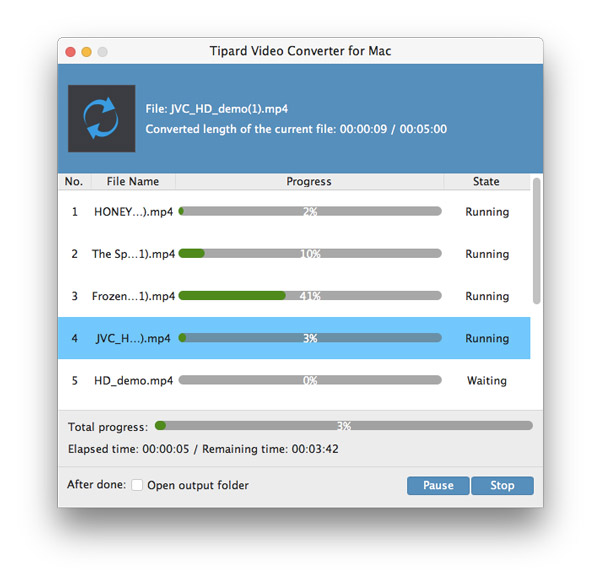 4K Vs 1080 - what's the difference
4K, also known as Ultra HD, UHD, Quad Full High Definition, represents 4,096 pixels displayed across the screen horizontally and 2,160 pixels down the screen vertically. While 1080p, one of main current consumer HD resolution standards, is 1,920 pixels displayed across the screen horizontally and 1280 pixels down the screen vertically. The main different between 4K and 1080p lies in the number of pixels that display on the screen. 4K provides a lot more detailed and less pixel visible images than 1080p, making it more significant in delivering image looking for ever larger TV screen size, video projector and outboard video processor.