How to Convert AAC Audio on Mac & PC
There may come a time when you'll want to convert a AAC file into something universally accepted that enjoy the music anywhere, or strip the audio track from a video and save in .aac format for a specific use. Here is our guide on how to convert a AAC file on Mac or PC, as well as converting any other video & audio format to AAC sound track.
What is AAC (Advanced Audio Coding)
AAC, also referred to as Advanced Audio Coding, is an lossy coding standard designed to be the successor of the popular MP3 for digital audio compression. It sacrifices part of the original audio data in order to get a much smaller file size, but offers significant improvements in sound quality compared to the MP3 standard. AAC is widely adopted for music from iTunes Store.
AAC Converter for Mac and Windows
Whereas the format like MP3 has become a common denominator in audio compress across multiple platforms and it's supported playback on nearly all multimedia players, only a few of players has a support for AAC sound track. You will need to convert the AAC file from time to time, so format incompatibility is a thing of the past.
There are a lot of AAC converters that can be used to convert to and from AAC format, but one of the most user-friendly and easy to use is Video Converter. Despite the name, aside from converting movie files from one from to another, it converts AAC on Mac & PC to a large number of different audio format including MP3, WMA, AC3, M4A, M4R, OGG, or vice versa. It even supports ripping videos into AAC audio file in a fast way.
In this tutorial, I am going to illustrate how you can convert a AAC to another audio format on Mac OS X for example with the Mac version of the software.
Click on the "for Mac" link above to download and install the software, just like you would install any other software on your Mac machine.
Related: How to convert AMR audio to MP3 on Mac and PC
How to convert AAC Audio files on Mac (for example)
Stage 1 – Add AAC music files to the process list of the program
After the installation completes, go ahead and run this AAC converter on Mac.
Click on the "Add File" button, in the dialog that appears, choose your AAC music files you want to add for conversion, and click Open.
You AAC files will added to the process list on the left pane, as the image shown below. The software supports batch-conversion, meaning you can add several AAC files to the list and convert them all at one time.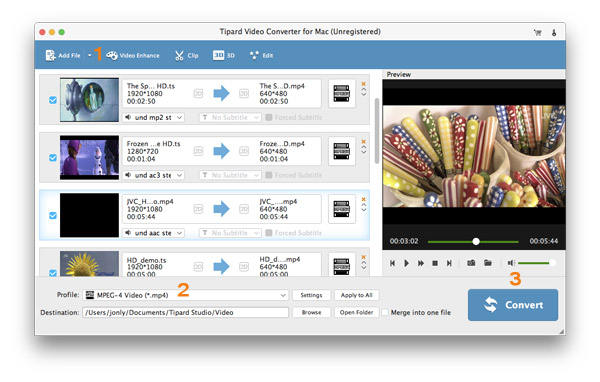 Stage 2 – Select the output format that you want to convert the AAC to
Click on "Profile" drop-down menu in the lower left-hand side of the window to open up a list of output options.
Then click the "General Audio" column, you will see it shows a number of audio format output options on the right pane. If, for example, you want to convert AAC audio to a .m4a format, simply scroll down the list and find the M4A - MPEG-4 Audio (*.m4a), select it. You can also choose to convert the AAC to WMA, MP3, AC3, M4R, AMR, OGG and other audio files.
After that, go back to the main interface.
Under the "Profile" menu, in "Destination" field click the "Browse" button heading to pick where the converted audio files should be save.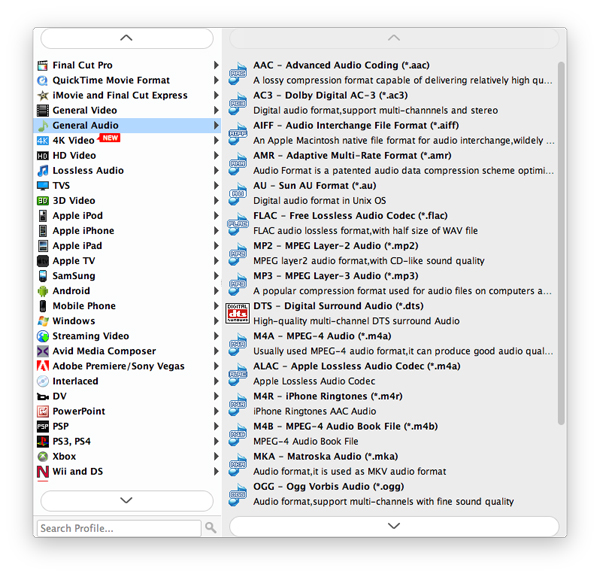 Plus, this Mac AAC converter gives a nice balance between novices and advanced users. If you want to further alter how the sound will encoded, you can click the "Settings" button next to "Profile" to enter profile setting window.
For example, lower the audio bitrate would get a smaller file, but at the same your music will sound worse. Other settings like encoder, sample rate, channels can also be modified manually.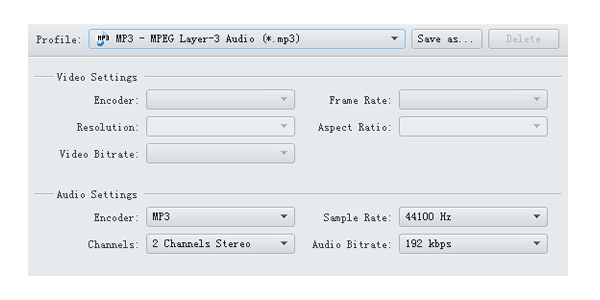 BTW, the program comes with several preset options in the list on the left pane. Each preset is designed to offer the most appropriate settings to device you're going to be watching your video on, which saves you a huge amount of time to configure the settings to be suitable for device of your choice.
See More: How to convert MKV to play onto Apple iPad
Stage 3 – Converting AAC!
The next and final task is the easiest off all. Simply press the blue "Convert" button in the lower right-hand side of the window, the software will start converting your AAC audio to format (wma, m4a, ac3, m4r, ogg, amr, etc.) you set in "Profile" on Mac.
You can let it do its work in the background while you're working on other things on the computer,, or leave it do the job overnight and set "conversion done" option to "Shut down computer" in Preferences.
The software shows its progress as the AAC converting proceeds in a new window, you can monitor the conversion process via the progress bars. Conversion times are normally determine by the file size of the source AAC files, the target quality setting, and your machine's processor.
That's it!