Mac & PC: How to Convert AC3 to MP3, WMA, AAC, OGG, etc.
There isn't a common standard for audio formats. If you have a library of music files on media collection, you will find that those audio files come in a number of different formats. While some are lossless such as FLAC, AIFF, WAV, some others may be in lossy AC3, MP3, AAC, and WMA format. In today's discussion, we're going to focus on one of those formats — AC3, how can you convert AC3 on Mac or PC machine into something more readable.
What is AC3 (Audio Coding 3)
AC3 is a audio lossy compression standard that's developed by Dolby Laboratories for (5.1) surround sound audio files. Audio saved in .ac3 will result in a smaller size compared to the original files, but loss of the original data during compression. Dolby Digital AC3 audio is generally used on Blu-ray, DVD, HDTV broadcast and other digital video formats. In the format, the AC-3 bitstream is interleaved with the video and control bitstreams.
Audio codec AC3 however, is distributed under the license from Dolby, which leads many of applications drop the playback support of it. To solve this issue, you have to convert audio in .ac3 to other manageable audio files like mp3, m4r, wma, dts, ogg and others. If you have an Apple device, you might want to use AAC audio instead.
AC3 Audio Converter for Mac & Windows Software
The market is saturated with AC3 converters that helps you convert AC3 audio files on Mac OS X or PC's. Not everyone needs to convert their audio tracks, but if you do, you'll find few better tools than Video Converter. Despite the name, this app is an all round audio converter which can convert your AC3 files and other digital audio tracks to your desired formats in a quick way, along with a lot of audio settings you can configure. Also, it gives you the ability to convert your movies files to playback on your portable device.
Click the link above and download the program. Install it to your computer as directed.
How to convert AC3 to AAC, MP3, WMA, M4R, OGG, and more...
Stage 1 – Import AC3 files into this AC3 converter
The first step is to launch the AC3 audio converter. Once it loads, in the top left corner of the window, select "Add File" button, navigate to your local folder and find the AC3 audio files, select them and click Open.
This is what you see after AC3 files imported from your computer.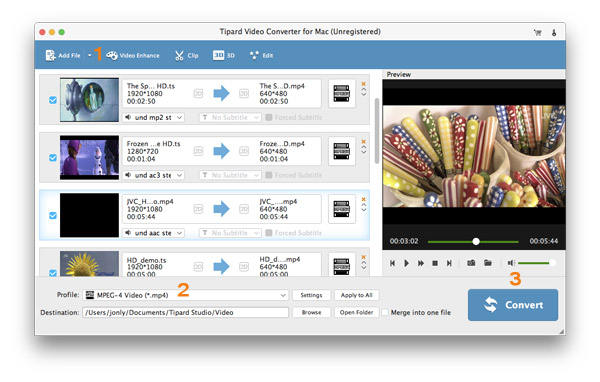 Stage 2 – Select an output audio format (aac, mp3, wma, ogg, etc.)
In this step, you're required to choose an output audio file from the "General Audio" category in "Profile" drop-down menu located at the lower left hand corner.
This AC3 converter for Mac/ PC allows you to convert AC3 to AAC, AMR, AU, MP3, DTS, M4A, MKA, OGG and other audio file formats. No matter what you want to convert your video & audio for, you're sure to find the right format here.
Related: How to convert from AVCHD to MP3 in Mac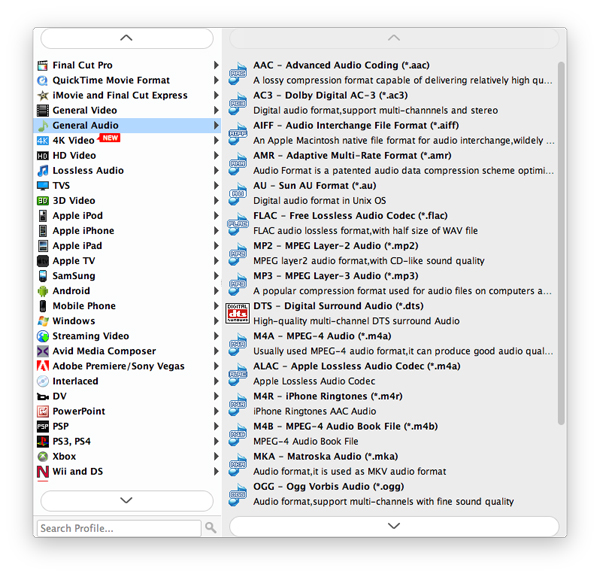 After you've choosen an output format file, you can click the button labeled "Settings" next to "Profile" menu to configure the output audio settings. There are a number of advanced options including frame rate, aspect ratio, audio bitrate, encoder packed inside the button.
But please note that tweaking the audio settings are not advisable if you don't know what you are doing. The defaults are good enough for you.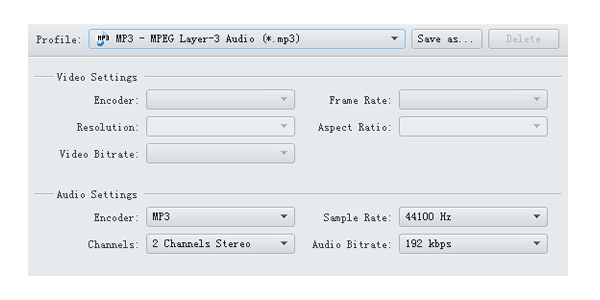 You've probably noticed that, aside from converting AC3 file format, the software comes with a great selection of device presets, standard definition and high definition video format options in the left pane of the "Profile" drop-down menu, which means you can convert your movie files from its native format into another format that's suitable for device of your choice.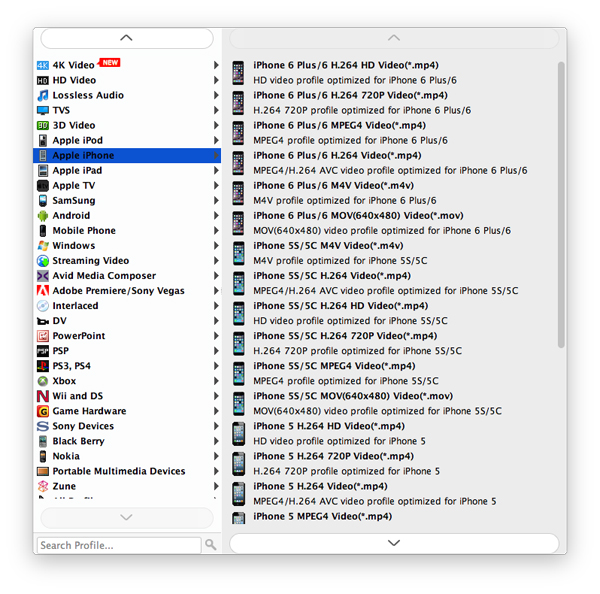 Next, with everything configured and ready to go, click "Browse" next to "Destination" in the lower center of the screen, choose the location for your resulting audio files and click "Save".
Stage 3 – Start converting AC3 on Mac & PC's
Now, click the blue "Convert" button at the bottom right side of the screen and this AC3 converter for Mac/ PC will do its thing.
The conversion process of AC3 to DTS, WMA, MP3, AAC, M4A or OGG format you select in the previous step will take quite a while, especially if there are a number of AC3 files on the process list, so go and relax with a cup of coffee.