AVCHD Converter: Convert AVCHD to Any Files
"I just bought a Panasonic Lumix HD camcorder from Amazon and it products video files in AVCHD format. It seems it not a friendly format in the world. Now I need to move these 1080p files onto my laptop and convert into a general viewable format, so that I can then playback on QuickTime, burn to Blu-ray disc, upload for my social networks, or carry in my portable hard drive. Is there any suggestions for AVCHD converter? P.S. I am using an iMac."
It can be confusing and time consuming to handle AVCHD video files you recorded with camcorders (Sony, JVC, Panasonic, and Canon), regardless of your choice to copy them onto Macs or PCs for organization or editing, or transfer to your chosen multimedia device for playback on the go.
When the AVCHD file is copied from its structure to your Windows computer, the file will be saved as an .M2TS or .MTS format that some versions of Windows Media Player and other applications may not support. The problem you may be encountered in Mac is the limited native support for AVCHD - You need to upgrade the Mac system to Mountain Lion 10.8 or higher. Even so, QuickTime provides an unexpected and klunky way to play AVCHD - it only reads the AVCHD files in the full structure named AVCHD, BDMV, or PRIVATE. QuickTime doesn't support MTS files you extract from the structure at all on any version of OS X.
AVCHD video converter - edit, compress, convert AVCHD files on Mac & PC
Luckily, whether you're looking to convert AVCHD to a more common format so you can play it on a device/ player, or if you want to compress AVCHD to reduce the size so you will put it onto website, there are dozens of tools that enables you to get the job done. Our pick is Video Converter. It is a powerhouse swiss army knife for video conversion, along with lots of features and advanced options as follow.
1. Accept just about any conceivable format as input and exports to the most manageable formats you want. The program allows you to convert AVCHD 1920 x 1080p Full HD video on Mac and Windows, or convert to and from more video formats than you could ever need, including AVCHD to MOV, AVI to MP4, MKV to AVI, WMV to MP4, FLAC to MP3, etc.,
2. Compress (AVCHD) video to a smaller file. You can choose to compress the AVCHD from 1080p to 720p, or 60 fps to 30 fps, or to another format (mp4, for example) that will result in a smaller size.
3. Combine multiple (AVCHD) videos into one file. This AVCHD converter for Mac & Windows allows you to merge several videos into a big one by clicking the "Merge into one file" option on bottom of interface.
4. Preset device profiles to convert (AVCHD) file for watching on a device of your choice. This is really handy for those who want to convert videos suitable for playback on a device smoothly. You can see an example about: how to stream AVCHD video files onto iPad.
5. Convert (AVCHD) videos for web streaming file types. This Windows & Mac AVCHD converter also allows you to pick a pre-defined profile to convert AVCHD and other videos for sharing on social media sites like Facebook, YouTube, Vimeo, Vkontakte.
6. Fully control output settings. To get the best results, if you are an experienced user, this AVCHD converter offers control over the conversion settings such as codec, bitrate, resolution, sample rate, channels.
7. Perform video editing to enhance the result file. Using the editing filters at the top menu of program window you can manually crop, trim the video, add effects on video, or put watermark on it.
AVCHD to Blu-ray/ DVD converter - burn AVCHD videos onto DVD and Blu-ray disc on Mac & PC
Sometimes, you may want to burn AVCHD footage to a Blu-ray to playback on a BD player connected with a big screen HDTV, Blu-ray is also a nice backup media that will lets you write 25 or 50 GB (or even 128GB) of data. If you are looking for a comprehensive solution for your BD/DVD burning needs then Blu-ray Creator for Mac (Blu-ray Creator for Windows) does not disappoint you. It enables you to create both Blu-ray and DVD disc from any type of video files with interactive menus in various templates. Subtitle adding is supported as well.
This following guide provides step by step instructions for converting AVCHD to another format using a Mac.
How to convert AVCHD to other video files on Mac OS X
Stage 1 – Put the AVCHD footage to the converter
Once you open up this AVCHD converter for Mac, you'll be presented with a simple screen, like this: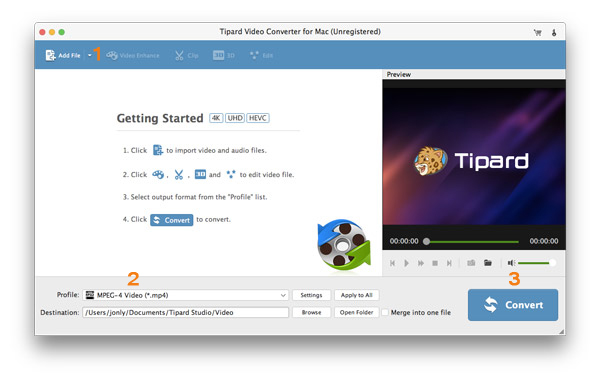 When it comes to loading your AVCHD footage (or any other type of files), you can simply open the folder containing the target source files, drag and drop them onto this Mac AVCHD converter.
Also, from the top menu bar, select "Add File" and then choose the AVCHD file you want to convert.
Some of you may have large AVCHD movie collections that need to be converted all, this program understand this and allows you to add as many AVCHD (m2ts, m2ts) files as you wish to convert in one go.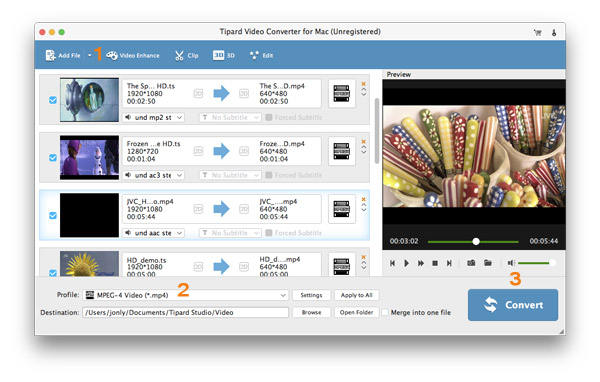 After the files loaded, you will see them in the list.
There are editing filters available at the top menu bar. Using them (video enhance, edit, 3d, clip) you can manually trim, crop and rotate the source clips, reduce video shaking, adjust brightness and more if you like.
Checking the "Merge into one file" option at the bottom of screen, you can combine multiple AVCHD clips into a single video.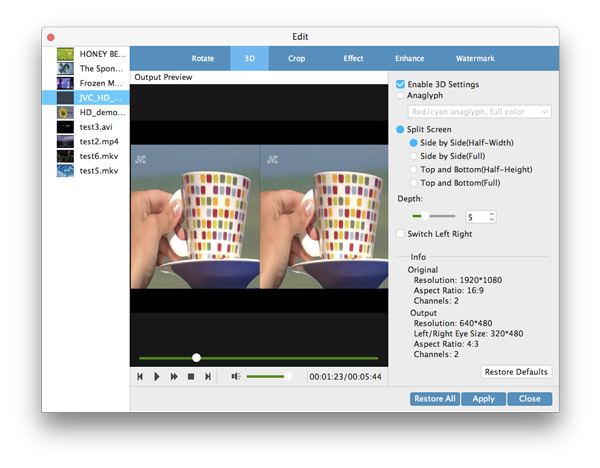 Stage 2 – Select your output preferences to export AVCHD to
In this step, you will choose which format you would like to convert AVCHD to.
A detailed list of supported file formats and pre-defined profiles is available at the panel once you clicking the "Profile" drop-down menu at the bottom left-hand side of interface, as screenshot shown below:
You can choose to pick a specific format, like MP4 if you want to convert AVCHD to MP4 for example, from General Video, HD Video and General Audio lists for standard video conversions.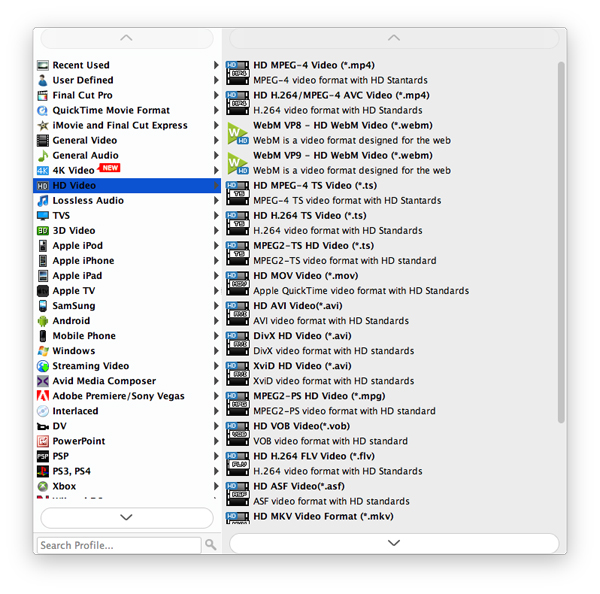 Or pick a "Device" option as the output format from the list of: TVs, Apple iPhone, Apple iPad, Samsung, Android, Windows, Adobe Premiere/Sony Vegas, PowerPoint, Game consoles, Xbox and more.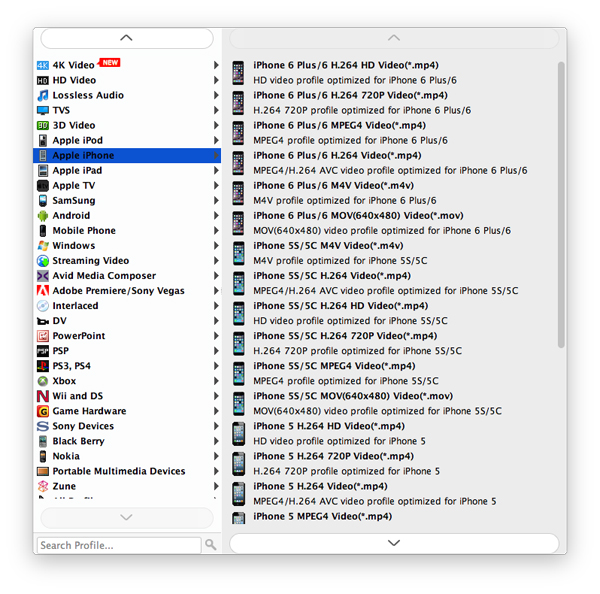 One the other hand, if you want to have control over the conversion parameters, you can use the "Settings" button next to "Profile". It will display the settings panel, where you can configure their every detail: encoder, resolution, aspect ratio, frame rate, audio and video bitrates, channels.
This is not a requirement—feel free to experiment. I suggest that you leave all things at their default if you don't know about them.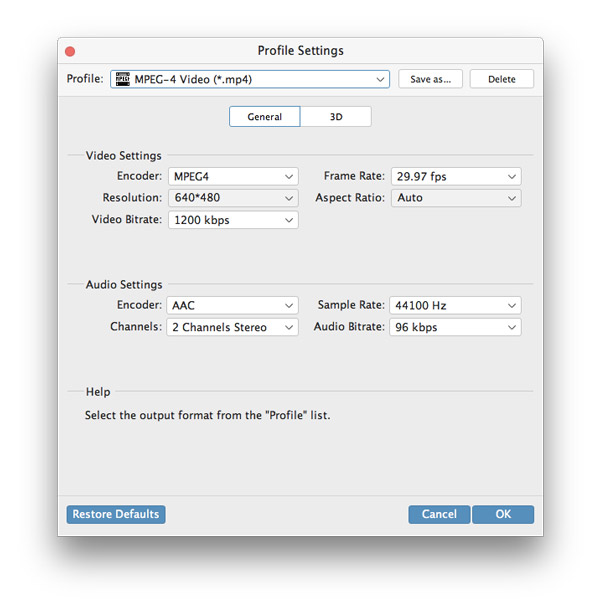 Stage 3 – Press "Convert" to start converting AVCHD files on Mac
Before you convert AVCHD (m2ts, mts) footage, you're required to specify a location to save the resulting output files. At the bottom side you click "Browse" option next the Destination box you will be presented with a dialog where you'll decide where to place the exporting file(s).
Finally, press the blue "Convert" button at the lower right of screen. AVCHD conversion will start on Mac. You can see the process status on the interface.
That's it!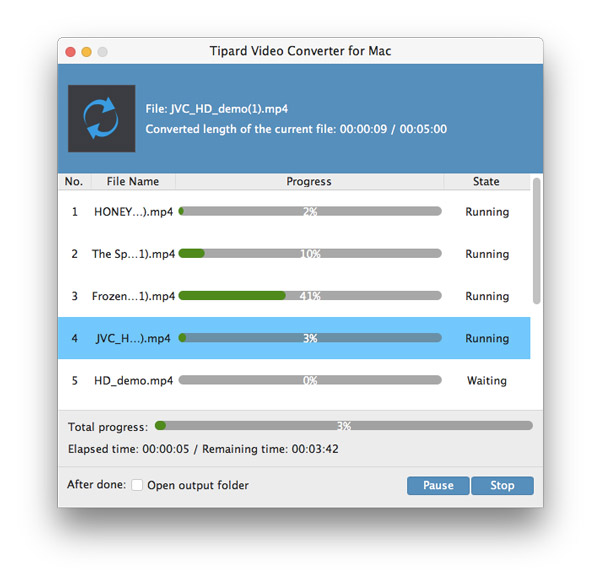 Just a note that this AVCHD converter features CUDA and AMD acceleration for video conversion on Windows computer, which makes the process performance more quickly.
Conclusion:
Video converter mentioned above is a full-featured utility, though, and if you need its extensive video & audio support, device-targeted presets and configurability then it just might be a great choice.