How to Rip AVCHD to AC3, MP3, WMA, M4A, AAC, FLAC, WAV
Nearly all camcorders in the market place currently capture high-definition resolution video. They gives you the ability to film video recordings in either 1920 x 1080 or 1280 x 720 pixels at various frame rates with AVCHD format, which uses the MPEG-4 AVC/H.264 standard and Dolby AC-3 and uncompressed linear PCM audio.
Watching full HD AVCHD movie files on wide screen TV is great (See a walkthrough on how to burn AVCHD files to Blu-ray for playing HDTV) – but what if you want to just extract the audio from an AVCHD to save in .flac, .wav, .mp3, .m4a, .aac, .ac3, .wma for listening to independently in the car or on an audio player while you're on the go, or strip the audio track from the video to make a phone ringtone?
No matter what the subject, there are dozens of tools around which can be used to convert AVCHD videos to MP3, M4A, AC3, AAC, WAV, M4A, etc., and Video Converter is a good example. It's capable of converting files between a variety of video and audio formats, as well as getting the audio file out of a video. You can spend a while tweaking conversion settings in detail, or just pick a preset profile in just a few clicks.
It should be noted that since camcorders adopt AC3 Dolby Digital compression scheme (Stereo and multichannel surround 5.1, as well) to record audio in AVCHD, if you want to just extract the sound tracks from AVCHD, the first and wise choice would be ripping AVCHD file to AC3 audio. Also, you can convert the AVCHD to save as other music files, like a common MP3, M4A, WMA, FLAC (lossless), WAV (lossless), AAC, and more.
In this article, I'm going to give step-by-step instructions on how to use the program. The steps are simple and it is quite useful when you need the conversion from video to video and video to audio. The process of extracting sound track from AVCHD to AC3, FLAC, AAC, WAV, MP3, M4A, WMA file on Mac, is outlined below.
How to convert AVCHD to mp3, m4a, wma, ac3, flac, wav, aac on Mac & PC
Stage 1 – Add AVCHD videos to the program
Input your AVCHD footage to the converter by clicking the "Add File" button on the top left, then use the dialog box to select the AVCHD files you want to rip to FLAC, MP3, WAV, M4A, WMA, AAC, AC3. The AVCHD converter for Mac will analyze the imported items and display a summary about it.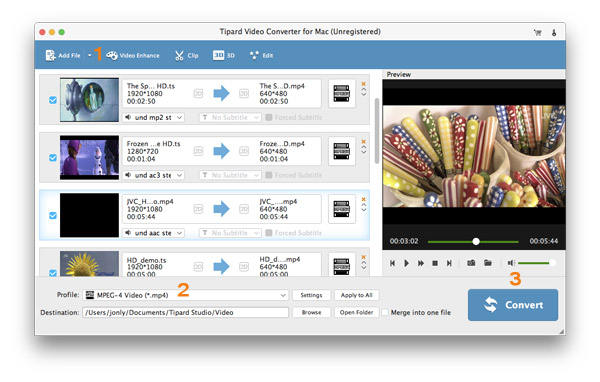 Stage 2 – Select an audio format as output
Once you've imported AVCHD source files, you're going to choose your preferred export format. In "Profile" list at the lower left side of interface, there can be more output formats than you might expect. You can see them like the image shown below.
For our choice, we just want to save the soundtrack of AVCHD video as an MP3, WAV, FLAC, WMA, M4A, AAC or AC3 audio file in Mac, so we go to select the corresponding format under "General Audio" category.
Besides, the program can convert the AVCHD to videos for multimedia players. Not just audio files, either, but in a lengthy list of video formats and device presets such as AVCHD to MOV for Mac, MP4, AVI, WMV, MKV, and iPad, iPhone, Android, Game consoles, YouTube, PowerPoint.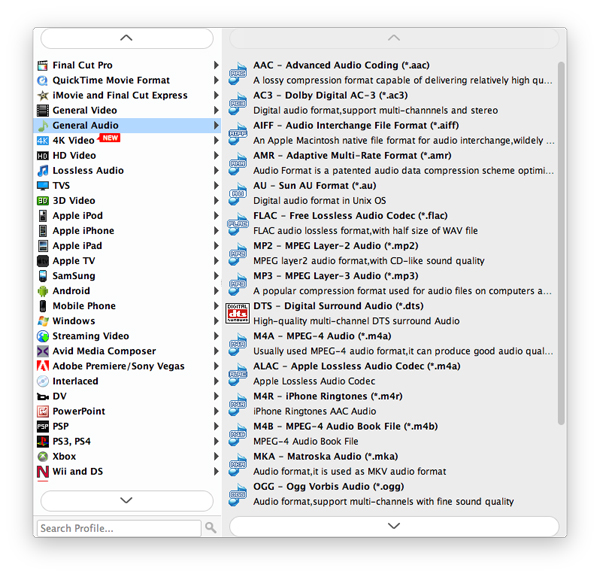 This Mac AVCHD converter at the same time gives you the ability to tweak audio parameters if you like. In "Settings" panel next to "Profile", the audio's sample rate, codec and bitrate can be modified, and the number of channels can also be selected.
For beginner, you can leave all these things at their default. We don't need to change them.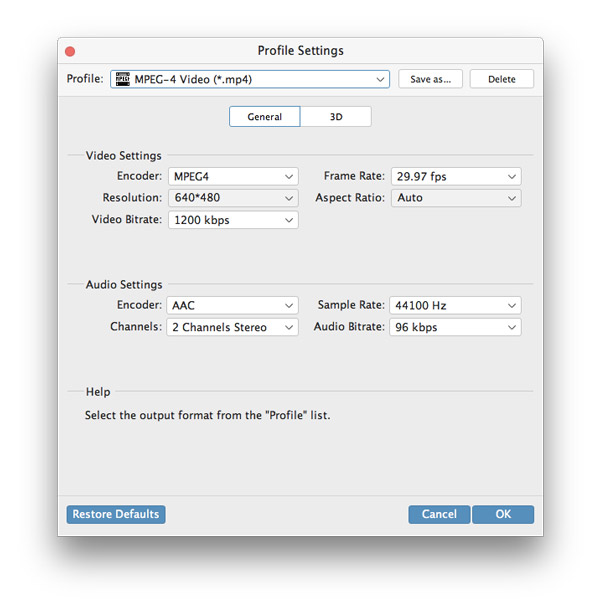 Stage 3 – Convert AVCHD to MP3, FLAC, M4A, WMA, WAV etc. for Mac
Give your result audio files (wma, flac, mp3, m4a, aac...) a location on your Mac if you don't want use the default path by clicking the "Browse" at the bottom center of main screen.
Finally, hit the blue "Convert" button at the bottom side, the program will convert AVCHD footage essentially to audio files (wma, flac, mp3, wav, m4a, ac3, aac, etc.) on Mac, using a multi-threaded engine which delivers great performance.
You will be able to monitor the progress via calculating bars in a new window.
Happy AVCHD to audio converting on Mac OS X!