How to Play AVCHD File on QuickTime
The AVCHD format is becoming a ubiquitous video format for recording moments by mainstream camcorders and cameras including Panasonic, Canon, Sony and JVC by the day. For a Mac user, it can be confusing and time consuming to stream AVCHD and MTS files on Mac OS X. Although the AVCHD movie files can natively be accepted by QuickTime player in OS X Mountain Lion (10.8) or above at the moment, OS X itself handles AVCHD in an unexpected way.
To play AVCHD on QuickTime in Mac, You need to transfer your AVCHD media to your Mac via a USB cable or a USB card reader (or the SD card slot), you will see a folder on your drive, then open the folder and double-click the file named AVCHD, BDMV, or PRIVATE to select the AVCHD clips you want to play on QT.
However, if you just want to extract the .mts files or .m2ts files, rather than a copy of the entire contents of your card with all the folder structure to Mac, QuickTime will not be able to read it, let alone other Apple products such as iPhone, iPad, Photos.
So to make your AVCHD footage more flexible playable QuickTime on Mac, the best course forward is to losslessly convert them to an Mac readable format so you can view those AVCHD files through QT and any other Apple products smoothly.
Fortunately you have so many choices today that you'll have no problem finding an AVCHD converter to handle your AVCHD videos for QuickTime on Mac. Video Converter is our favorite. It's a simple and straightforward tool that takes care of all kinds of video & audio converting tasks, along with useful video editing features. You can even use quick presets to convert videos for playback on your chosen devices.
How to convert AVCHD (mts, m2ts) for QuickTime Player on Mac
Stage 1 – Import AVCHD files to the program
At first glance the converter shows you a clean interface. But look past that and you'll find options behind the interface are both powerful and easy to use.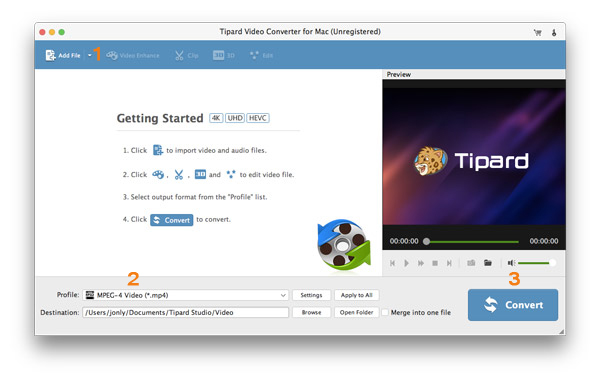 In the menu bar at the top, click "Add File" button, then in the file-browser window select the AVCHD videos to be converted for QuickTime. The converter is able to load any video & audio file, including AVCHD .mts or .m2ts from your camcorder, camera and handycam.
Here are the full instructions for converting AVI to mov video format in Mac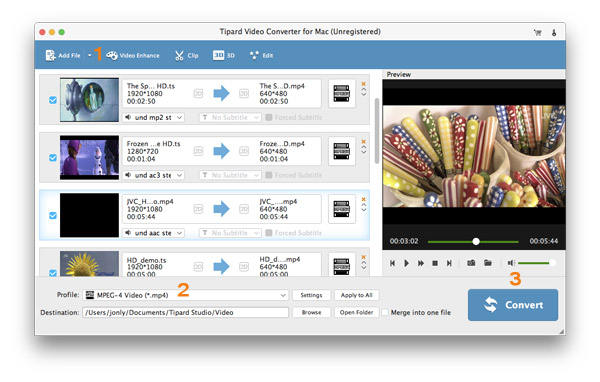 Stage 2 – Choose the export format
Click "Profile" drop-down menu in the bottom left of the window to open an interative panel where output options are organized clearly by type in a list that includes video, audio and device preset.
Let's say we want to export AVCHD to a QuickTime most suitable file - MOV. So in the list we choose HD Video > HD MOV Video (*.mov).
See also: how to convert AVCHD videos to MP4 on Mac OS X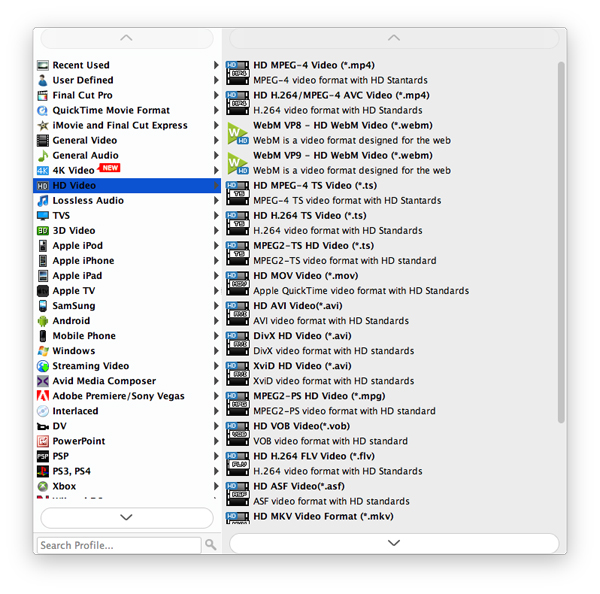 After select an output option, click the "Browse" button next to file-path text on the bottom side of screen to choose where the result file will be saved.
Select a preset if convert AVCHD for playback on device
After choosing the MOV format in "Profile" as output, you can click the "Settings" button next to "Profile" to either manually tweak your output settings to perfection as long as you know what you're doing.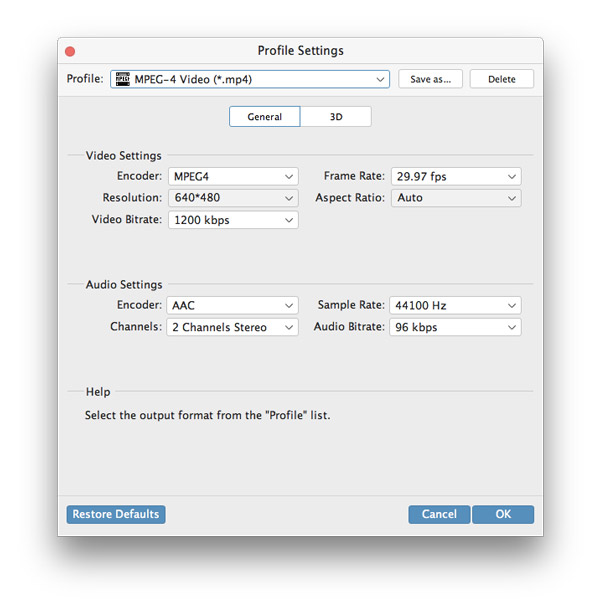 If you happen to intend to convert the AVCHD for playback on a device of your choice, you can choose from tons of preset options covering from android devices, iOS players, to game consoles and desktop applications.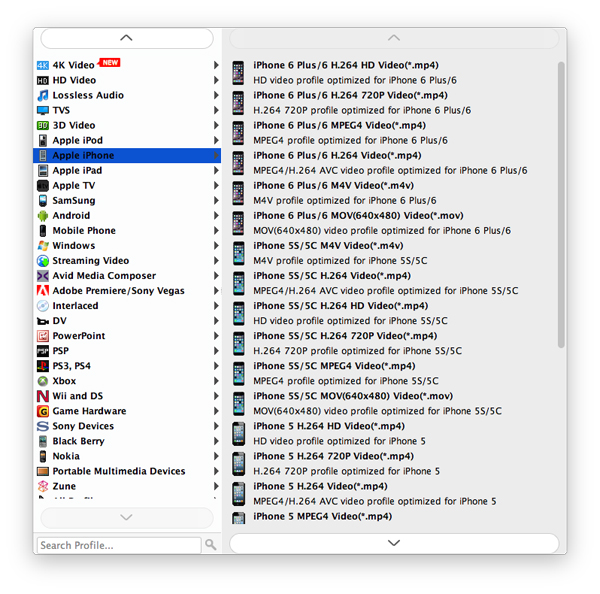 Stage 3 – Click "Convert" to begin the AVCHD converting on Mac for QT
You now can right begin to set off the AVCHD to QuickTime conversion on your Mac by clicking blue "Convert" button, and go have a drink or something as the process might take a little while.