How to Play WMV on Mac Computer [2 Ways]
While you may stream hot movies and TV shows online with your smartphone or tablet these days, you probably still want to play your favorite video files in media library on your Mac from now and then. But unfortunately, the video file formats that a Mac OS X computer can be able to play out of the box are quite limited. Playing non-Mac-friendly digital formats would be a constant source of irritation on Mac machine. Today, we'll focus on the topic of how to play WMV file on a Mac in this article.
There is no doubt that WMV files can be played perfectly on a Windows Media Player in PC's, as WMV (Windows Media Video) is the format developed by Microsoft. But WMV would meet resistance from QuickTime player that's pre-installed on Mac. When you're trying to play a WMV video on Mac with the default QuickTime player, an error message will pop up on the screen, telling you the file type is unsupported.
The good news is that there're two simple solutions available for you to play WMV or other non-Mac-readable formats on a Mac.
Solution 1: Download a 3rd party media player to play WMV on your Mac
When it comes to media players, you can find few better apps than the free VLC media player. The application, with great onscreen controls, has rightfully earned a reputation for being able to play virtually anything from video (AVI, MP4, WMV, MKV, MOV, VOB, MPEG, FLV, ASF, etc.), to audio, to Blu-ray, DVD, CD and ISO. It doesn't require extra codec packs to be installed, and doesn't bundle links to other malwares or ads.
To play a WMV on Mac computer with VLC media player, you can download the Mac OS X version of VLC player from the VLC website: http://www.videolan.org/vlc/download-macosx.html
Solution 2: Convert WMV to a more accessible format that's playable on Mac
By installing a 3rd video player app, it is possible to view WMV or other weird files on your Mac, but often the playback experience is hampered. But suppose you'd like to deal with your WMV outside of VLC. How can you import WMV into iMovie for editing, for example, or transfer it to iTunes library to sync with an iOS device you own? Thankfully, the web is full of WMV converters that enables you to easily convert WMV to a format that's readable on your Mac platform.
Video Converter does exactly as it promises quickly and efficiently. Its intuitive interface make it easy to convert WMV to a more accessible format for playback on Mac. And it supports conversions between a dizzying array of file formats including AVI, MP4, WMV, MKV, MOV, M4V, FLV, VOB, MTS, MPEG, and audio formats such as MP3, FLAC, APE, M4A, WMA, MKA, WAV, AAC, AC3. Aside from selecting from a host of device presets from the software, you'll find additional settings for modifying the output if required. The software also features a basic array of video-editing tools that is engaging and enjoyable.
Getting started
How to convert WMV video files to play on Mac OS X
Stage 1 – Add WMV videos to the application
When you open the application, it should default to a simple UI like the screenshot below.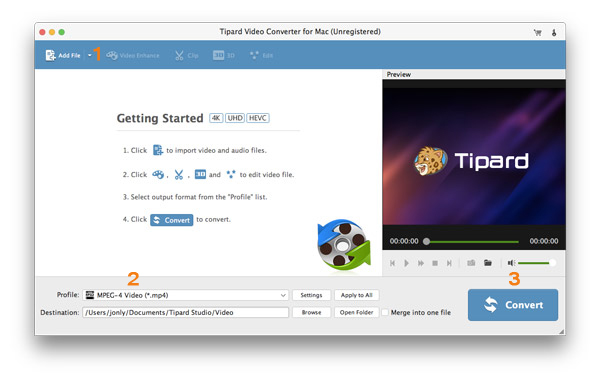 To put WMV videos onto the application for conversion, select your .wmv files from folder on computer, drag & drop them into the blank area of the application. Alternatively, you may use the "Add File" method in the top menu to complete adding tasks.
Once you choose, the application will analyze the WMVs and display information about the file respectively.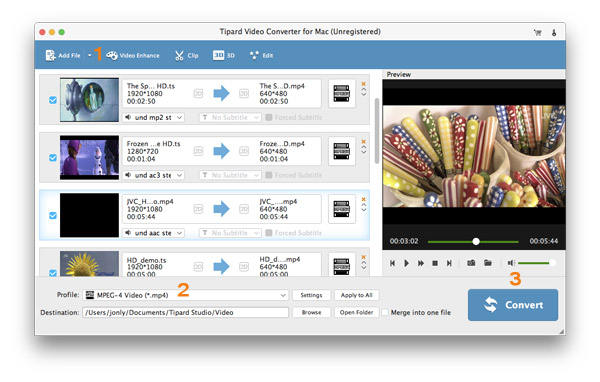 Stage 2 – Select an output format that's more accessible
The next thing to do is select which format you want to convert your WMV files to. We generally use MP4 because it's supported on both Mac and Windows platform, and works well on most of playing devices and game consoles on the market. Also, if you just want to play the WMV on Mac OS X, M4V and QuickTime .mov are great alternatives.
Open the drop-down menu that named "Profile" on the bottom left side of the screen. Then, highlight "HD Video" category in the left pane to expand its list, then pick HD H.264/MPEG-4 AVC Video (*.mp4) in the right pane.
After selecting the output file type from the list, you may be want to specify a location for the resulting output files. To do this, click the "Browse" button in "Destination" box and navigate to folder on your computer and press OK. Or the converted files will be found at /Users/[your name]/Document/... if you use default path.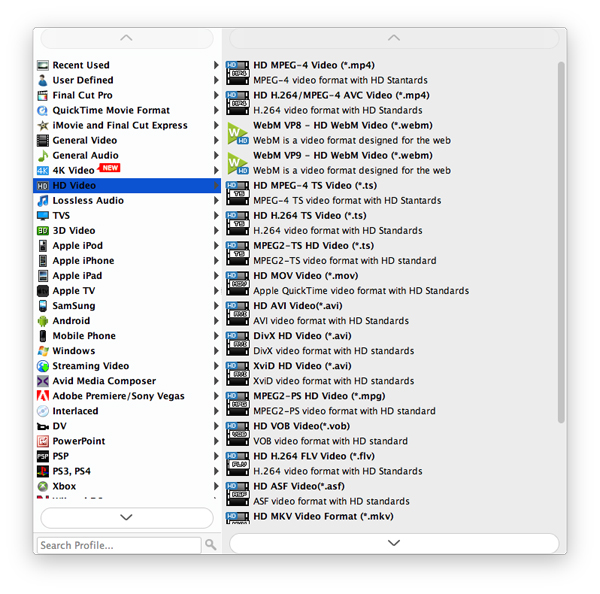 This Mac WMV converter offers lots of advanced options for manually tweaking conversion settings such as frame rate, bit rate, resolution, codec, aspect ratio for video part, as well as the ability to change the bit rate, channels, sample rate for audio track.
See: How to Downscale a Video from 4K to 1080p.
This is can be done by clicking the "Settings" button next to "Profile" menu after you selected format option however, the default should be good for most of the us.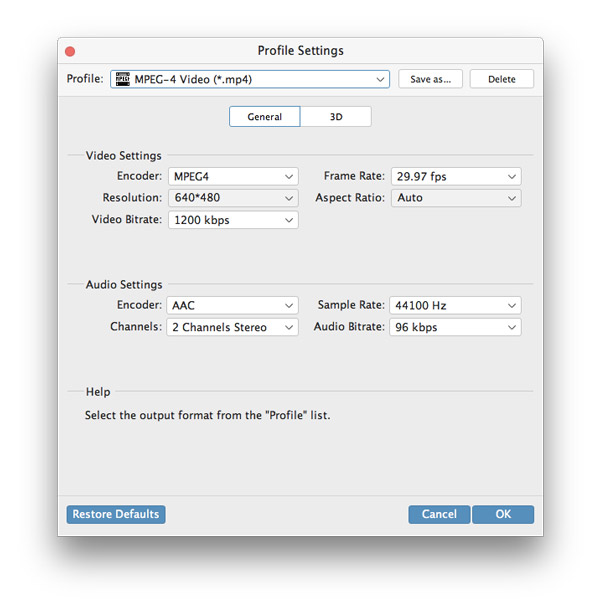 Preset available
The application also ships with a bunch of device-oriented presets as can be seen on the left pane, allowing you to quickly set up your outgoing settings (format, size, bitrate, frame rate, etc.) for the device.
It's really convenient for some folks who want to play movies on their portable device but don't know exactly what settings should be used.
If you want to the WMV files to be playable on a Apple iPad Air 2, for example, simply highlight "Apple iPad" category, and pick the iPad Air 2 profile from its expanded list.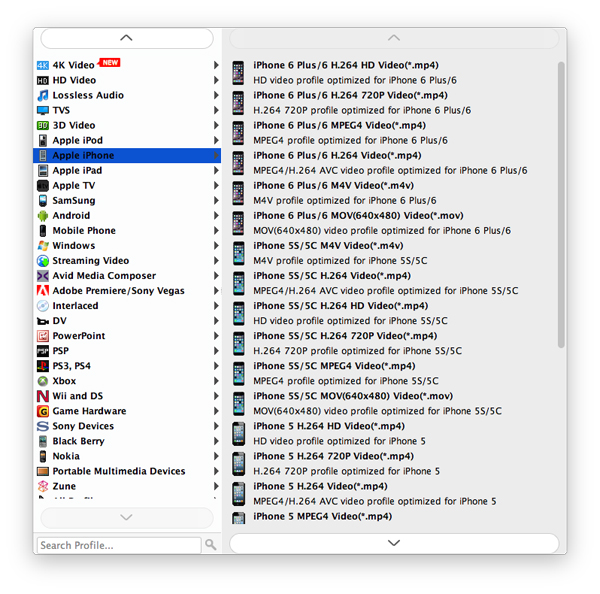 Stage 3 – Click "Convert" button and you're off
Once everything is configured well you may start process of converting WMV to a Mac playable format. To do it press the big "Convert" button at the lower right corner. The WMV conversion will begin.
While the WMV videos is being converted, a process window opens, along with progress bars that you can follow. Depending on the length of source files and conversion settings you set, this could be a while. Be patient.
After the WMV conversion process finishes, you'll find the new created files on your location where you told the software to save it. You can play the newly-minted files on your Mac QuickTime player to see if they are smoothly, then stream them to your devices for a full experience.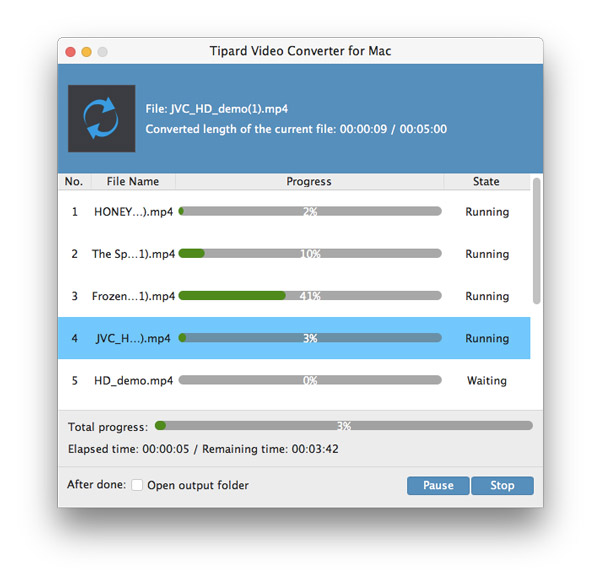 In conclusion
Video Converter is great software for converting digital videos and music because of its simplicity, speed, high-quality output and flexibility. It handles any type of video & audio files you throw at it and output to popular video files for used on multimedia devices. Go and try it!