MKV Converter: Convert MKV Easily and Quickly
Watching movies is a big part of several of our lives. While some digital files, like MP4, can be played back on many of media players and devices, some other movies like MKV are less easier to play, copy and share on cross-platform and devices. If you're trying to play a Matroska MKV 1080p or 720p movie on QuickTime player on Mac, for example, you would always get an error message that says the file type is unsupported, not to mention iPhone and iPad. Today we're going to look at MKV converter that can convert MKV file to a more manageable file and ready to play anywhere, anytime.
What is MKV
The MKV, also known as Matroska video file, is an open standard container format designed to be future proof. It can incorporate multiple audio, video files that are encoded from a variety of different formats—the most common ones include the H.264 and XviD for video and MP3 and AAC for audio, Matroska MKV also including extra features such as subtitles, languages, metadata support, error recovery and fast seeking.
Even though support of MKV playback is getting rapidly growing in digital world, since it isn't an industry standard, not all media players are capable of playing MKV files yet, you would have to convert the MKV on Mac OS X or Windows platform from time to time.
MKV Converter for Mac and Windows
There are innumerable MKV converting tools on the market. It's hard to say which one is best. One good solution is Video Converter. It is an efficient and comprehensive program that's well designed, easy to use, and full of features. It gives users of all experience levels the ability to convert MKV from your movie collection into a wide range of formats such as MP4, AVI, M4V, WMV, MOV, MP3, M4A, WMA, AAC quickly and conveniently.
You can even fine-tune output settings to complete control over every detail of your (MKV) conversion task, and take some basic editing on the video before the conversion. The resulting file is comparable in quality and size.
1. Intuitive interface. The MKV video converter features a sleek interface, with simple layout that's easy to figure out. It makes the MKV conversion process almost effortless even if you're at the novice level when it comes to working with video.
2. Convert MKV files to tons of formats. The output format options provided are numerous in this MKV converter for Mac/ PC application so that you can convert your 1080p or 720p MKV files to whichever format you need: MOV, AVI, WMV, FLV, MP4, M4V, VOB, MPEG, 3GP, RM, WebM, etc.
3. Convert other files from one format to another. Aside from converting from MKV file on a Mac or PC's, the strongest point of this utility lies in its support converting between almost every file format on this planet. You can convert any videos to WMV, AVI, MP4, MOV, M4V, FLV, MPEG, or vice versa.
4. Handy Device-oriented presets. More importantly, for those who have a lot of HD MKV movies or other files and intend to export for use on a portable device, this Windows & Mac MKV converter ship with a library of pre-defined device presets for different gadgets. Once you've selected the preset you like, the most appropriate settings will be ready for you. It's very helpful for those
5. Extract audio track from Matroska MKV movie. In additional to converting HD MKVs to kinds of video files, the application also has a built-in audio extractor that lets you extract the sound track from MKV movie files and save as mp3, wma, mka, m4a, aac, ac3, etc.
6. Basic MKV video editing capabilities. The PC & Mac MKV converter software includes video editing filters on board which help you to cut unwanted parts of a video, remove black bar on sides, add text/image watermark, get rid of video noise, combine multiple small clips into a single one, and more.
7. Output settings tweaks available. If you need to take a little more control on conversion settings, though, the MKV video converter for Mac and Windows allows you to tweak your preferred aspects of videos from whatever's on offer: codec, bitrate, frame rate, resolution, sample rate, channels. For example, if you want to downscale a 4K MKV video to generate a 1080p MKV, you just go to resolution box in Video section and set the value from its original 4096 x 2160 to 1920 x 1080.
8. Conversion acceleration. The Windows version of the MKV video converter supports nVidia CUDA GPU and AMD APP acceleration, which helps speed up the process of converting MKV and other movies files.
Click the link (see above) according to operating system that's running on your computer to download the copy of the MKV converter. Follow the instructions on the screen and complete the setup, it takes only a minute or so.
I'm going to take a MKV conversion on Mac for example.
How to convert MKV to any other format using MKV converter for Mac
Getting started
Stage 1 – Pick what to convert
Open up this MKV converter, a very nice and simple user interface displays. Basically this is where all the actions happen for converting videos from one format to another but, the advanced settings are hidden away for experienced users.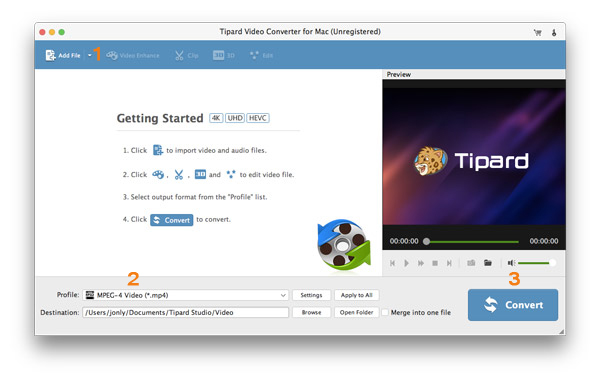 The first step in using the application is to click the "Add File" button at the top menu, this will bring up a small file-importing dialog box. Browse to your local folder on computer and select your 1080p/ 720p MKV files you want to convert, and click Open.
Aside from adding MKV for converting here, you can also select any other digital files to the program and convert into format you desired, this will save you a huge amount of time.
Then you can preview a video to check it's definitely the one you want via the Preview window in the pane on the right.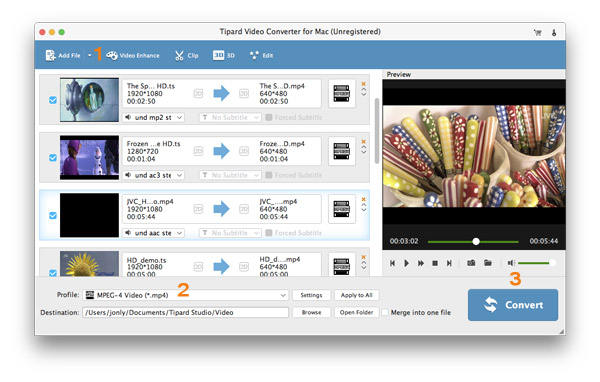 Stage 2 – Select from the format options which to export to in "Profile" menu
Now select the output file type from the "Profile" drop-down menu located on the lower left side of the screen. When it comes to output options, you're sure to find the ones you're looking for in the huge selection this MKV converter offers.
In this example we stick with HD H.264/MPEG-4 AVC Video (*.mp4) under "HD Video" category because it's compatible with a much wider range of devices, and works across multiple platforms. But you can still take an easy explore for choosing another output profile from the list.
Next, give the output file a saving location on your computer in "Destination" field beneath "Profile" menu.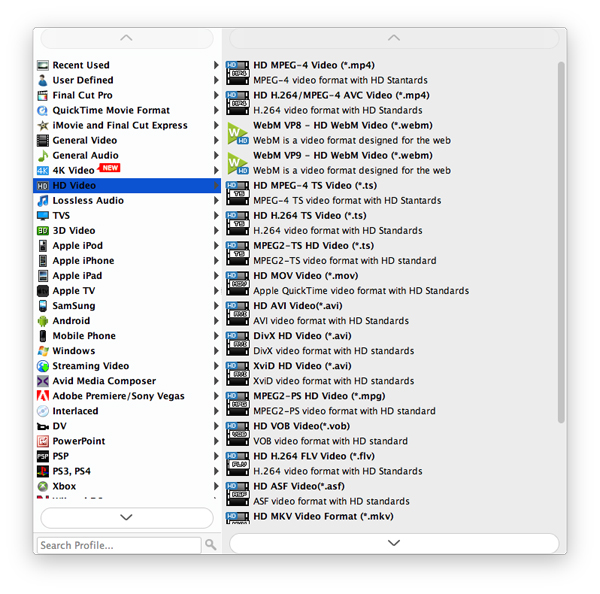 The MKV converter for Mac, by clicking the "Settings" button next to "Profile" menu, has even more advanced encoding settings available, letting you manually adjust conversion parameters for output file. You can toggle between video and audio codec, adjust bitrate and frame rate, change resolution and sample rate, channels and more.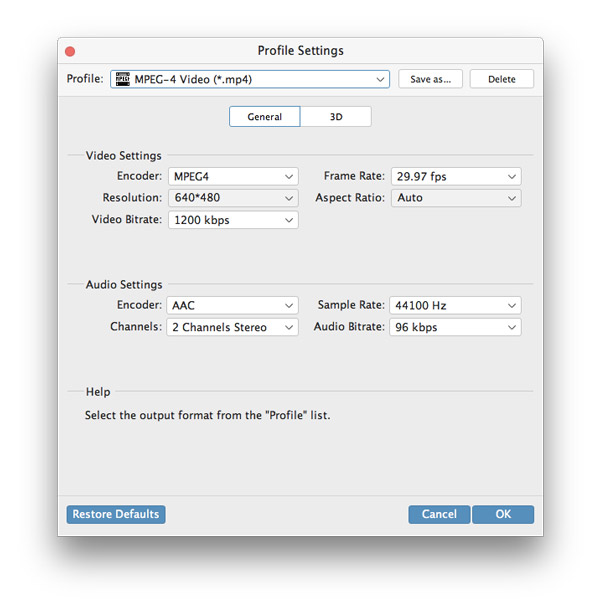 Preset profiles available
The MKV converter not only allows experienced users to fine-tune conversion settings to export desired file, but give common users a quick way to setup conversion.
Multimedia devices on the market are finicky about the kinds of movie formats they'll natively support. The Software understands this and comes with a list of preset output for different of devices, ranging from Apple iOS devices, to Android smartphones, tablets, to Windows devices, to PSP, Xbox, Amazon device and more.
Find More: How to Play MKV on iPad.
Look at the device-named categories on the left panel, it's not hard to figure out that these presets will help you convert your movie files to something better suited for your preferred device.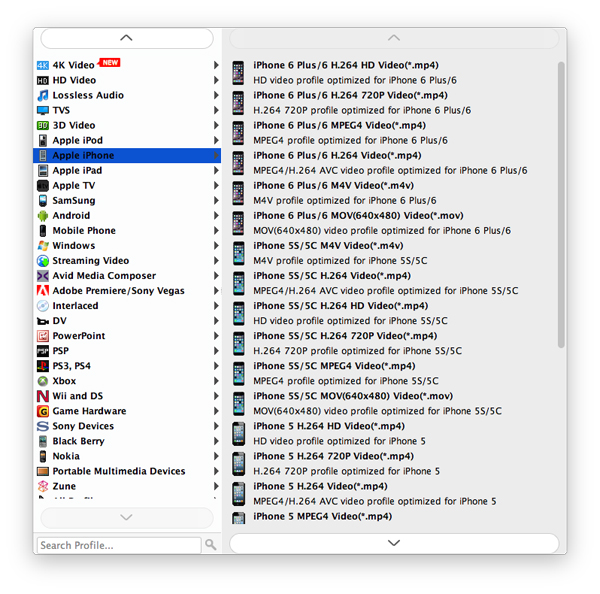 Edit your MKV movie before conversion
Other noteworthy features of the MKV converter for Mac & PC include handy basic editing tools for rotating, trimming and cropping MKV video, putting text watermark on the file, applying special effects (brightness, contrast, saturation), and removing video noise.
To edit the video, click the "Edit" icon or "Clip" icon located at the top menu of the main screen, and then use any of its tabs in its opening window. You can check the result in a live preview window.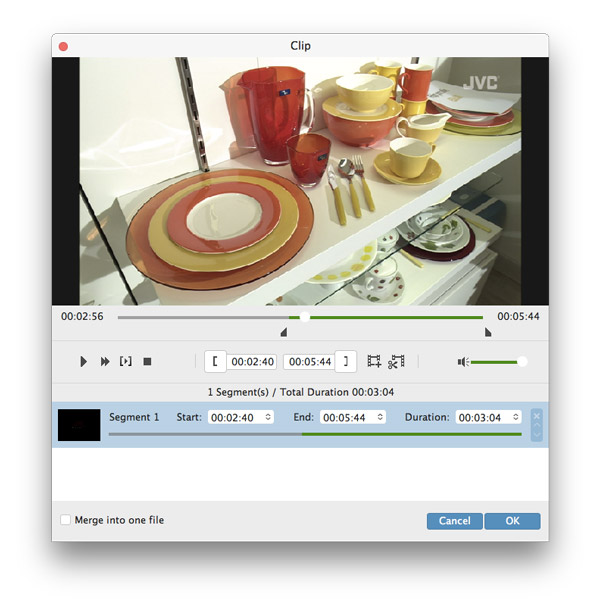 For example, to remove the unwanted part, drag the left slider underneath the preview monitor to the point that you want the video to start, and then drag the right slider underneath the preview monitor to the point that you want the video to stop playing, as shown above. Alternatively, manually enter the exact starting time and end time in the box.
Stage 3 – Click "Convert" to start converting MKV in Mac OS X
When you're happy with everything, press "Convert" button at the bottom right side of the screen, and let the MKV conversion take place.
You can get some idea of how long the Mac MKV conversion will take checking the progress bar in the process window. As you can seen in the screenshot below, the progress bar starts crawling to the right, revealing an increased percentage of the track that was getting converted over the format you choose in Stage 2.
If there are a large number of source files in the process queue, you can leave the program converting them overnight, and set Shut Down to the Action option in Conversion tab in Preference. That way, this MKV converter for Mac will shut down the computer after conversion completed, and prepare the new created files for you the following morning.
That's it!