How to Convert an MKV to an AVI
Anybody who has downloaded high quality videos from online will often find them ending with an .mkv file extension. There is no getting around the fact that sometimes converting MKV videos to AVI file on Mac or PC machine is a need - whether it's for compressing the large MKV file to a smaller file size or to watch something on an AVI player. Find more about burning MKV to a Blu-ray here.
Matroska MKV VS AVI
MKV is a very flexible multimedia container format that can house a wide range of video streams, audio, picture, and allow distributing with extra features such as subtitles and multiple languages in a film. Most videos with .mkv extension contain high-definition H.264/MPEG-4 AVC content, some of them even include H.265/HEVC content. While speaking of AVI format, unlike MKV, AVI had been an industry standard and various of media players and multimedia devices support it. AVI uses Xvid, h.264, mpeg-4 and Mjpeg codecs to encode videos and the resulting file has a reasonable size.
PC & Mac: MKV to AVI converter program
Both Windows and Mac OS X don't come bundled with basic video converting capabilities. Today I'll be introducing the lightweight, reliable application Video Converter. It converts anything to anything for both PC and Mac systems, including MKV to AVI (Xvid, h.264, mpeg-4) file format, and has lots of device-specific export options suitable to play video on smartphones and tablets. Besides media conversion, the application also comes with a few basic video editing features.
Also see about how to use the program to convert MKV to MP4 file on Mac.
In case you're having no idea getting started with the program, our basic guide will walk you through how to convert video files in MKV to AVI format on Mac for example. Follow the steps below.
Stage 1 – Load MKV video(s) to the program's window
Run this MKV to AVI converter for Mac. The first thing we do is select our source. Click the "Add File" button top open file-browser window. Navigate to your local folder where the MKV files are located, select them and click "Open". Now you'll see the files listed on the main interface of program.
Another way to add files is dragging and dropping the desired MKV file(s) to its window.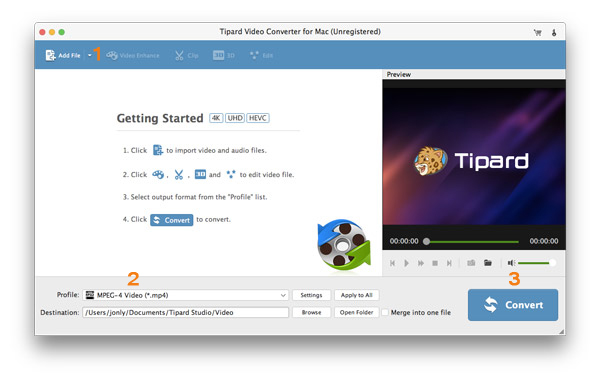 Stage 2 – Set up the export format
Click on the "Profile" format option on the lower left side of window, a drop-down list will appear as shown below.
Select the "*.avi" option from "General Video" category.
The software also allows you to easily convert MKV to other formats, such as MKV to MOV on Mac, MKV to MP4, MKV to MP3, and others. What you need in this step is simply choose the corresponding option for export.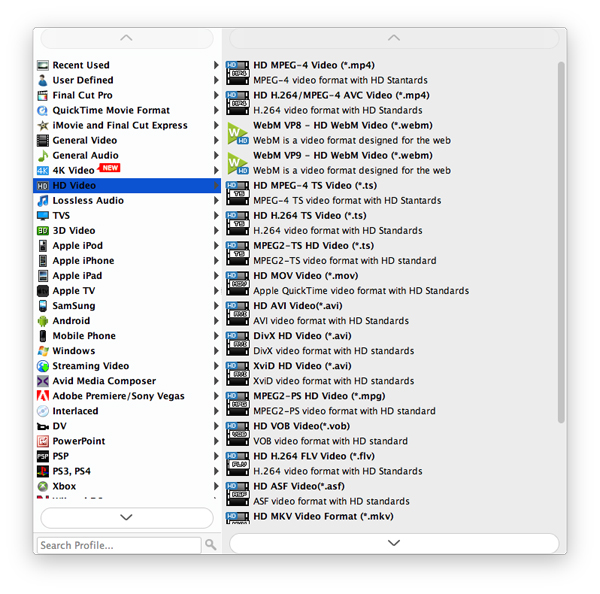 Stage 2.1 – Adjust output settings (optional)
To get a decent quality of output AVI, this MKV converter has enough options to tweak the encoding settings such as bitrate, resolution, channel, codec (xvid, h.264, mjpeg, mpeg-4, ms mpeg-4 v3/v2), etc. By clicking the "Settings" option next to "Profile" on the panel, you can fine-tune those settings or simply click OK and go with the defaults.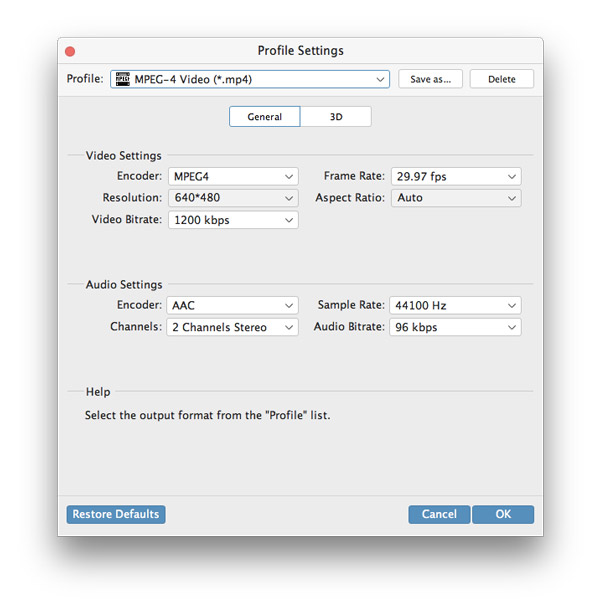 Stage 2.2 – Select preset option
This Mac application has a wide range of preset options for exporting your video suitable for many different multimedia devices and players including iPhone, PS4, Xbox One, tablets.
All you need is click the preset option you want, all of related settings will be adjusted automatically to suit for your device.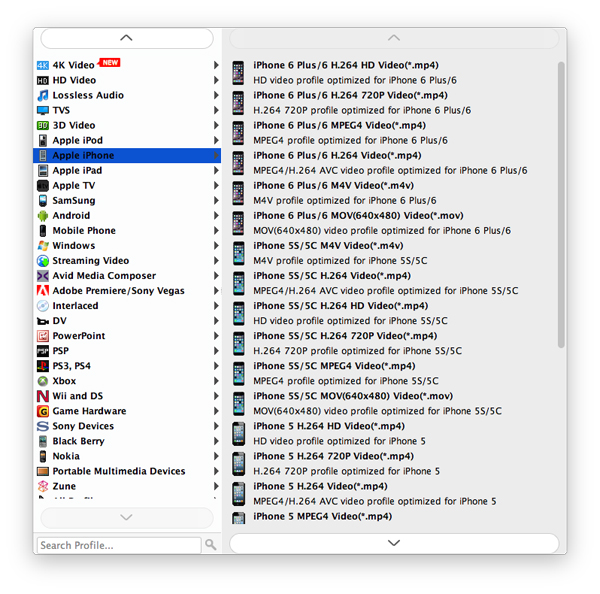 Edit the video (optional)
Back to the main screen of the program, there is a corresponding EDIT image icon on the top menu bar.
If you want to trim (remove) a part of the video, or crop the video to delete black bar on the sides, or apply effects to the video, or something like watermark, you can make use of this program's basic video editing function to deal with those tasks.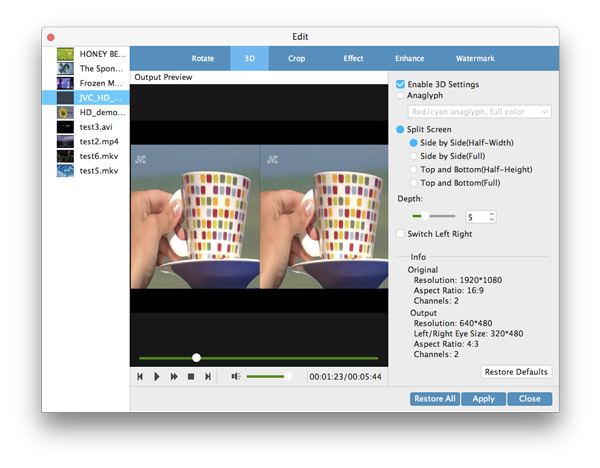 Stage 3 – Start transfer MKV to AVI file in Mac OS X
When you're ready, click the "Destination" button on the bottom, this will display a small dialog where you need to select a name and a destination for your end results.
Lastly, click the blue "Convert" button to begin the real converting from MKV to AVI video format on Mac.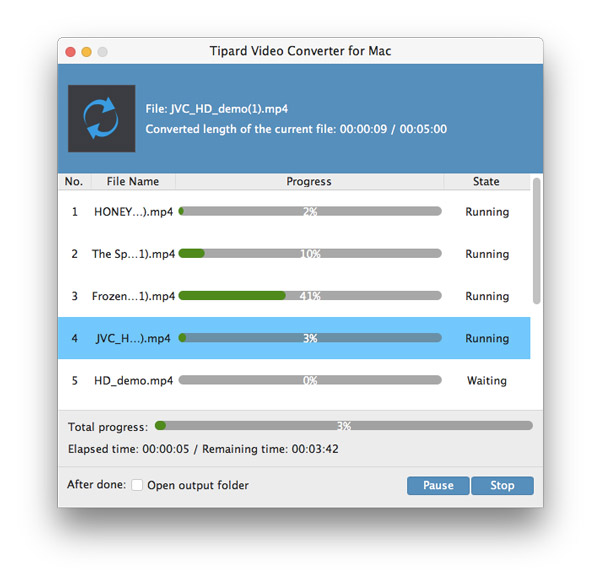 When process is going on, you can monitor it through a process bra at the bottom of the item.
After the conversion complete, the new AVIs will appear on the folder you set previously, you may test them on your computer media player such as VLC to see if they work for you.
That's it!
More Tech Tips
AVI to MOV Mac - instruction on how to transcode AVI to MOV file format