How to Play HD MKV Movies on iPad
Video streaming services like Netflix are great for playing HD movies, TV shows on the iPad with the retina display. It's no doubt that you most probably don't come across any problem to stream the video with such kind of services as long as you have installed the dedicated app on your iPad. But sometimes you just want to play your local High-definition HD MKV video (1080p, 720p) files on iPad, you'll find that the device doesn't play them directly, nor does your iPhone and Apple TV.
Streaming MKV files on a iPad is never taken as a matter of course, since iPad only supports a small range of video formats natively, mainly variants of MP4 and QuickTime format. We'll call it non-Apple-approved media format — and you'll need to use other methods to view your HD movies that are in matroska .mkv format on your iPad. Luckily, the web is full of solutions.
MKV to iPad converting applications
Converting MKV to iPad friendly format couldn't be a challenge with video conversion solutions. While there are many MKV converters available on the web, Video Converter for Mac does its best to handle 1080p, 720p MKV HD video files. The software ships with a number of built-in presets, covering iPads and iPhones, Android phones and tablets. At the same time, it can convert pretty much any video file on your computer to other type of popular video & audio file types, with a wealth of advanced settings that you can delve into for specific needs.
If you're on a PC machine, please refer to its Windows version — Video Converter for Windows to convert your MKV files to put onto iPad (Air, Mini, Pro versions are all supported).
This guide provides detailed instructions for converting a video in .mkv format to iPad compatible file that you then are able to copy to your iPad via iTunes.
MKV to iPad Format Workflow
This MKV video converter makes it trivially easy to convert your MKV or any other media files. Fire up the tool and load the source Matroska (.mkv) file, select your iPad model from the preset list, and then click "Convert".
Stage 1 – Add MKV movie files from your computer
Once you open up the software, you'll be presented with a visually appealing interface that is easy to navigate and use.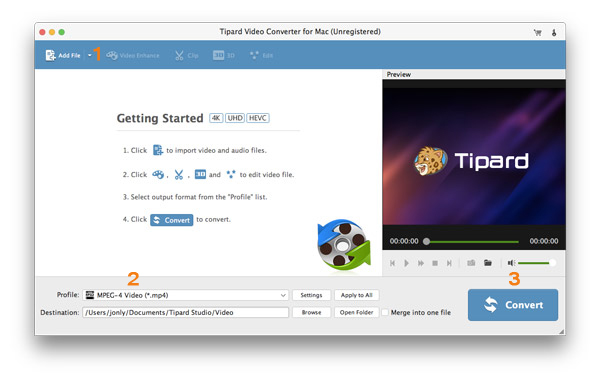 To load the original MKV files onto the software window, hit the "Add File" at the upper left corner of the screen, in the opening dialog, browse to the MKV movie files on your computer, select them and click OK.
A few seconds later, the files will display on the list at the left pane of the screen, as shown in the picture below.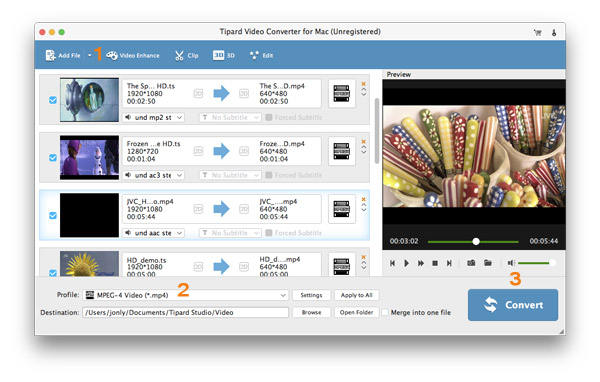 Stage 2 – Select iPad model from preset list
Our purpose in this article is clear — convert MKV to play on iPad.
The MKV converter for Mac understand this and comes with a host of Apple presets for the iPad, iPhone, iPod, Apple TV video playback, with tailored quality, resolution and size settings.
What you need to do is head to "Profile" drop-down menu at the lower left side of the window, in the opening panel, scroll down the list and find "Apple iPad" column, from there pick your iPad model. the latest generation of iPad (2016) including iPad Pro, iPad Air 2, iPad Mini 4 are available to choose from.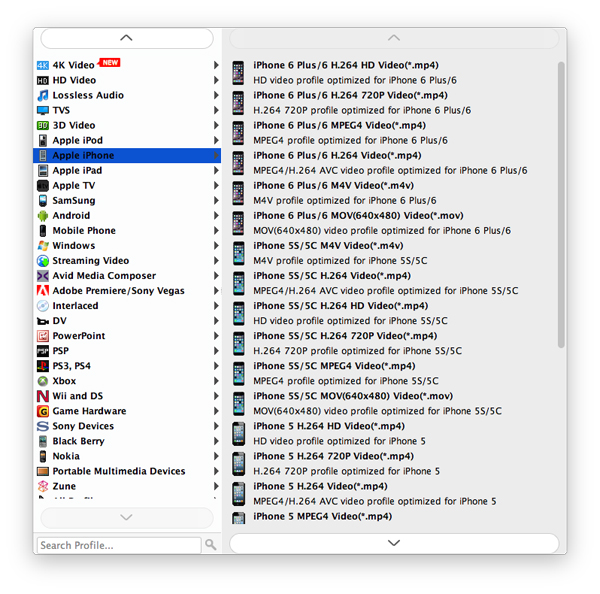 Also, the service lets you convert your (MKV) videos which can be made compatible for other hand-held device including Android phones, tablets, game consoles (PS4, Xbox One, etc.), and streaming websites, video editing software, and more.
Generally speaking, I advise using them if your device model happens to be included in the preset list. But you can take care of the specifics of your output file instead.
Use format instead
There are also a large number of video formats you can choose from instead if you're less concerned about the device. You can see "General Video", "HD Video", "QuickTime Movie Format", "4K Video" (newly updated), "TVs" listed at the top of the pane.
According to Apple's specifications, Apple iPad-compatible files have different limits based on the model of iPad you have. General, the iPad released in recent years supports .m4v, .mp4, and .mov file formats with H.264 video up to 1080p/60 fps, AAC-LC audio up to 160 Kbps, 48kHz, stereo audio; and MPEG-4 video up to 2.5 Mbps, 640 x 480p, 30 fps, AAC-LC audio up to 160 Kbps, 48kHz, stereo audio.
In this example, you can choose to go to "HD Video" column, and select HD H.264/mpeg-4 AVC Video (*.mp4) as output. Then back to the main interface and click the "Settings" button next to "Profile" to fiddling with the conversion settings if required.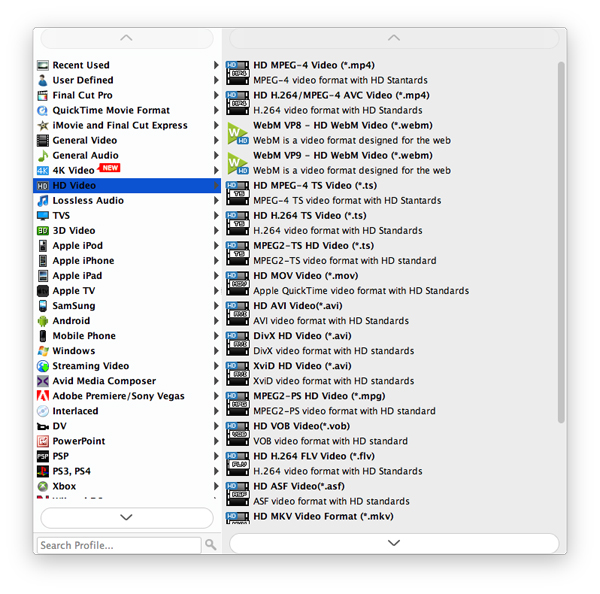 Related: How to Convert MKV to MOV Format on Mac OS X
Stage 3 – Converting MKV for iPad
Before the process begin, select a folder to put your result files via "Browse" button next to "Destination".
Check all settings, then start the real conversion process by clicking the blue "Convert" button at the lower right corner of the screen. Once you press the button, the software goes to work converting MKV videos into files that iPad read well. A new window will come up with progress bars that show its converting speed.
Go out for a walk as the converting task can take a while.
BTW, if you're running the software on a PC machine that has a CUDA or AMD graphics card installed, it will speed up the MKV to iPad conversion up to six times than ever before.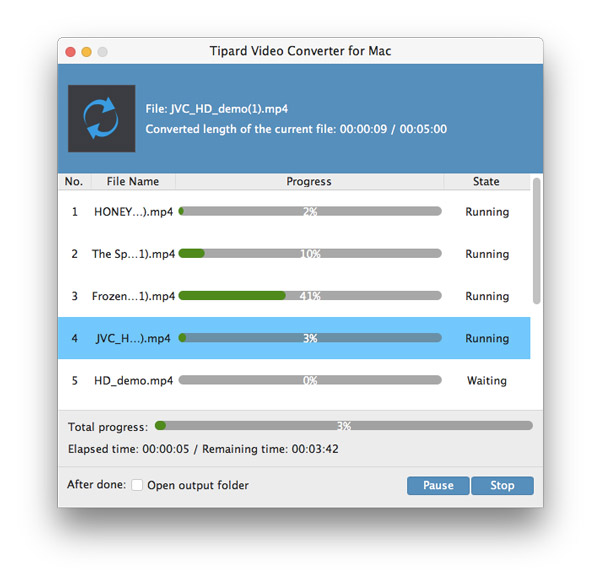 When the process reaches completion at 100%, you will find the new created video(s) ready on the folder you specified previously.
Stage 4 – Launch iTunes and connect your iPad
Now simply drop the movie files into iTunes and sync them to be copied to your iPad.