How to Convert MOV to MP4 Video
Let's say you shot a quality video footage with your camera and save the file in a .mov file extension, and when you drop it onto QuickTime player on your Mac, it plays smoothly. Then you transfer the MOV file into a Windows-based player or device and only leave an error message that says the file is invalid or unacceptable.
So, you want to convert the MOV to an MP4 file on your Mac or Windows, the most widely used video format on the planet. When the file is encoded to MP4, chances are you'll be able to stream it on just about anything of your choice with no problem. That's what we'll focus on today.
MOV is a computer file format developed by Apple and is used natively for Mac QuickTime (.mov, .qt) framework. All of Mac-based products accept this file type well. Compared with other popular formats, one of the big advantages of QuickTime .mov (ProRes Proxy, ProRes 422 (LT), ProRes 4444 (XQ), ProRes 422 HQ) is it is suited for editing in video editing applications such as Final Cut Pro and iMovie without data copying.
Though QuickTime .mov files are common in Mac, the proprietary nature of the format limits its usage in non-Mac operating systems and devices. Thankfully, it's not difficult to convert MOV file to MP4 file format for Mac or for your Windows machine. The software we'll use for that purpose called Video Converter. Whether you want to compress a MOV file to a smaller size or batch process multiple MOV videos to MP4 on Mac/ PC, the software can handle it.
It supports pretty much anything you throw at it and then transfer into a new audio/video format, and provides a number of preset profiles for you to convert MOVs for a device of your choice. Experienced users can even fine-tune encoding settings to get control over the quality of output.
The following we're going to guide you through the whole experience about how can you convert an original MOV source format to h.264 encoded .mp4 file or mpeg-4 encoded .mp4 file in Mac OS X or Windows.
Related tutorial: how can you convert audios from m4a to wma on Mac.
How to convert QuickTime .mov to an .mp4 video file for Mac
Click the link above to download the copy of the video converter and install on your computer.
When you launch the software first time, you'll be shown with an easy to understand but feature-rich interface like screenshot below. Almost all aspects of the converting process you will find on there.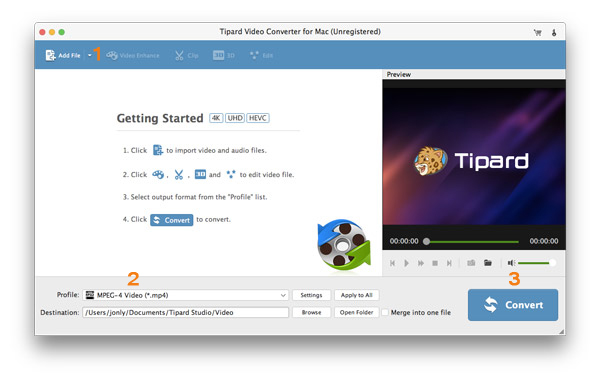 Stage 1 – Load the MOV video(s)
To begin the process, go to top menu and click the "Add File" button on the left side. Find and select your MOV files to the program. Or you just drag the sources and drop into the blank area.
Then, the .mov to .mp4 converter will show you all video items in the list. The left column shows a thumbnail of the item which you click to preview, in the middle column provides the related information.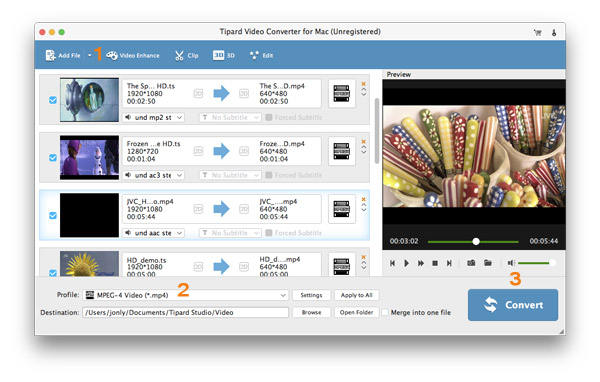 Stage 2 – Select an MP4 target file format you need from the wide selection on offer
Now that we have the QuickTime MOV file imported, you'll need to find and select the MP4 you want to convert to. The fact is that the converter has made "MP4 Video" option in "Profile" as output to the default, so, here we have nothing need to do.
But you can still click the "Profile" drop-down list (see bottom left), and this will bring up a Format list window, and choose General Video > MP4 Video.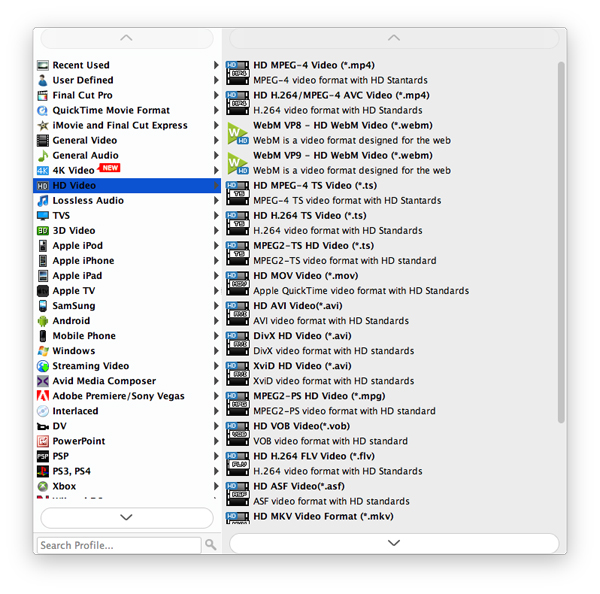 As you see, there are plenty of format profiles available for you to choose from, if you want to do other conversions, MOV to WMV on Mac for example, you simply select the target profile option as output.
Stage 2.1 – Configure Settings (optional)
If you're a videophile and want to get more experiment, go ahead and make adjustments to anything in file settings such as codec, frame rate, bit rate, resolution and aspect ratio. The software include "Settings" selection right along with "Profile" menu in the main interface window.
In this article, it is just a straight conversion from .MOV to .MP4 on Mac OS X, so we'll leave all settings as is.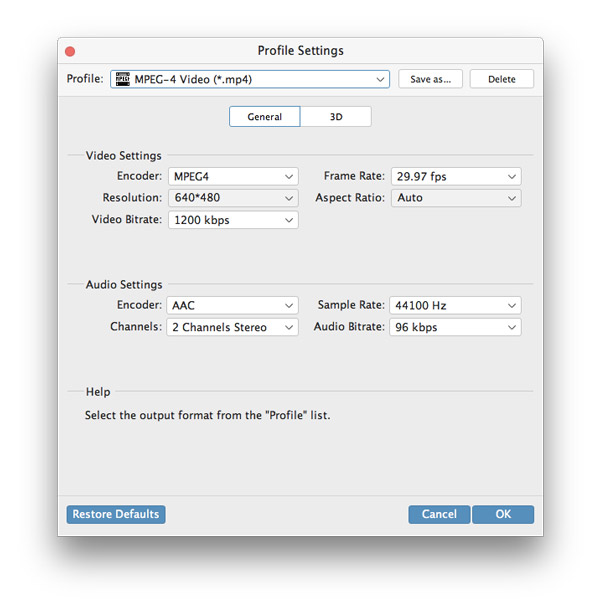 Stage 2.2 – Apply preset
For simplifying the format choosing and settings tweaking in Stage 2, this Mac application gives you most of the popular players and devices presets as output that the average person will care about.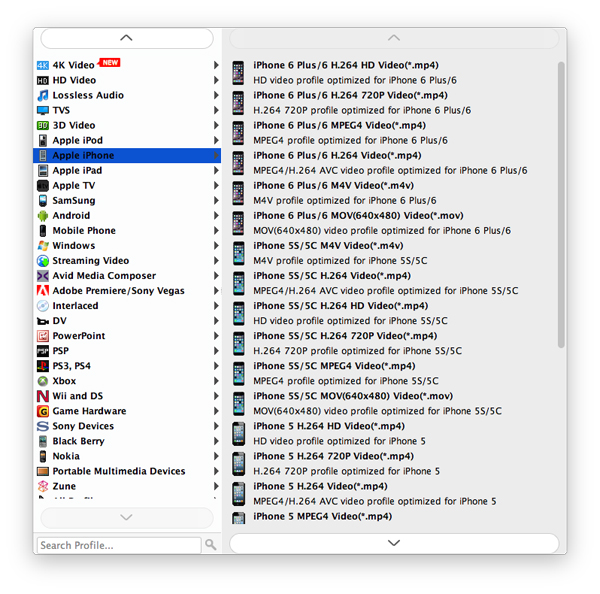 Stage 3 – Editing the video (optional)
You can even edit the video to meet some special requirements, such as cropping to remove the black bar on the side of the video, trimming to get a certain part with exact starting/ending time, and more.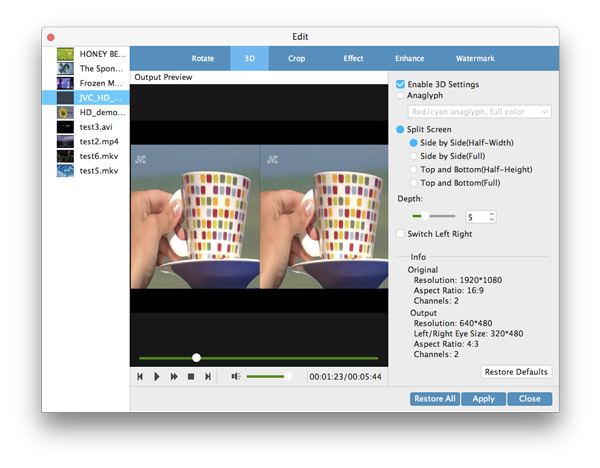 Stage 4 – Convert the MOV to MP4
Now, click the blue "Convert" button on the lower right side corner of the interface to get Mac MOV to MP4 conversion started. You can see the conversion status on the process bar beneath the item.
The conversion ended up taking quite a while to finish up in the end, particularly if the QuickTime MOV is full quality 1080p or 720p.
After the conversion complete, you'll find the new created MP4 (h.264/mpeg-4) file on your folder.
That is it! Enjoy!