MP3 Converter: Convert to and from MP3 Audio
Without a doubt, the emergence of video-sharing sites and faster Internet connection are affecting view experience of videos. At some point, we'll all experience being attracted by a favorite video or music that's hosting on the site, and you then download it to save in your personal collections on computer. But what if you want to just listen to the audio track out of the video, or the song file you're going to put onto your portable audio player is not in the right correct file type? In this article, we're going to discuss about how to use a MP3 converter on Mac/ PC to rip a video into a MP3 file, as well as convert songs to MP3 format, or vice versa.
Before we talk about MP3 conversion on Mac or Windows, let's talk a little about what the MP3 is. Pure and simple, MP3 is a digital audio format for the transfer and playback of music. It is one of the most popular music file types that're universally recognized by media players, game consoles and computer apps in the world. Unlike the uncompressed audio format like WAV, FLAC, the MP3 format allows an audio file to be compressed and reduced in size, making it the preferred audio format when it comes to distributing file on the Internet and store on hard drive with lower consumption of space. Thankfully, there are plenty of great utilities designed to make the process easy and give you files that are playable on any device you choose.
MP3 Converter—Mac OS X, Windows
Whether you want to strip the audio from a video, or convert the music file into another accessible audio format before enjoy your tunes, MP3 is a great choice. Thankfully, there are plenty of great MP3 converter applications designed to make the process easy and export MP3 files that are compatible with your audio player.
Video Converter is our favorite tool which offers a complete solution for all of your MP3 conversion needs. Don't let the name fool you, the software handles much more than just video conversions. It converts videos like MP4, WMV, AVI, MOV, MKV, VOB, MPEG, M4V files to MP3 file, as well as converts music file including WMA, FLAC, AC3, WAV, AAC, M4A, MKA to MP3 format, or vice versa, on Mac or PC's. Additionally, the software comes with a number of device presets that run iOS, Android and Windows like iPhone, iPad, Kindle Fire, Surface, game consoles (Xbox, PSP), TVs, and more. See main features of this MP3 converter below:
1. Intuitive interface. The MP3 converter for Mac/ PC's interface is easy to navigate, with its major functions labeled in simple text as well as icons. Even a user with little computer knowledge will have no trouble figuring out how to add files, select output format, and then complete the conversion.
2. Video to video conversion. As a versatile tool, the program, of course, allows you to convert videos from their original formats to another video file type you need. Almost any imaginable digital video format is supported.
3. Video to audio conversion. The MP3 audio converter for Mac/ Windows gives you the ability to extract audio from movie files like MP4, AVI, WMV, MOV, MKV, M4V and save in MP3, AAC, AC3, WMA, M4A, MKA, FLAC and many other audio formats for tunes, notifications and ringtones.
4. Audio to audio conversion. You can use this PC & Mac MP3 converter to convert between audio files, no matter what it is, FLAC (check .flac to .mp3 here), AC3, AAC, or M4A, WMA, MP3, APE, AIFF, AMR, or others.
5. Device-targeted presets. A impressive aspect of the MP3 converter on Mac & PC is the a vast array of presets it offers. Each one is labeled with the name of device that you want to play the video & audio on, ranging from Apple iPad, iPod, iPhone, to Android Samsung/ Moto/ Huawei/ LG/ HTC/ Sony smartphones and tablets, to Xbox, PSP, TVs and more. You can also create your own defined preset if your device isn't in the list.
6. Conversion settings controls. The PC & Mac MP3 converter ships with a few advanced conversion settings that can be modified, and you can tweak any options you like such as bitrate, frame rate, codec, resolution, sample rate, channels, etc.
Simply click the download link above according to your operating system (Mac, Windows), then install this MP3 converter software when the download is complete.
It should be a fairly quick install and you just need to click "Next" a few times. At the end, go ahead and click Finish.
How to convert video & audio to MP3 file using MP3 converter for Mac
Stage 1 – Open the MP3 converter add source files
Launch the program, you will be greeted with an intuitive and easy-to-use interface. The instructions you need to use this MP3 audio converter are displayed in explanatory text that states "Getting Started".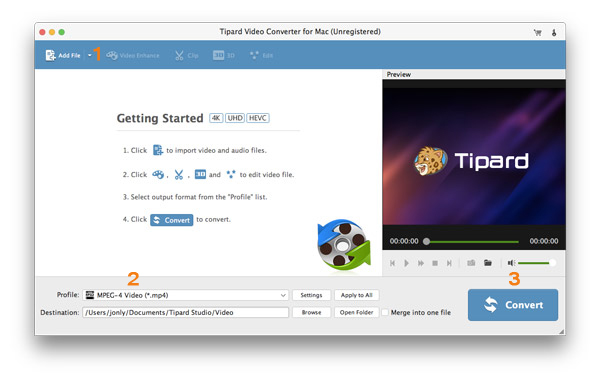 To do it, click on the "Add File" button on the top left corner of the GUI, in the dialog box that opens, browse to folder where your source video or audio files are, select them, and click Open.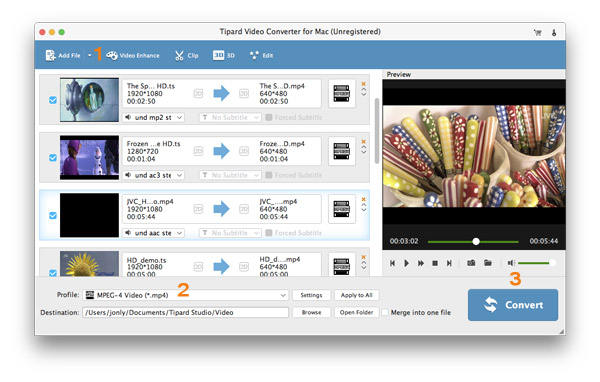 Stage 2 –Set which file format you want the video & audio to be converted to
After you finish adding all your videos or audio, go ahead and select an output file.
In the bottom left side, click on the "Profile" drop-down menu, from the pop-up panel, select MP3 - MPEG Layer-3 Audio (*.mp3) under "General Audio" category.
Tip: the panel includes a large number of audio, video formats and device-targeted presets to choose from. You can see our another example article about how to convert audio in .avi to .mov on Mac.
You will then need to specify a save location for the converted file in "Destination" field beneath "Profile" menu. If you don't, the file will be save in default path "/Users/[your name]/Documents/...".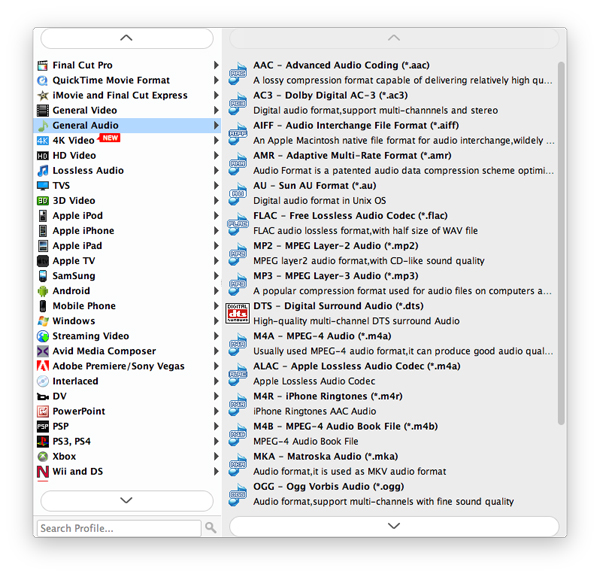 Use preset instead
This Mac MP3 converter's developers are kind enough to provide a wealth of pre-configured device profiles, ranging from Apple iOS products, Android smartphones, tablets, Xbox, PSP, Blackberry, which are specially designed to ease your playback experience on those devices.
So, if you intend to convert videos to view on any of those devices in the list, you don't need to check the manufacturer's manual to tweak their settings, simply select the preset profile you like, and everything is ready for you.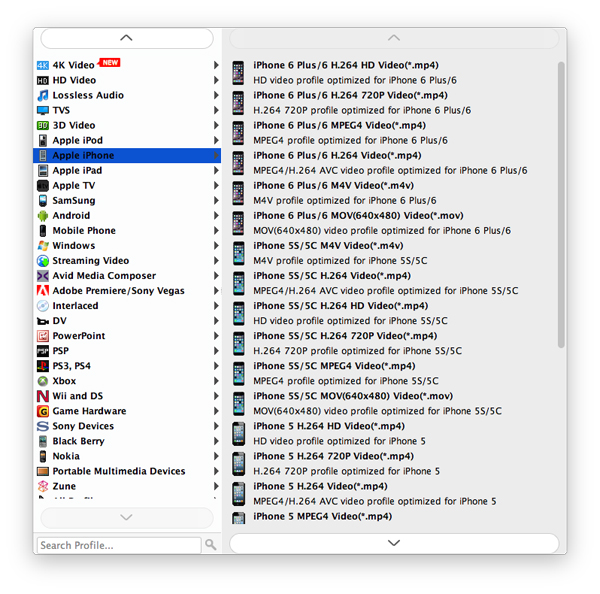 Stage 3 – Start converting your video and audio files to MP3 on Mac
Now that you have imported the source files, and have set which file format you want the video & audio to be converted to, the next and final thing you need to is simply press the big "Convert" icon at the bottom right side of the interface and let this MP3 converter for Mac do the rest.
The program will bring up a new window which will give you important status information on the progress of the conversion. Depending on the file size of source files and the number of items on the conversion queue, the conversion could be moments or minutes or even hours.
Note: you can tell this MP3 audio converter to open the folder where storing the resulting MP3 files automatically on your computer by ticking the "Open output folder" option in the lower left side of the window.
Enjoy it!