How to Convert MP4 to MKV File Format
MKV is the typical extension for a Matroska file. It is an extensible, open standard Multimedia container format Just like MP4 file, but can hold several video, audio streams that are either uncompressed, or compressed formats. As for containers, both MKV and MP4 support high quality H.264/AVC content, but MKV is designed to be future proof, which even supports the newer h.265/HEVC video, and included several key features such as multilingual subtitles, fast seeking, chapter, menu, and metadata support and error recovery.
Let's say you're a movie fan and have a large number of h.264 MP4 hot movies stored in your media collection, and now you would like to convert some of those MP4 to a MKV format that will be work with your MKV player on the trip. While there is a great selection of MP4 to MKV converter for Mac and Windows available out there, Video Converter is our preferred method for all sort of such things.
The converter is a great application that does its job quickly and easily. It lets you change file extension from .mp4 to .mkv for Mac / PC, and converts other known videos to any other file types without sacrifice the quality. Behind its intuitive interface, the program also packs with a significant amount of advanced options to edit or merge multiple files into one single video, or tweak the aspects (codec, resolution, bit rate, frame rate...) of the output video. You can even choose the preset profile built in the program to make your videos watchable on a device.
The process is actually the same on both Windows and Macintosh system. In this article, I am going to introduce how the converter works to help you transfer MP4 file into MKV file for Mac. Check a tutorial about burning H.264 movie files to a Blu-ray disc here.
See the screenshot of the video converter application: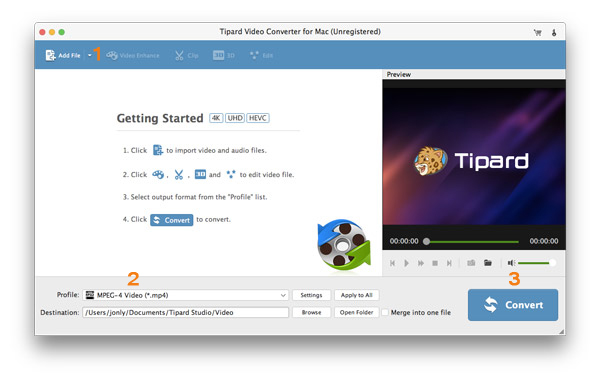 Stage 1 – Load MP4 sources
To select the MP4 (mpeg-4, h.264) items that you want to convert, from the top toolbar, choose "Add File" button on the left side. Alternatively, you can achieve the same thing by using the drag-n-drop feature of this MP4 to MKV converter for Mac.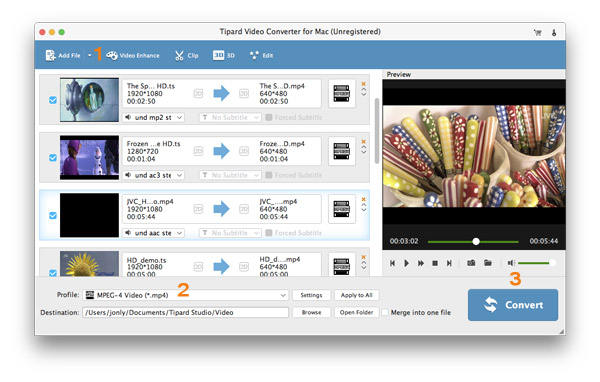 Repeat the same operation to make sure that all of the MP4s are added to the list in program window. If you want to add, delete or change order of items, right click the mouse, there are responding options available.
Stage 2 – Pick "MKV Video" profile from Format panel
In this example, the format of our source file is .MP4 file format and the export file type we want is MKV.
Go to the top toolbar and click "Profile" button on the lower left hand corner, it will open up Format panel like this: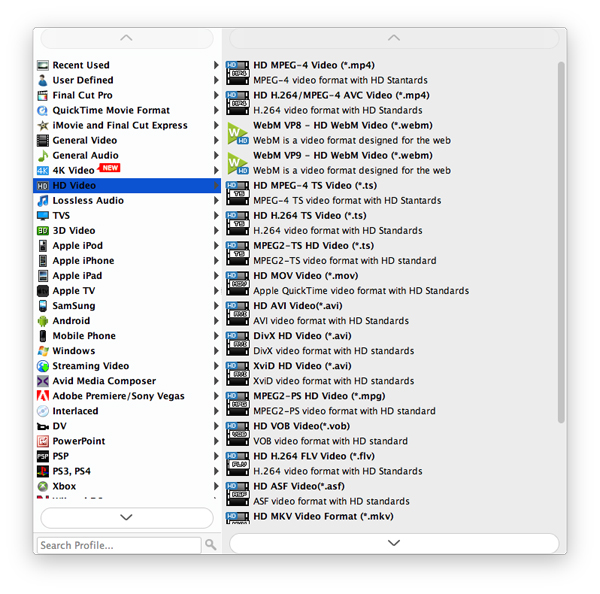 From there, pick "MKV Video" in "General Video" category.
If you want to rip the MP4 to MP3 audio on Mac, here you simply switch to "General Audio" category, and pick "MP3 Audio" from there.
Stage 2.1 – Control output (optional)
For most of users, the operation of choosing an output format is just enough, but this MP4 converter still offers options for experienced users who wish to tweak the conversion parameters to control the quality of result file.
You can do this by click the "Settings" option next to "Profile", then a settings window will appear in front of you.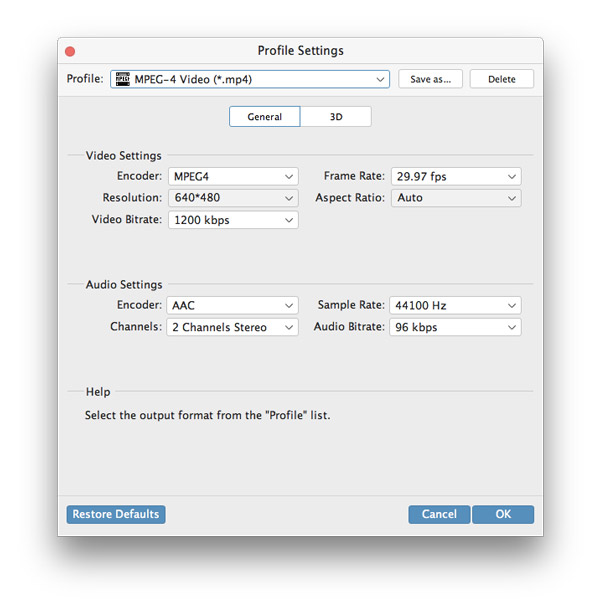 Stage 2.2 – Pick preset
Instead choosing a specific MKV (or other formats) as output and then adjusting settings, this Mac converter even allows you to pick device-specific preset profiles. This is really convenient for those who want to convert video for perfectly watching on a device without fiddling with complicated settings.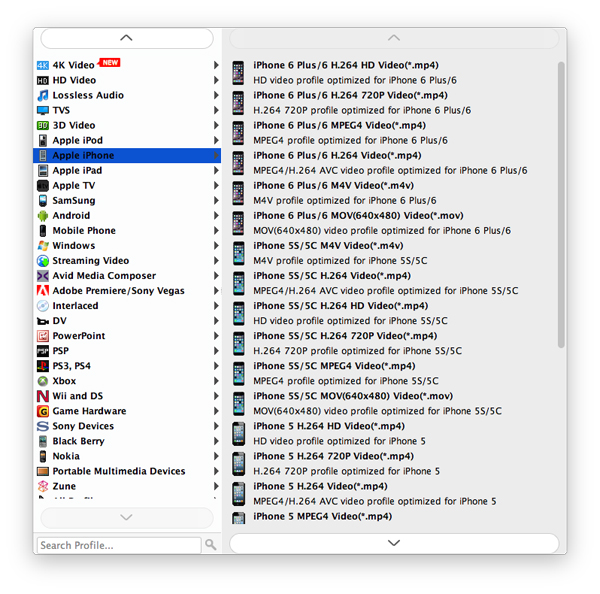 Stage 3 – Edit the video if need
By clicking the EDIT icon on the menu bar of program interface, it will bring up an editing window where you can crop, trim the picture, add watermarks and effects.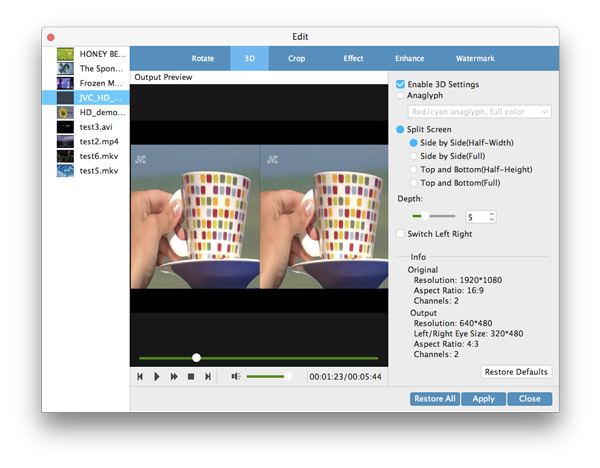 Stage 4 – Start the conversion
To start the process of converting MP4 to MKV file format on Mac, click the "Convert" button on the lower right corner of screen and the application will start doing its job.
The conversion process is shown in the progress bar under the items.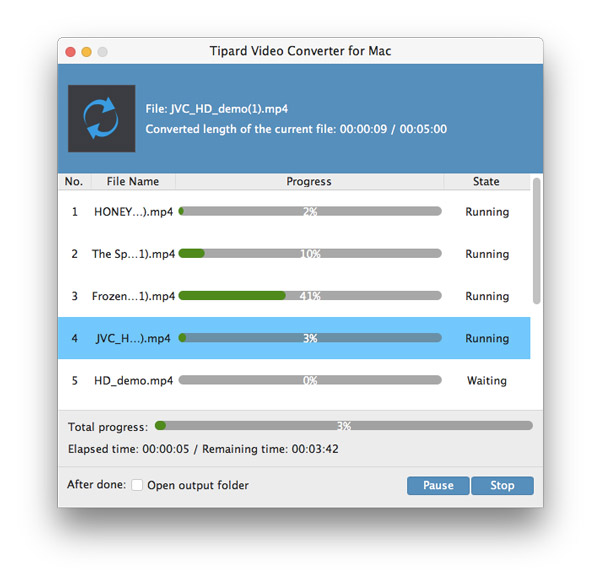 That's it!