How to Convert MPEG (.mpg, .mpeg) to MP4 File
Smart phones, tablets, e-readers and other multimedia devices have made it nice to watch movie files on the go. However, each of them having a limit for video codecs support. While some may use mpeg-1, mpeg-2, Xvid to decode videos for playback, some others use mpeg-4, h.264, vp8 codecs to play video, which makes it is impossible to play the file on every devices of your choice. So, there is often the need to be involved of converting amongst the video formats for compatibility. Today, we'll focus on the conversion from mpeg to MP4 for Mac or Windows computer.
As the common codecs, both MPEG-1 and MPEG-2 is a standard for lossy compression of video and audio. While mpeg-2 is mainly used to compress raw video and CD audio down to 1.5 Mbit/s, mpeg-2 is designed for digital TV signals and DVD and similar discs. MPEG-1 and MPEG-2 always encode video in an .mpg or .mpeg container file. However, both MPEG-1 and MPEG-2 are not as efficient as modern standards such as MPEG-4 Part 14 (MPEG-4) and MPEG-4 Part 10 (H.264), which are often seen as the most used codecs in .mp4 container file.
Whether it's to convert the mpeg-1 or mpeg-2 to a mpeg-4 mp4 file, or to convert mpeg-1 or mpeg-2 to h.264 mp4 format, Video Converter gets you right into the action. It is one of the most stable and comprehensive applications for converting .mpg file into .mp4 format in both Mac and PC machine, and converting all current other formats such as .avi, .wmv, .vob, .mkv, .mov to another format you need quickly and without hassle. Besides offering the users with video conversion function, the software is also capable of extracting audio tracks from video and save in mp3, aac, m4a, wav, ogg and flac, batch processing multiple files at a time, using preset profiles, and editing videos.
For your convenience, we put the guide together to walk you through how to convert an mpeg to MP4 file, whether you're using Mac OS X, or Microsoft Windows.
How to convert MPEG-1, MPEG-2 to MP4 video file on Mac & PC
The first time you open the program, you will see the main interface like screenshot below: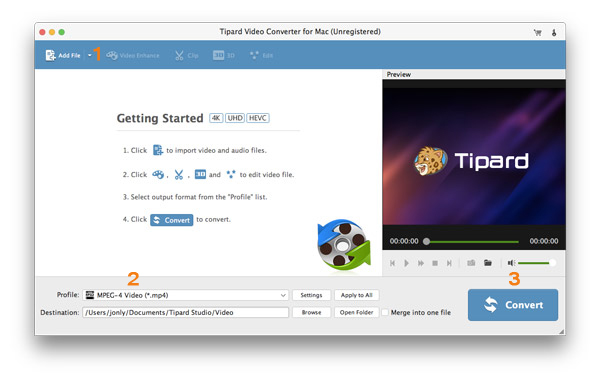 Stage 1 – Selecting your .mpeg file(s)
Adding videos is as easy as drag and drop.
Or head to top menu. Click "Add File" button and locate the .mpeg file(s) you wish to convert to .mp4 format.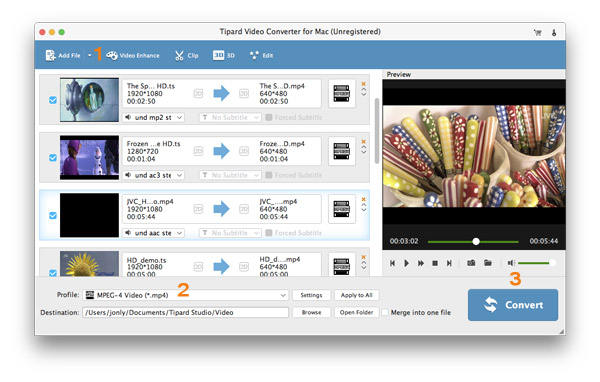 After the files loaded, you will see the video items listed in order in the interface of program.
Stage 2 – Choosing the target format
Click on the "Profile" button, the hidden dropdown menu will appear, where there is a list of video & audio formats available for users to be chosen for different conversion.
For the purpose of this article, we just need all of items turn to MP4 format.
So, we select "General Video" category, and then "MP4 Video". For those who wish convert MPG to MOV, in this step, you simply pick "MOV Video" option instead from the panel.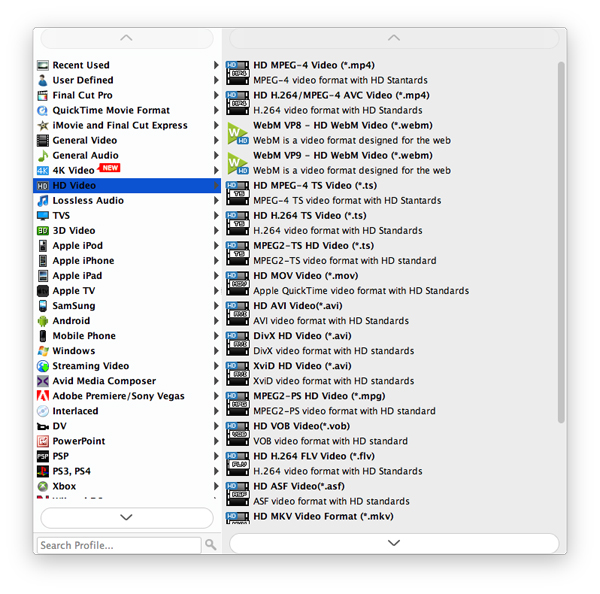 Stage 2.1 – modifying MP4 to fit your needs (optional)
The MP4 (and other format) profile itself has several options that you can fine-tune to control the output.
For an advanced user, you can experiment with the adjustment of compression settings. This is optional.
Generally, the default settings are quite good enough for your conversion.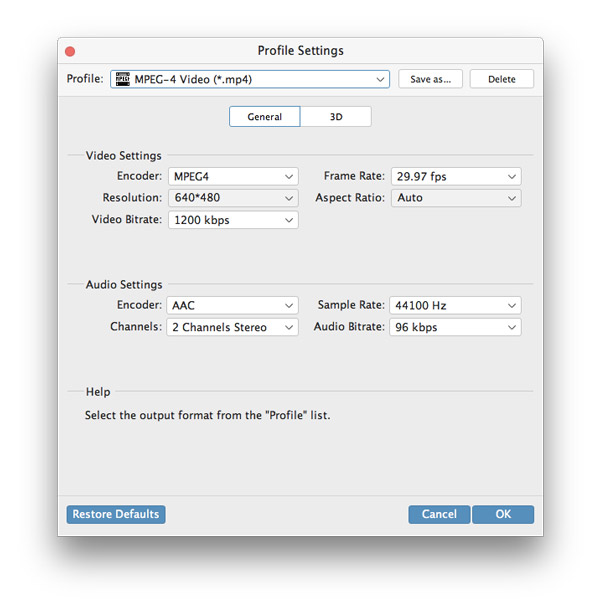 Stage 2.2 – Applying presets
If you're aiming to convert the video and view on a mobile device such as iPhone 6, Kindle Fire then preset profile is the simple way to go.
This MPEG to MP4 converter for Mac and Windows includes a library of preset options designed specially for popular devices on the planet. So, if you want to convert .mpeg to export for watching on iPhone 6, for example, simply pick "iPhone 6" preset under Apple iPhone category.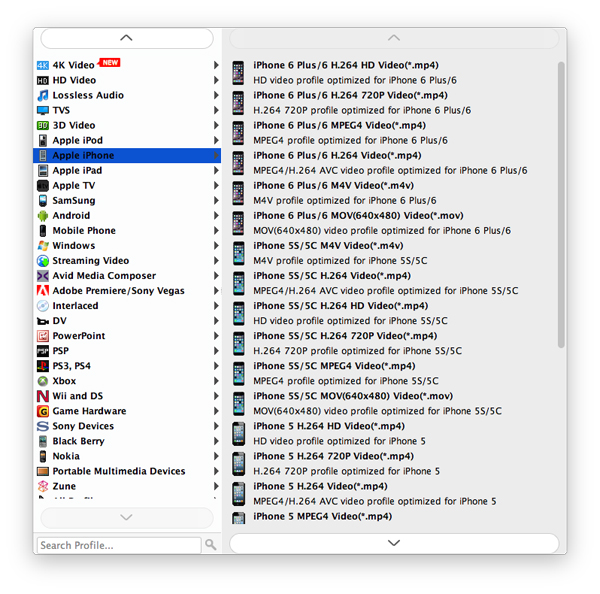 Stage 2.3 – Editing the video (optional)
Some of your videos may be embedded with black bars on sides, this often seems problematic, but with the built-in video editor in the software is no issue.
The application includes video editing tools ("Edit" icon on top toolbar) for trimming, cropping, applying effects, and putting watermarks. It's optional and self-exploratory.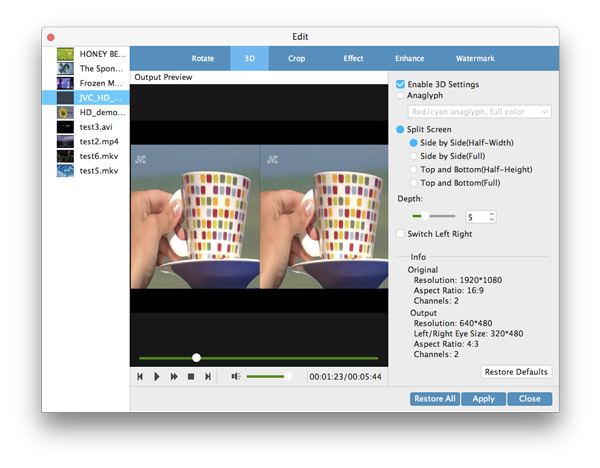 Stage 3 – Converting MPG to MP4 on Mac / PC
When you're ready, move on and begin converting the video in MPEG to a MP4 format with a click of the blue "Convert" button at the lower right corner of program main screen.
Note: Before you click the "Convert" button, you may select "Destination" beneath "Profile" to select a path to save the output file. You just specify a local folder for the output file, and then close it.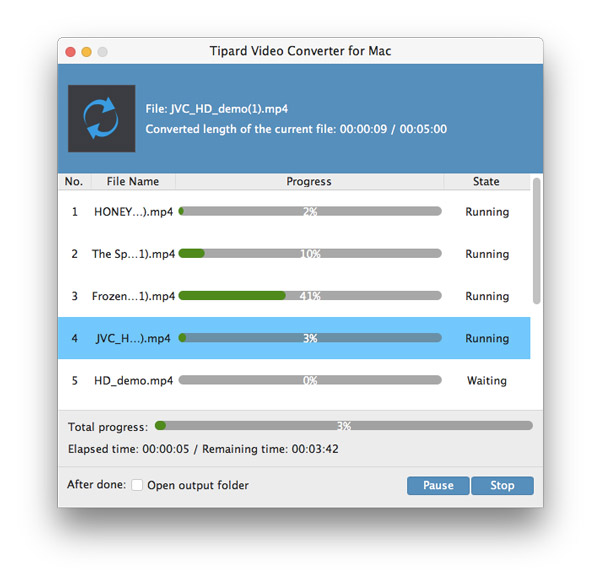 After the conversion complete, the new created MP4 file(s) prepared on the folder you specify previously on your Mac / PC computer. You can take them into a player like VLC for testing if they work.
Reated Exented Source:
Devices that can shot files in MPEG-2 file: Sony Handicam HDR-SR5, Sony Handicam MDR-CX560, etc.