MTS Converter: Convert MTS Quickly and Easily
Nowadays, digital video cameras—manufactured by Sony, Canon, JVC, Panasonic—have become the standard equipments when it comes to recording any interesting moment you might encounter on a holiday vocation. Unfortunately, this has been accompanied with an increase in the variety of file formats available. Some cameras probably shoot and produce anything from QuickTime (.MOV), MPEG-4 (.MP4) to Motion JPEG for videos while the others could record footage as AVCHD .mts file extension.
Due to MTS' property, it carries a number of limitations that are not supported by many of media players and portable devices. You would have to convert recorded MTS/M2TS footage to a more manageable file from time to time. So, having the ability to convert from one format to another is a great help. In today's discussion, we're going to look at the MTS conversion on Mac or Windows platform.
MTS video converter: Mac OS X, Windows
There are different of ways you can go about getting HD 1080p, 720p MTS videos converted in Mac and PC's. If you are looking for something that makes the business of converting your favorite MTS footage a breeze, you can find few better tools than Video Converter, a reliable video conversion application that is quick and easy to use.
The software handles anything you throw at it, including MTS/M2TS videos from camcorders, and quickly convert to any popular video format that's suitable for playback on devices you own, no matter it's an iPhone, iPad, Kindle Fire, or Set-top boxes, game systems (xbox, psp), or Android/Windows smartphones. You can use the single push-button options if that's what you want, or deeper tweaks if you prefer. Main features as follow:
1. Ease of Use. The MTS converter for Mac/PC comes with an intuitive interface that is impressively simple to navigate. It has all buttons well organized by name on the top and bottom of the screen, offering users of all experience levels a clear path to accessing all of features. The basic instructions are also built in before you start adding MTS files for conversion.
2. Tons of output formats. As a versatile tool, the Windows & Mac MTS video converter converts every video and audio format you come across frequently as well some less-than-commonly heard of: AVI, MTS, MP4, M2TS, MKV, WMV, FLV, ASF, 3GP, M4V, MOV, VOB, MKV, DA, MPEG, NUT, NSV, DV, RM, RMVB, AS, MXF, VRO, WTV, WebM, OGV, MP3, WAV, APE, AAC, AC3, MKA, FLAC, AIFF, M4A, WMA, OGG, etc. So that you can do whatever you need to do with your MTS files.
Related: How to Convert MTS Video to MOV on Mac OS X
3. Bulk conversions. The MTS converter for Mac/ PC have a support of batch conversion, which means if you have a big bunch of 1080p and 720p MTS collections and want to convert all of them into a certain format, you can add as many files at a time as you want to the program. Once all the files are in process queue, you just have to hit "Convert" button and let this MTS video converter take care of the rest.
4. Device-specific. The software offers a comprehensive library of pre-configured optimization profiles for devices, allowing you to tailor your .mts video conversion for playback on almost any device, ranging from Apple devices, Android smartphones, tablets, game systems, TVs, and more.
5. Customization tools. Experienced users who are looking for a little more control over the conversion settings will also be satisfied with the array of advanced settings this MTS video converter for Mac/ Windows provides, such as bitrate, resolution, frame rate, sample rate, channels, aspect ratio.
6. Nice editing features. The PC & Mac based MTS converter comes with a few extras like the ability to add logo image as a watermark on the converted video, trim, crop and rotate the video, add effects or adjust picture values like saturation and brightness, and others.
7. Handy settings. The program also includes the option of shutting down the computer when the process of converting MTS completes. This is a nice touch if you'd like to convert a large number of MTS video files over night with this MTS converter on Mac or PC's.
Click the link above to download the software. It comes in two versions that works for Windows and Mac platform. Follow the simple wizard on the screen to finish installation. This MTS converter provides enhanced support for multilingual users, allowing them to select an interface in their's preferred language.
How to convert MTS videos to other formats using MTS converter for Mac
Stage 1 – Load MTS files onto the software for conversion
Once downloaded, double click the program icon on your computer to open it.
The program interface is easy to navigate through because all the advanced functions are hidden away.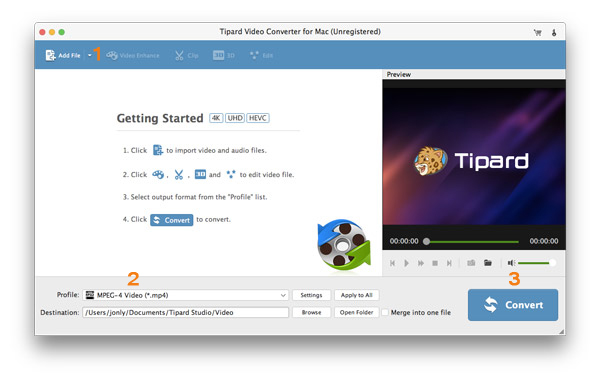 First you drag your source MTS videos—nearly any other formats supported as well—into the main window; they will appear in the process list with related information. Alternatively, you can click the "Add File" button in the top menu, then locate the source MTS file(s) that you want to convert and press Open.
Once you have loaded your selection you will see the following screen: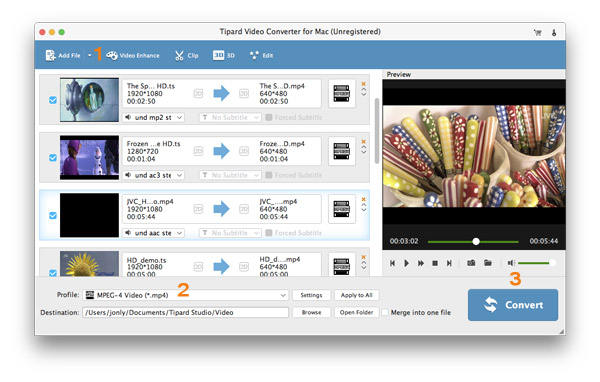 Stage 2 – Select the output format you'd like from a clearly organized list of options
Not every media player and multimedia device can play the AVCHD .mts format so you need to convert the MTS to another more accessible file type.
A the bottom left corner of this MTS converter's interface where it says "Profile", clicking it will comes up a pull-down panel where formats are clearly sorted by device, and include short descriptions.
For this operation, we choosing HD H.264/MPEG-4 AVC Video (*.mp4) for example as it has a greater range of compatibility. Also, you can select from whichever option if you like in the list.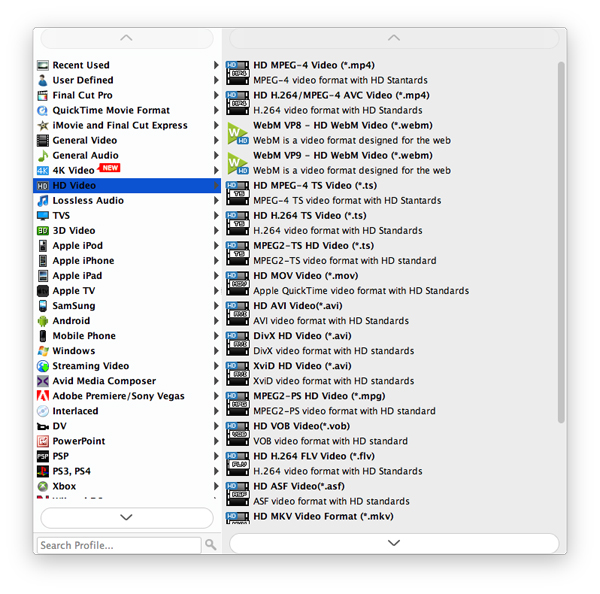 The AVCHD .mts converter for Mac comes with a number of video and audio settings for advanced users who want to get a bit more control over the output file. This is optional.
By clicking the "Settings" in the bottom center, it will display the extra profile settings panel. You can decide how you want your file to be exported by tweaking its related parameters such as resolution, frame rate, bitrate, channels, aspect ratio, codec and more.
Personally, I like to keep things as simple as possible — leave everything as it is, no change made.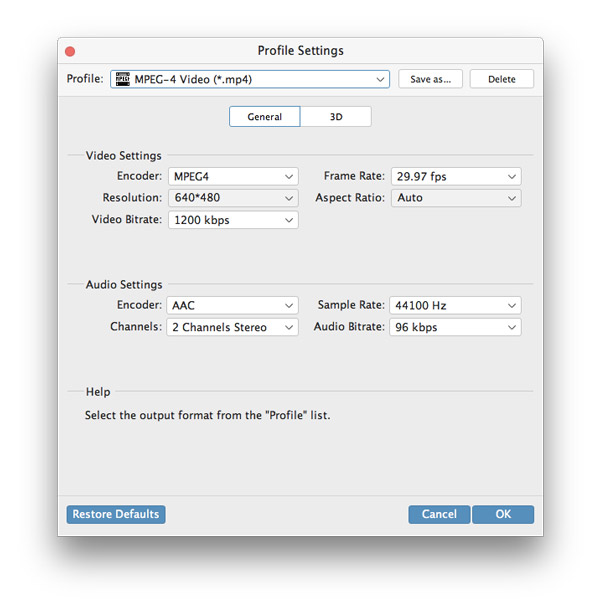 Click the blue OK button at the bottom of the window when you're satisfied with your settings.
Use preset instead
Although you can tweak every setting of conversion, this Mac MTS video converter comes with handy device-oriented presets that make it much easier. This is great if you want to convert your movies to play on a certain device, like iPad for example.
You'll commonly find yourself in trouble with a particular device that doesn't recognize the file you tried to play on – whether an iPad, iPhone, Android smartphone, tablet, or PS4 and Xbox One. Thankfully, the software understand this and allows you to choose from the preset profile you want in the list, and everything will be adjusted accordingly. This will save you a huge amount of time.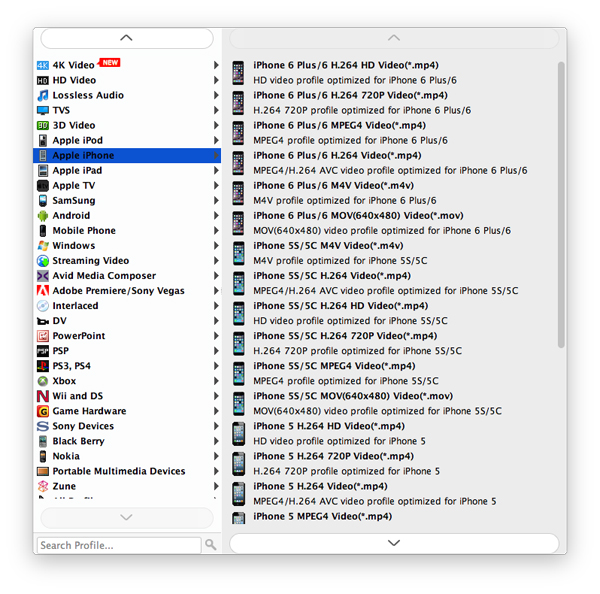 Basic video editing available if required
You might want to trim your source file in length, or crop the video to get rid of black bars, say, or combine multiple small clips into a single one, or even add watermarks on the video to protect your work. All those can be accomplished via "Edit" and "Clip" button on the top menu.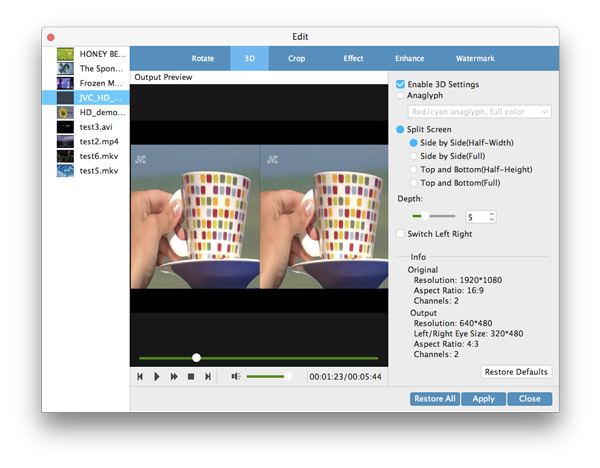 Stage 3 – Start MTS converting process in Mac
The last thing of note that needs doing is specify the location where you want the resulting files to be saved. Click the "Browse" next to "Destination" box in the bottom left side, navigate to computer and choose a location for saving output files. Or you can leave the default path alone.
Finally, press "Convert" button, this MTS converter for Mac will start converting the movies. Depending on your computer speed, the length of the source movies, the amount of time it will take anywhere from a few minutes to hours. If you've got big files to process, you can run it at night, and set to shut down computer after conversion in Preference.
Happy MTS converting!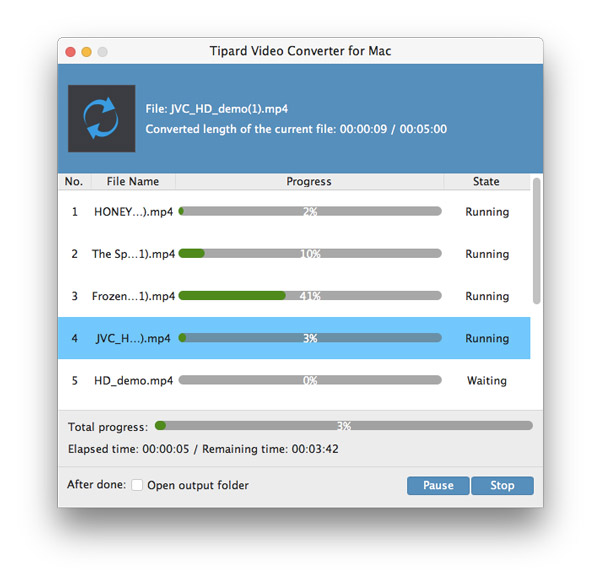 I hope you found this article informative on how to convert AVCHD .mts 1080p/ 720p footage to a more manageable file. While there may be other MTS converters to accomplish the task, at least for me, this method is intuitive and easy enough.
More Tech Tips
MTS to YouTube - Upload MTS files from your camcorder onto YouTube site