How to Convert 1080p/ 720p MTS to WMV File
Today's affordable digital AVCHD cameras have made the record of funny moments on a vacation easy and convenient. Unfortunately, the video footage on camera always come in a .mts file extension, a less-common used format in digital world. While some of mainstream players and applications accept .mts format as input, some others don't have a support of it. So, having the ability to convert the AVCHD .mts files to a desired format is feasible and necessary. In today's discussion, we mainly talk about how to convert a MTS to WMV file, so format incompatibility is a thing of the past in Windows.
A WMV file, short for Windows Media Video, is a compressed video format that was developed by Microsoft streaming of video on the Internet under the file extension .WMV. The files include native support for interlaced video, non-square pixels, and can hold high-definition video content with 1080p and 720p resolution, which will help you keep the same image quality when it comes to converting a 1080p or 720p MTS file to a HD WMV with corresponding resolution. The WMV is the most compatible format for Windows operating systems, all of Windows-based multimedia players and apps like WMP, WMM, Xbox One/360, Windows phones, Surface support WMV playback.
MTS to WMV Converter
If you're looking for a utility to convert MTS to WMV format on a Mac or PC's easily and quickly, Video Converter is the perfect pick. The tool sports a simplified user interface, and powerful performance, letting you convert your favorite movies to various outputs, including popular MP4, WMV, MOV, MKV, AVI, M4V, and less used formats such as VOB, MPG, 3GP, ASF, in a matter of minutes.
On top of that, The application ships with device presets so you can easily convert files to view on your device whenever you want. Besides that, there are other features bundled in the software, such as video editing filters (trim, crop, effects tweaking, watermark adding, 3D, merge, split) and audio extractor (video to audio, audio to audio).
How to convert video from MTS to WMV format in Mac and PC's
Stage 1 – Load MTS files into the software
When you launch this MTS converter software, you're greeted with a exceptional easy-to-understand, and basically empty interface. However, it's pretty obvious what needs to be done, thanks to basic instructions that states in the middle area.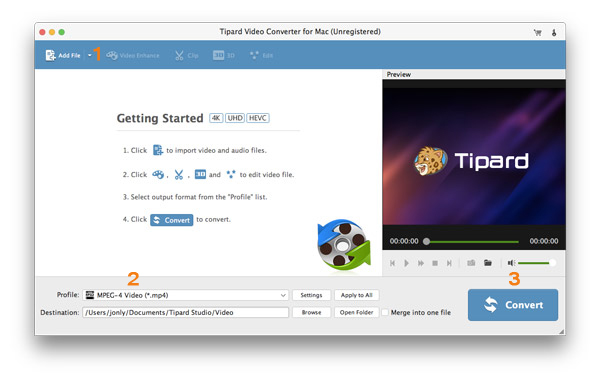 To add files, drag your AVCHD 1080p/720p MTS footage from computer and drop into the window. You can also go to "Add File" in the top menu if that's easier.
You can add as many videos as possible if you want and they will be processed in a batch.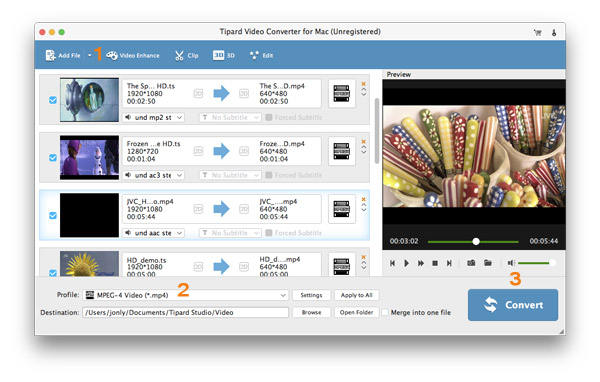 Stage 2 – Select output format - WMV
Click the "Profile" drop down menu. The format manager tab will open.
In the format manager tab, select the "HD Video" category.
Scroll down the list and look for the "HD WMV Video (.*wmv)" option.
Then back to main interface, and specify under "Browse" next to "Destination" where you would like to export the converted file.
Find More: How to Convert MTS to MP4 File on Mac.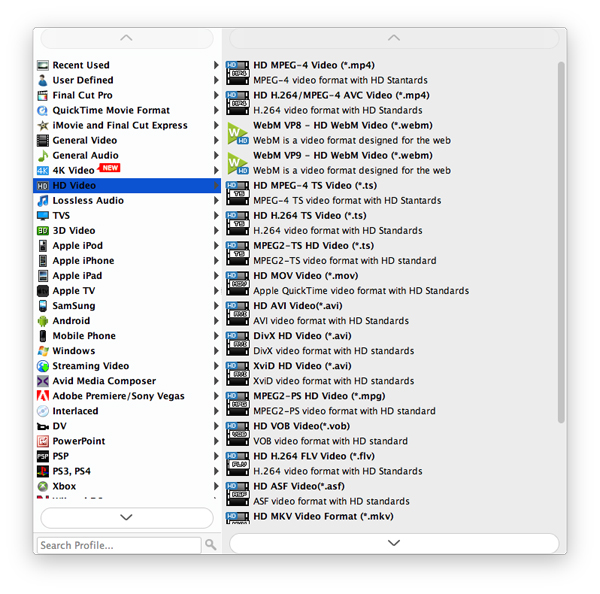 Next, check that the output conversion settings are as you want them. This is optional.
This MTS to WMV converter for Mac/ Windows allows full customization of the video conversion settings to produce the precise results you need.
By clicking the "Settings" button near "Profile" menu, it will bring you into profile settings window where the video section provides quality controls that can be used to target a specific bitrate, resolution and frame rate, and the audio section allows you to manually change the sample rate, audio channels and audio bitrate.
In most situations, you can leave those options alone. In this example, we just convert MTS to WMV format and we're making no adjustments to anything here.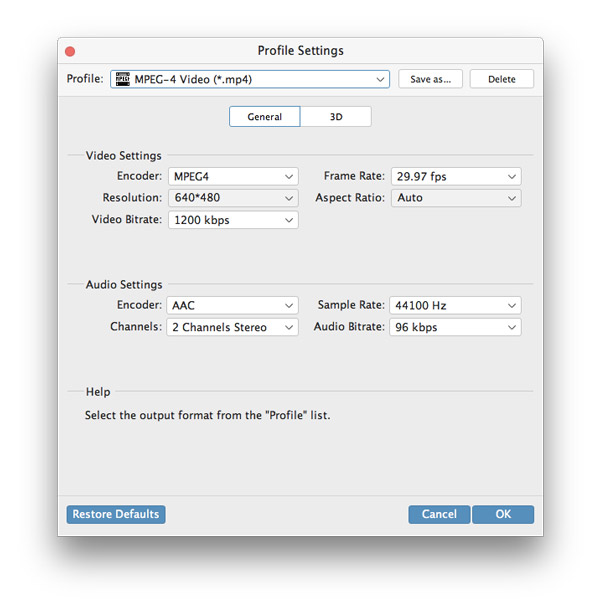 Presets Available
The software has a convenient selection of device presets that are particularly great if you want to convert video for playback on the device.
Once click your desired device preset profile, like Xbox One H.264 HD Video under "Xbox" category for example, the software will quickly set up a conversion of video to be suitable for Xbox One, without fiddling with any output settings. All things left to do is go to press "Convert" button and you're off.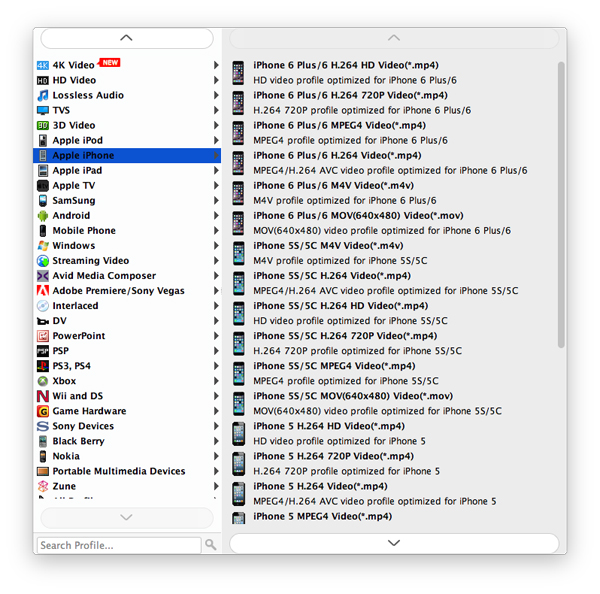 Video editing available (optional)
Apart from a simple conversion of MTS to WMV on Mac or PC machine, the program also has some video editing filters (see "Edit" in the top menu) such as the ability to rotate the video, remove the black bars on the video, merge multiple parts into a big one, split a single video into several parts, add your own watermark, etc.
Stage 3 – Start conversion
Once you have confirmed everything, now we can move on to actually convert the AVCHD .mts files. Simply click "Convert" in the bottom right corner to let the software converts your selected 1080p/ 720p MTS videos into WMV file on Mac OS X or Windows.
The conversion process will take quite a while but vary based on the size of original MTS footage. Larger videos will take longer to convert, shorter videos can be very quick.
You'll probably want to find something else to do. Either going out for a walk or having a nice nap is OK.
When the process completes, you have the newly minted WMV in target folder and ready to use it in anywhere you may want to process it with.