How to Convert AVCHD and Play on iPad
Just as with other digital video files, AVCHD footage we recorded with a camcorder has become an integral part of our digital life. However, Files in AVCHD (mts, m2ts) format can be a problem when the playback device is an iPad (Air, Mini, Pro). Apple Products, including iPad, only supports a few of media formats and codecs such as H.264/MPEG-4 (AAC-LC) compression formats in an MOV, MP4, or M4V file, or M-JPEG in .avi file format. Obviously, things are not as good as you want it to be.
If you have video clips of 1920 x 1080p (or 720p) you've taken on a vacation in AVCHD format, you may want to know how to play those AVCHD files onto iPad. Even though Apple doesn't provide a support for AVCHD playback onto iPad, it didn't think of keeping developers away from video converter applications designed for users to convert AVCHD movies for streaming on iPad.
See Also: how can you play downloaded YouTube video on QuickTime player.
Which Format Should You Convert to?
While iPad reads M4V, MOV and Mjpeg files, MP4 is the ideal format you go for those moments that you want to playback the files using a wide variety of other devices and software except for iPad. MP4 is the most widely supported video format on this planet at this point — you can move, edit, play MP4 files in almost everywhere.
AVCHD Converter for iPad – Windows and Mac
Video Converter is currently one of the best video converter tools for iPad. It is available for both Mac and Windows OS users to convert movie files easily between variety of different formats in a fast way. You can use quick presets to convert (AVCHD) videos for iPad, iPhone, Kindle Fire, PS4, and other mobile devices, as well as its advanced features for making customized conversion settings of content.
Here're the steps to convert AVCHD movies on Mac for then using on iPad. It also applies for Windows OS users.
Download the Mac copy of the program by clicking the "for Mac" link above, then install it on your Mac. You will find the program icon to your Applications folder. You may then drag it to your dock for easy access.
How to convert AVCHD movies for playing onto iPad
Stage 1 – Open up the program and load AVCHD footage
The AVCHD converter can accept just about any video formats you can think of as input, including AVCHD (mts, m2ts). After launching the program, click on "Add File" in the title bar, select a or multiple AVCHD you want to convert for iPad and click "Open".
The AVCHD video(s) you selected will display in the list, like this: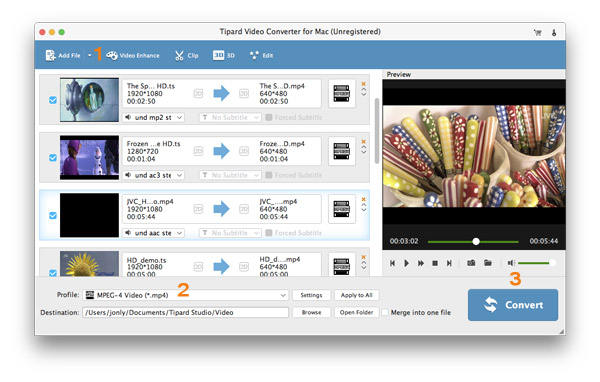 Stage 2 – Select an iPad preset according to your iPad mode
To keep things simple, the AVCHD converter software understands what you need and allows you to choose an iPad preset as output when it comes to converting AVCHD or other movie files, such as a 4th-gen iPad (and iPad Pro, iPad Mini 4, for example), rather than asking you to choose a specific video format for your device.
Apart from converting AVCHD to iPad, there are also a large number of app/device-targeted options for conversion. The devices and apps supported are as follows: Apple iPhone, iPod, Android Phones/Tablets, Windows, TVs, Game Hardwares, Sony Vegas/ Adobe Premiere, YouTube, PowerPoint, PS4, DV.
All you need is go to "Profile" drop-down menu at the lower of main screen, and find the preset you want, pick it.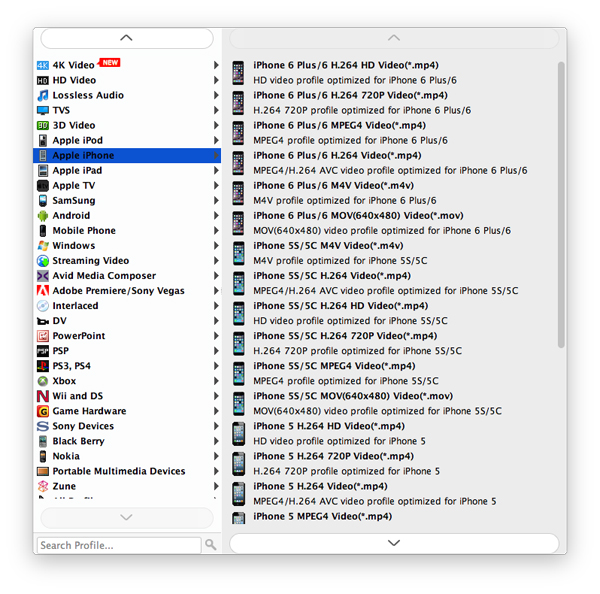 See how to burn AVCHD video files into a Blu-ray disc for a tutorial.
OR you can choose to select an iPad format instead
If the default iPad preset doesn't make perfection, you can alternatively select a specific format (like MP4, M4V, or MOV that iPad accepts) for the conversion of AVCHD files for iPad, and fiddle with the output settings according to your iPad specification.
Under "HD Video" category, select *.mp4, *.mov or *.m4v.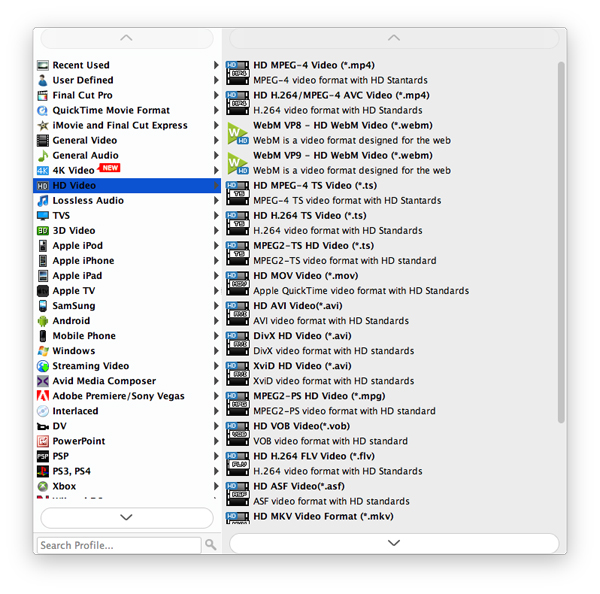 To optimize the output settings suitable for your iPad perfectly you click the "Settings" (next to "Profile" in main screen), you will then see a settings panel like this: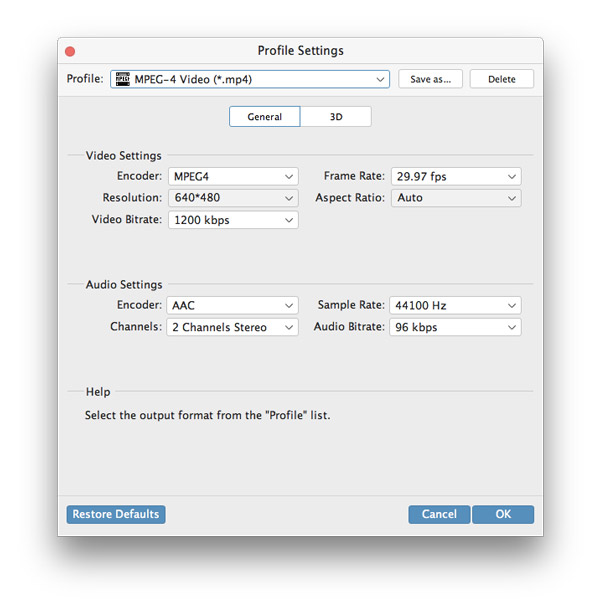 If you have iPad Air 2 in hand for example, here you're allowed to choose Video Encoder: H.264, Audio Encoder: AAC, Resolution: 1920 x 1080p (assuming the original AVCHD is 1080p), Frame Rate: 60fps, Sample Rate: 48000 Hz. See more iPad Air 2 specs at http://www.apple.com/ipad-air-2/specs/.
Stage 3 – Begin converting AVCHD videos for iPad
After all things ready, finally, press blue "Convert" button at the lower right, and the AVCHD files will be converted!
The program will take a while to convert AVCHD footage for iPad, depending on duration of your quality AVCHD videos, the power of your system, and encoding settings you configure. You can get some idea of time it will take by checking the progress bar as shown in the picture below.
After the progress complete, simply drag the new created files into iTunes and sync with your iPad.
Enjoy it!