How to Extract Audio from Vimeo Video to MP3
Vimeo is a video-sharing network in which users can upload, share and view creative standard and high definition videos. Unlike YouTube's massive audience, Vimeo is regarded as more of a professional network of film enthusiasts who are genuinely interested in film quality. On Vimeo platform, you can share your work to fellow filmmakers and receive helpful feedback, and get professional help from tutorials and lessons that artists made.
Suppose you legally downloaded a video from Vimeo site—maybe it's a how-to tutorial, maybe it's a funny movie clip—and you want to just extract the audio track and save in MP3 file. Luckily, whatever it is, you can easily convert your Vimeo video to an MP3 file for Mac or Windows machine, so that you can then listen to your iPod or iPhone, or just store on hard drive with less space.
Vimeo to MP3 audio converter program
As for ripping Vimeo video' audio track into MP3 format, there are a list of different methods you can choose from, whether they are Web-based or third-party desktop-based programs. We're going to use a third party tool to accomplish the conversion.
Video Converter is what we'll use here. It is a simplistic looking and powerful video converting program that can convert Vimeo video to save in .mp3 audio file on both Mac and Windows platform, and also converts anything from its native format to any other video and audio file types. Plus, the application includes several preset specially designed for popular device, as well as basic video editing capabilities (trim, crop, rotate, watermark, 3D, merge, split, add effects, etc.) to produce a better-looking file.
To convert your downloaded Vimeo video files to a MP3 format on Mac or Windows computer. Use the following screenshots as a reference.
Note: if you want to download videos from Vimeo and then convert to MP3 file, another useful tool you can try is AllMyTube for Mac (or AllMyTube for Windows), an all-in-one utility that can download videos from 100+ sites and save into several types of video & audio file in one place.
Vimeo video to MP3 converting instructions
Stage 1 – Import your downloaded Vimeo videos into the program
Once you launch the converter, you will see a clean and empty interface, the navigation buttons on the interface are clearly visible and simple to understand.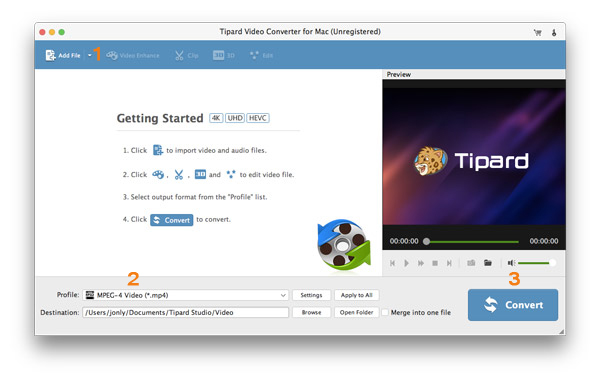 To add video clips to this Viemo video converter, click on the "Add File" button in the top left of the interface, navigate to the location of the Vimeo video and click Open.
Alternatively, drag source files from location and drop into the area.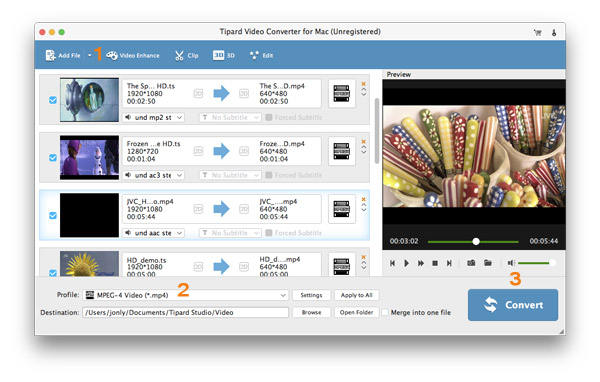 Stage 2 – Select MP3 from General Audio category in Profile drop-down menu
In the lower left side, click on the "Profile" drop-down menu. The first time you open this Vimeo to MP3 converter, the default option in "Profile" field is MP4. You will have to click it to open format manager window, where there are a wide variety of video and audio formats you can choose from, to change the profile to your preferred output option — MP3.
Next, highlight "General Audio" category to expand its list, scroll down until you find MP3 - MPEG Layer-3 Audio (*.mp3), and pick it.
Once you're done selecting the output format, choose where it should save the converted file in "Destination" field under "Profile" menu.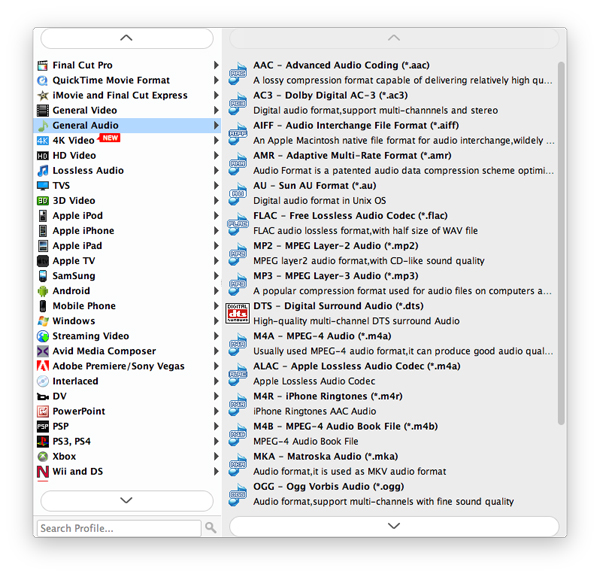 Device-targeted preset available
Aside from choosing a list of specific file formats, You can also select from a library of pre-defined preset profiles as output. These profiles make it easy for those who want to convert videos to playback on devices including Apple iPhone, iPad, Xbox, PSP, Android tablets, smartphones, Wii and more. Once you select the preset profile, the application will optimize all necessary settings like resolution, format, bitrate, frame rate to be suitable for the target device.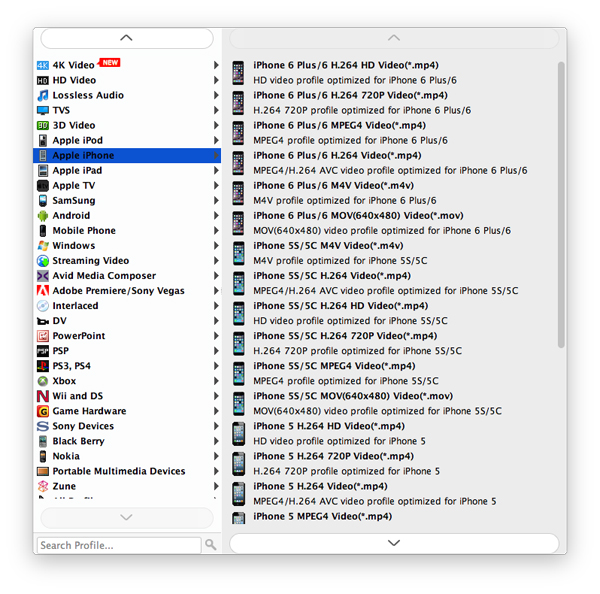 Stage 3 – Press "Convert" to start rip Vimeo video into MP3 audio track in Mac or PC
Now that you've got all you settings in the software you can go ahead and convert Vimeo audio.
Simply press the blue "Convert" button in the lower right corner, and let the software do its things.
The time it takes to convert Vimeo video to MP3 on Mac or PC machine depends on a few things, such as your computer hardware, how large of your Vimeo video, the amount of videos you added to the process list. But since the process is just for extracting out the audio from Vimeo video to save in MP3, no video part involved, the entire conversion will be done in a short time.
You can monitor the process via progress bars, when a seek bar reaches the end, you should see a new mp3 audio file is created under the folder you specify previously.
Once the conversion completes, you are ready to use the MP3 audio files anytime and anywhere.