How to Convert VOB to MOV File on Macs & PC's
If you're a fan of watching movie or TV shows, you've probably came across a list of different video formats. Many times it may happen that a video in .vob format, for example, will not be played in home theater or not be recognized by a portable device such as iPhone, iPad, instead of doing tedious tasks of installed different of codecs, plugins or apps, you can choose to convert the .vob video to MOV, a more widely supported format in both Mac and Windows system.
VOB stands for "Video Object" as defined in DVD specifications. It is a part of the DVD file structure and stored in the VIDEO_TS directory. In a complete VIDEO_TS, there are VIDEO_TS.IFO and VIDEO_TS.BUP data files included except VOB video. Inside of a VOB file there is an MPEG-2 stream. Despite the fact that you can drop VOB file into a DVD player and play smoothly, a large number of common media players and handheld devices are not capable of streaming the format, particularly in Mac environment. VOB to MOV (or VOB to MP4 in Mac) conversion is still a near-universal way to go.
There are several applications out there you can use for converting VOB to MOV file on Mac or Windows. In this article, I will discuss Video Converter because it handles all popular video files with batch-convert and is available on both Windows and Mac.
The interface of it is simple to understand and you can get working in immediately. Apart from converting VOB file to a specific MOV format, the program offers a group of predefined presets for device you want to play the end result on. For experienced users, you can even configure the output parameters that're hidden away the interface to ensure the quality meets your satisfaction.
In this article, we'll explain the simple process of converting VOB videos into QuickTime MOV file formats in this video converter on Mac computer.
Here is the main interface of the Mac version of the application. You can easily find the function you need.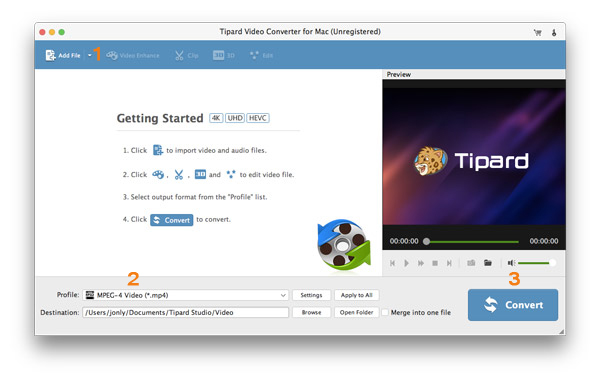 Stage 1 – Import the original VOB videos
Simply open the folder called VIDEO_TS, and find the files end with .vob extension, drag & drop them into the program window. Or use "Add File" button on the left side of top menu to select your VOBs. Actually, here you can select any type of digital videos from your media library and then convert to desired format you want. Here are the full instructions for converting downloaded YouTube videos to MP4 on Mac.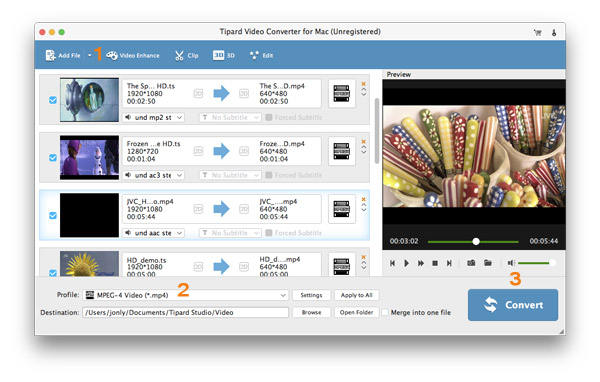 Then, you will see all VOB video items listed well on the program. Note that you can sort the order of items in the list, but this will also affect the order they are involved in conversion.
Stage 2 – Pick an output format - MOV
Once the items is in there, you then pick the MOV you'd like to convert the VOB to as output.
To do this, click the "Profile" button, it will bring you a Format profile windows like so: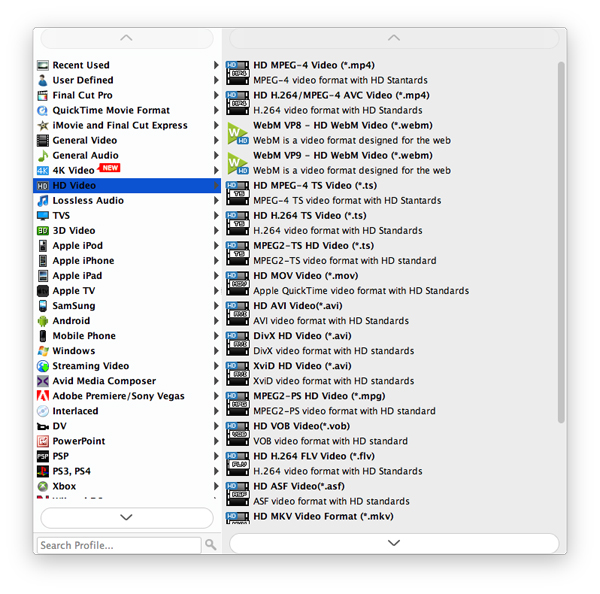 In there, find the "MOV Video" profile and pick it.
Stage 2.1 – Set parameters of output profile
This VOB to MOV converter for Mac offers optimized defaults to output profile and they work okay for most people, but you still make various adjustments if required as long as you know what you're doing.
By clicking the "Settings" button, you enter the profile settings windows. These adjustments include tweak the values of resolution, bit rate, aspect ratio, as well as other options such as codec and channel.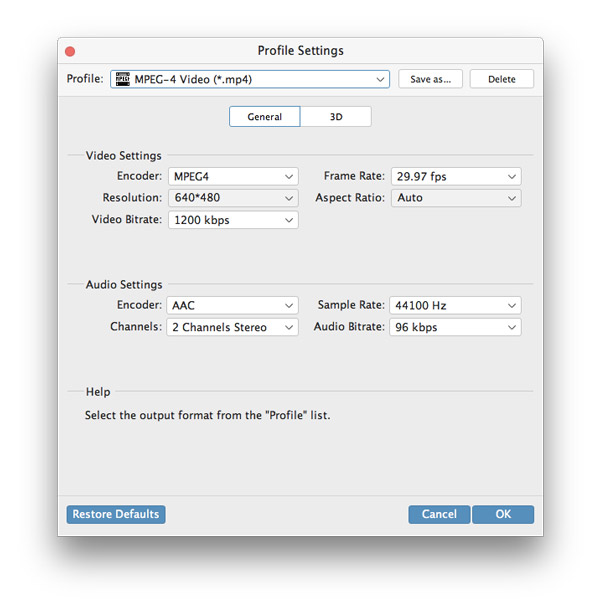 Stage 2.2 – Preset profile
This Mac VOB to MOV converter includes a host of preset options range from Apple, Sony, Samsung to HTC, Motolora, Microsoft and others, making it fast and easy to convert your videos for suitable on a device you happen to have.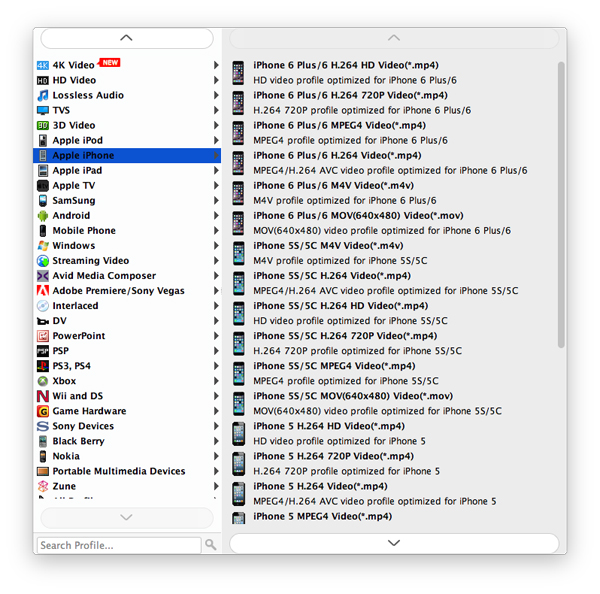 Stage 3 – Edit the video
Let's back to the main interface. By clicking to the EDIT image icon on toolbar, you can edit the video to create your own personalized video file, such as trimming the video to get a small part with exact length, cropping it to remove black bars to full suit the screen, and more.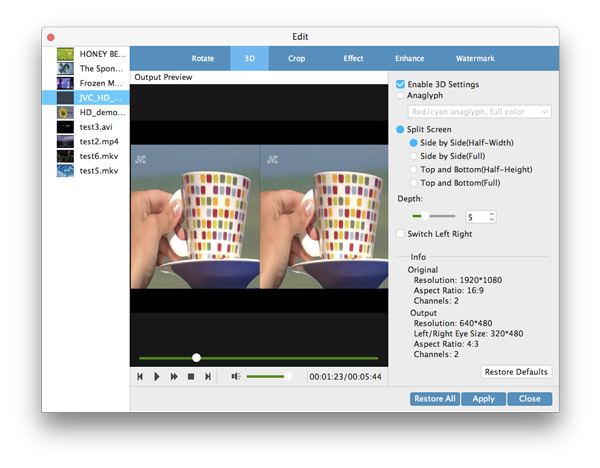 Stage 4 – Start the conversion
Now, click the "Destination" button on the lower left side, a small window pops up requiring you set a local destination where you want your finished .mov file to be saved.
Lastly, click the "Convert" button to begin converting video files in vob to a .mov format in Mac.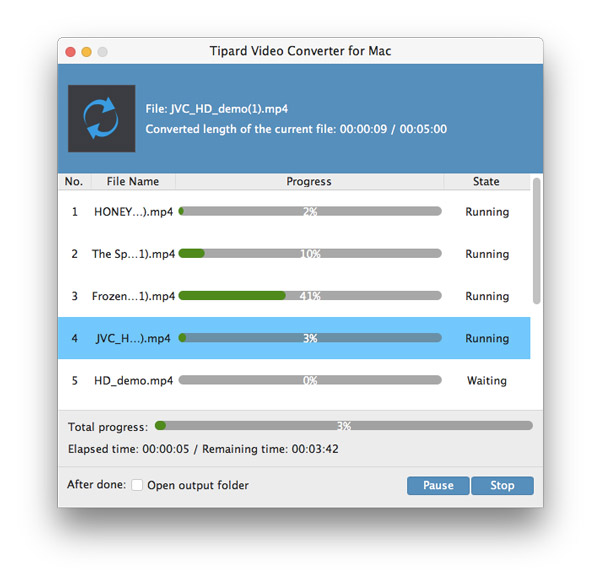 Once the conversion is completed, go to the folder and play a new created mov file on a media player such as Apple QuickTime to ensure that it performs as expected.
More Tech Tips
AMR to MP3 Mac - convert Adaptive Multi-Rate audio to a more popular MP3 audio