WAV Converter: Convert WAV Easily and Quickly
There are many of reasons why you might want to get a WAV converter to convert WAV sound file on your computer. Uncompressed WAV files are large, making transmission of WAV files over the Internet inconvenient. It's likely that you'd like to compress the raw uncompressed WAV to a more smaller file to be suitable for sharing online or free up some space in your media collection; you might just want to convert WAV audio to another common audio format, like a MP3, so that you will enjoy it on your iPod; another reason might be that you want to cut a WAV music file to get a specific part. Whatever the reason, here is how to convert WAV file on your Mac or PC's with WAV audio converter.
What is WAV (Waveform Audio File Format)
WAV, a derivative of RIFF (Resource Interchange File Format), is an audio file format standard used on Windows machines for raw uncompressed audio. It adopts linear pulse-code modulation (LPCM) codec to encode audio in it, which is uncompressed and can retain all of the samples of an audio track. WAV files can embed any kind of metadata in the INFO chunk such as XMP data and ID3 tags. Since WAV is uncompressed, it's a great file format standard for holding first generation archived files for maximum audio quality. The WAV file format is a commonly used format in PCs but it has been accepted as a viable interchange medium for other platforms. It's also sometimes used by radio broadcasters like BBC Radio, ABC, and Global Radio (UK).
WAV Converter
There are a plethora of WAV audio converters out there, a cleaner result can be obtained by using the high performance and flexible Video Converter software. It is an all-in-one utility that's capable of converting videos and audios in one place with practically no effort. It allows you to convert WAV to MP3, AAC, AC3, FLAC, AIFF, APE, ALAC, M4R, WMA, M4A, MKA and more for both Mac and PC's.
More importantly, it supports batch processing—converting a bunch of WAV files in one shot, as well as shipping with pre-defined device presets, which saves you a huge amount of time. Besides, the software has a lot of advanced features packed inside its single interface window for experienced users to fine-tune output settings.
Download and install the latest version of this WAV converter for Mac OS X and Windows (links below).
How to convert WAV to AAC, WMA, MP3, AAC, FLAC, APE, ALAC, M4A, etc.
Once installed, open the application.
The app has an intuitive, simple-to-use interface without seeming childish.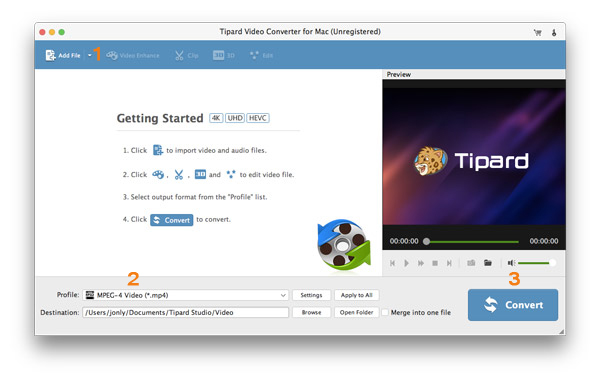 Stage 1 – Add WAV music files to the WAV converter on Mac/ Windows
To convert one or more WAV audio files, drag them from your computer and drop into the application's window, or click the "Add File" button in the top menu to use a standard file-navigation dialog box to select them.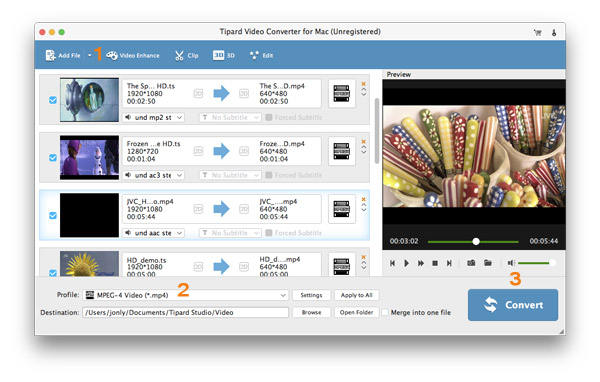 Stage 2 – Set up a proper video output file
Once your WAV files selected, click the "Profile" drop-down menu at the bottom of the window, you'll have a list of audio profiles under "General Audio" category to choose from.
As you can see, almost all manner of audio formats are supported. You can convert WAV on Mac and Windows to FLAC (lossless), AAC, AC3, AMR, AU, MP3, WMA, ALAC, APE, OGG, AIFF, etc.
Related: How to Rip Blu-ray Disc to AAC, AC3, FLAC, MP3, M4A, WAV, ALAC.
Afterward, select a save location for the output file through "Destination" field.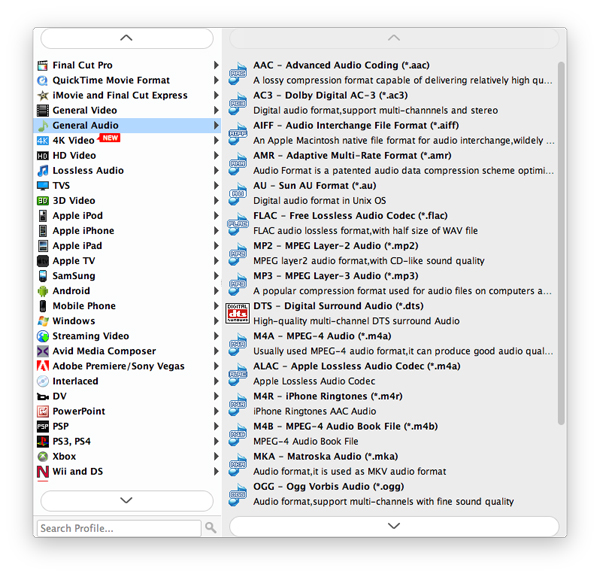 Apart from converting WAV format, the application gives you the ability to convert between digital videos. And there are a library of device preset profiles that are made for popular devices like iPhone, iPad (Air, Pro, Mini), Xbox One, PS4, Kindle Fire (HD), smartphones.
Of course, it may well be that you want to convert video & audio to be used in other ways. If this is the case, you can go to "General Video" and "HD Video" categories, and click "Settings" button (next to "Profile") where you have the option of customizing things further, if needed.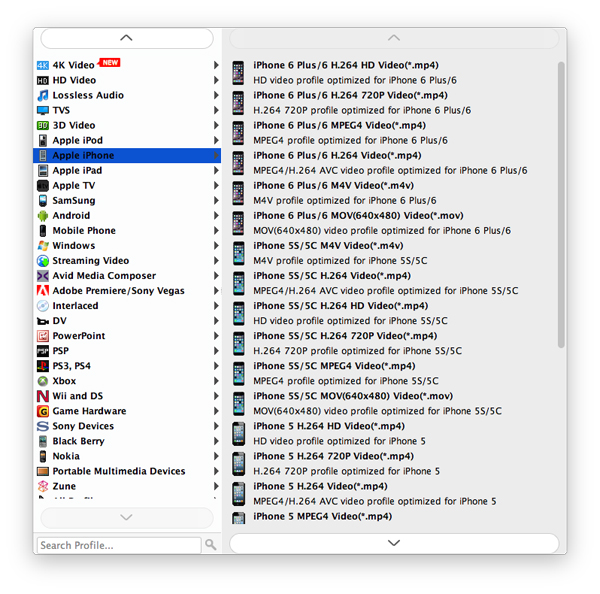 Back on the main screen.
Stage 3 – Start converting WAV and monitor progress
The last step, click "Convert" button in the bottom corner of the program window to kick off the WAV conversion process on a Mac or PC's.
The conversion process of WAV to WMA, MP3, AAC, FLAC, M4A, etc. will take a while, you can monitor the progress through progress bars in the new window, as demonstrated below.
BTW, there are also options to shut down the computer after WAV converting process is complete in Preference, and open the output folder automatically if required.
That's it!