How to Convert WMV to QuickTime MOV File
Almost any operating system has their own media player to stream digital video, audio and view image files. Microsoft official has developed Windows Media player (the latest is v.12) for its Windows OS while Apple Inc. has the QuickTime player included with its Macs by default. But in spite of both companies have developed cross-platform version for each other, the Windows Media Player for Mac is no longer available for Mac users to download and play Windows Media files (.wma and .wmv) on Mac OS X. You'll have to install Flip4Mac Windows Media Components to play WMV onto QuickTime or the universal VLC player to handle video playback issues.
However, this is not the end of playback problems. If you're required to make a WMV video and have it able to be played on an iPhone or iPad, or dropped into iMovie for editing, things get tricky. In order to make .wmv video workable on Mac without any interception, one of the efficient ways to go is convert WMV to a MOV format that all of Mac products accept. See WMV to Blu-ray burning here.
Is there any WMV to MOV converter for Mac application that lets you convert .wmv files to .mov file format? You are lucky to come to the right place. Video Converter is our suggestion. Not only is it powerful with number of functions, it also features a very easy-to-understand interface, which makes it easy to convert WMV into MOV or any type of video format without confusion. In addition, the software has a host of device export options that will be useful for those who want to bring their movies to mobile devices such as iPhone, iPad, Android phones, Xbox One.
Let's go through a tutorial to convert videos in .wmv to QuickTime .mov file for Mac OS X or Windows.
See also: how to burn WMV videos onto a Blu-ray disc.
How to convert WMV file to MOV video format hassle-free
Before the tutorial, download the software on your computer through the link above.
The moment the software opens, you'll be presented with a simple interface where you can easily find what you are looking for to convert (WMV) videos.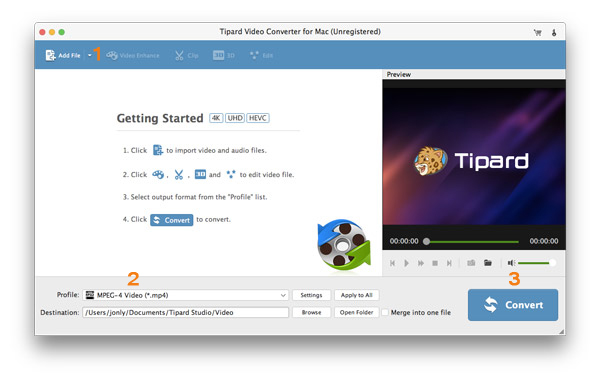 Stage 2 – Put your WMV files onto the program
Click "Add File" button on the left side of top menu, a windows pops up, browse until you find the WMV videos that you want to add, select them and click the Open.
Or open the folder where saves your WMV files, drag them and drop into the middle section of program window.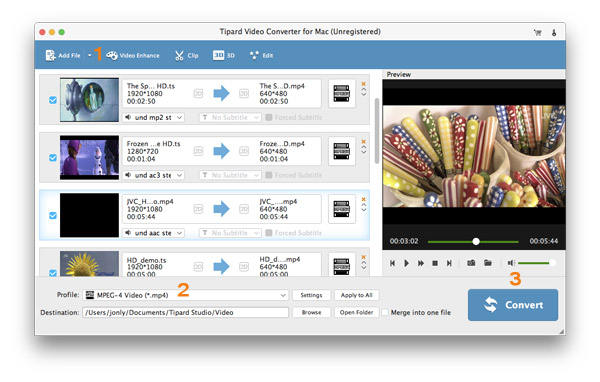 Stage 3 – Select from the profile which to export to.
Now select the MOV as the output format.
Click on the "Profile" drop-down menu to access to the Format Profile panel like this: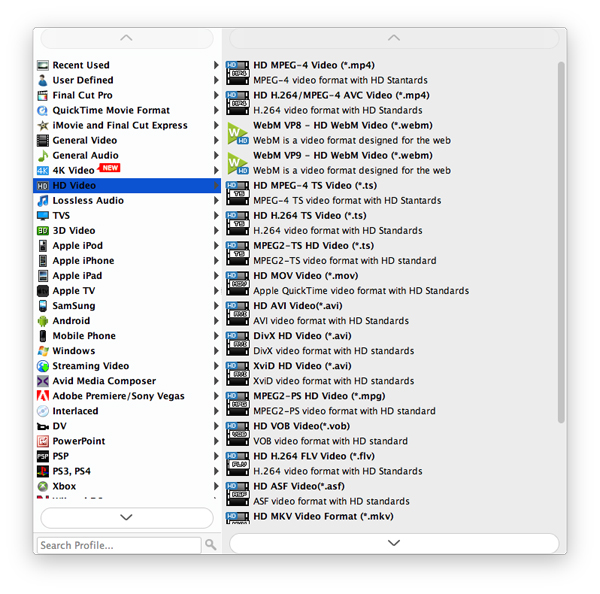 You will then find there are 4 categories: Favorite, Custom, Format, Device listed on the top menu. Switch to Format tab, you can see a list containing several output formats. For us, pick up "General Video" > "MOV Video". If you want to get your WMV converted into MP4, you choose "MP4 Video", instead.
Stage 3.1 – Select from the preset
Instead of choosing a specific format like MOV in Stage 3, for those who wish to convert WMV to watch on a handheld device like iPad Air, for example, you can make a selection of preset.
This WMV to MOV converter for Mac and Windows offers a boatload of ready made preset profiles for converting video to a popular player of your choice.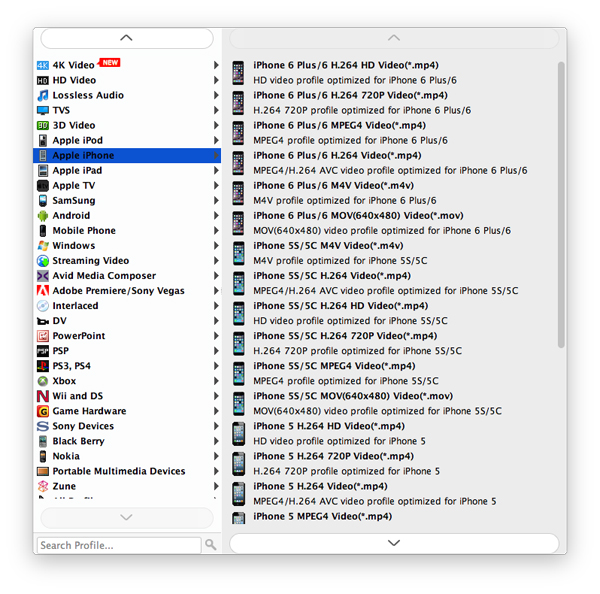 Stage 3.2 – Tweak output settings (optional)
Let's back to Format tab.
The program is more advanced than these, however, giving you the ability to change a wealth of settings for each format listed on panel to control the output such as bitrate (kbps), video & audio codec, resolution, frame rate (fps), aspect ratio, channel.
If you know how to do, you can tweak them according to your requirements through "Settings" button next to "Profile". This is optional.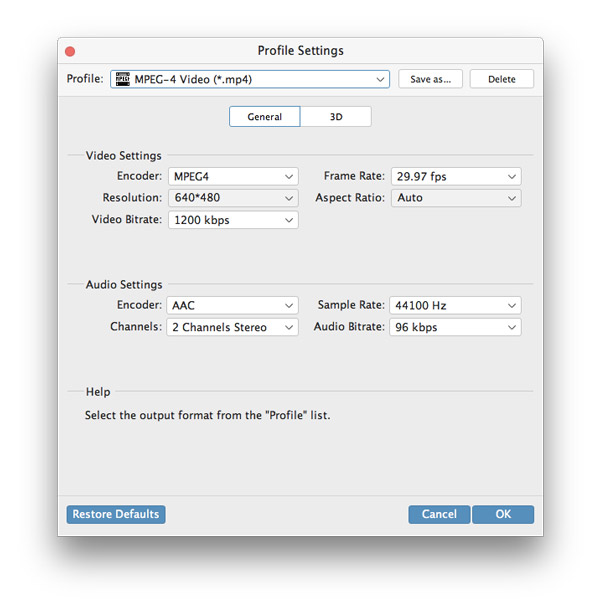 Stage 4 – Enhance the video with editing (optional)
Some of you may want to edit the video to enhance the output.
Click on the Edit icon on the top toolbar you want to edit on the main screen, it will bring up an editing window.
You can use the "Clip" to drag the bar at the bottom and set the exact start and end time to get a part from the entire video. You can also delete the black bars on the side and top of video to make it suitable for your device with full screen using "Crop". "Effect", "Watermark" and "3D" options are also available for you.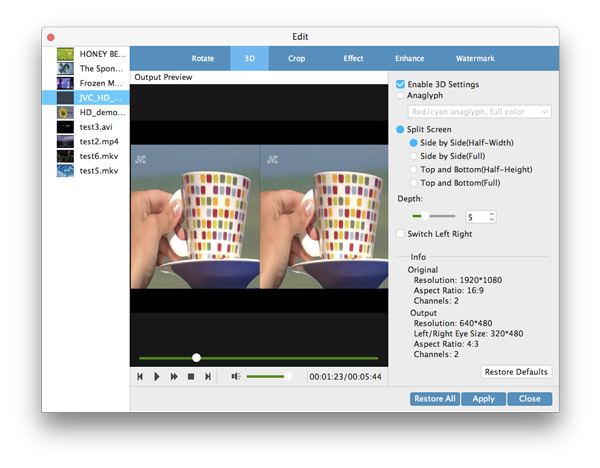 Stage 5 – Convert WMV to QuickTime MOV with a click
Click "Destination" button beneath "Profile", a small box opens, under the "Save to" heading to pick the folder in which you want the export video to go on your computer.
Now, click the "Convert" button to begin converting WMV to MOV format for Mac or Windows.
Then wait while the encoding process completes.
The utility also gives you the ability to convert amongst other digital videos such as MKV to FLV, AVI to MP4 on Mac, VOB to MPEG, MTS to MOV and more.