How to Convert WMV to MP4 File on Macs & PCs
Videos and movies come in many different container files such as WMV, AVI, FLV, MP4, MOV. Each of which can store video and audio streams with different codec. Anyone who is a fan of watching movies on a portable devices or just streaming on a desktop player client will understand that it is impossible for a device/ application could handle every possible format. Yes, such thing also happens to both WMV and MP4 file format.
Both WMV (codec: wmv1, wmv2, wmv3) and MP4 (codec: h.264, mpeg-4) are great formats popular for digital video distributing. While a lot of devices support the playback of Windows Media Videos (.wmv), there are no proper decoders for many other devices to recognize the WMV format, particularly for those who're using Mac-based players like iPad, iPhone and Apple TV for personal entertainment. You'll have to convert the WMV to MP4 or other friendly formats before the actual streaming.
There are great selections of WMV converter programs out there capable of getting WMV converted to MP4 for Mac and Windows environment usage. Anybody looking for a quality program that produces high quality result, Video Converter gets you right into the action. It is easy-to-use yet powerful and does the job in a very nice manner.
Aside from converting WMV to h.264 MP4 (or mpeg-4 mp4) file on Mac & PC, the program supports almost all conceivable file formats as input and convert into any other formats you need. There are plenty of more accessible settings available for you to get more control over the quality of video, and there's bonus features you'll get with group of the device-targeted profiles.
So let's find out how to convert a video in .wmv to .mp4 format on Mac OS X or Windows and optimize it for your hardware. As I'm running an iMac with Yosemite 10.10.3, here take the Mac conversion for example.
How to convert from WMV into MP4 file for Mac OS X
See another detailed walkthrough on how to burning WMV files onto Blu-ray in Mac here.
Stage 1 – Open the software
After you download and installed the copy of the software on your computer, simply double-click it to fire up the software, you then will be shown with a window like this:
Note: here I have the basic necessary steps marked with orange color for you to convert WMV to MP4 format.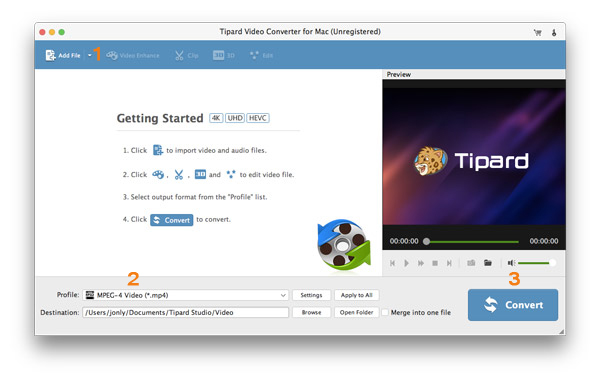 Stage 2 – Import source file(s)
Importing video file(s) is just a matter of dragging and dropping. Or you go to "Add File" to select your WMV file(s) into the program screen. You can select multiple files at once and convert them in a batch.
Once the WMV video file(s) is selected, the following window will appear.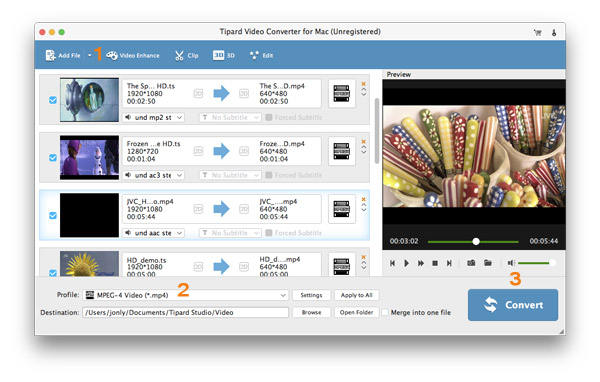 Stage 3 – Select the "MP4 Video" output option
In this tutorial, I will be converting the WMV to an MP4 file. Note that as the program has set "MP4 Video" in "Profile" as the default output for all video items once you open up the program the first time, so in this tutorial we have no further action for format selecting.
You can also click the "Profile" drop-down menu, and then select General Video" to pick up the target MP4. See the picture below: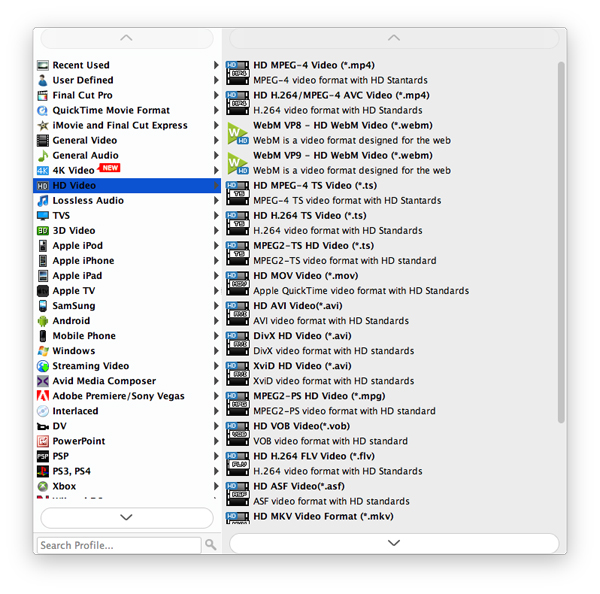 Stage 3.1 – Encode settings (optional)
For more demanding users this Mac program gives you power, by clicking the "Settings" option to the right side of "Profile", to tweak additional settings on output file like frame rate, aspect ratio, codec, bitrate, and resolution prior to converting the .wmv files on Mac.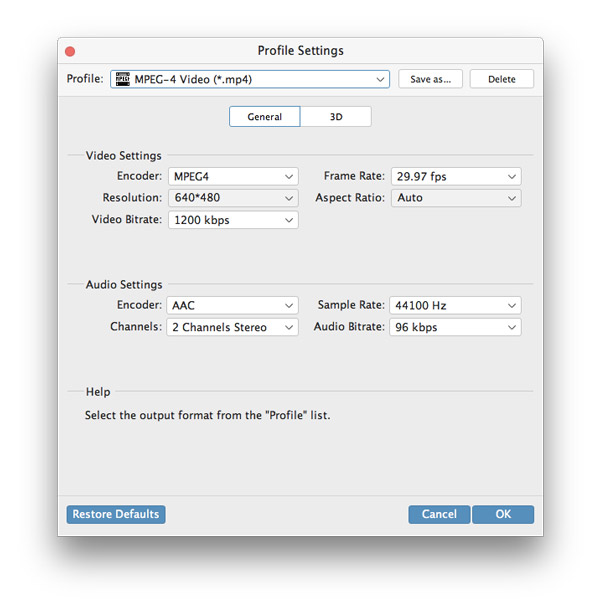 Stage 3.2 – Use presets instead
If you are intending on converting the .wmv files for a device - whether you want to put the result files onto iPhone, iPad, drop to game consoles like PS4, Xbox One, or add to Android phones and tablets, this Mac WMV converter has a large number of presets ready for you, which leaves out all trouble of selecting a specific MP4 or other format as well as configuring the relate output settings.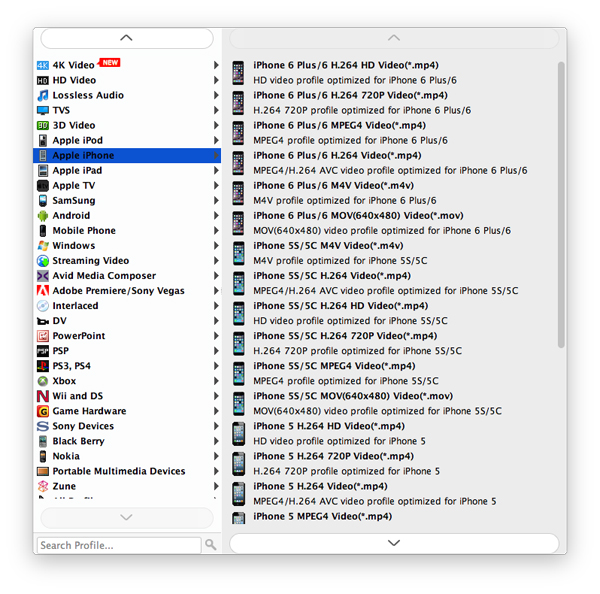 Stage 4 – Edit the video (optional)
Another bonus feature of the app is the ability to perform some basic video editing, by clicking the "Edit" image icon on the menu bar of program, to enhance the export result - you can trim the WMV to get a desired part, crop to remove the black bar on the top/side of the WMV, apply special effect, or even add personalize watermark/logo.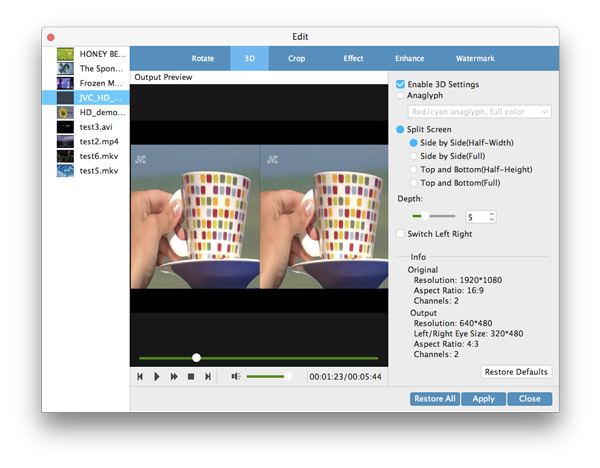 Stage 5 – Start converting WMV into MP4 on Mac
When you're ready to convert the video, click on the big blue "Convert" button on the lower right-hand corner of the window and just let the program do its thing.
Keep in mind that the process time it will take to convert a HD WMV to HD MP4 file in Mac will be longer than the conversion of a short and standard definition WMV into .mp4 video format.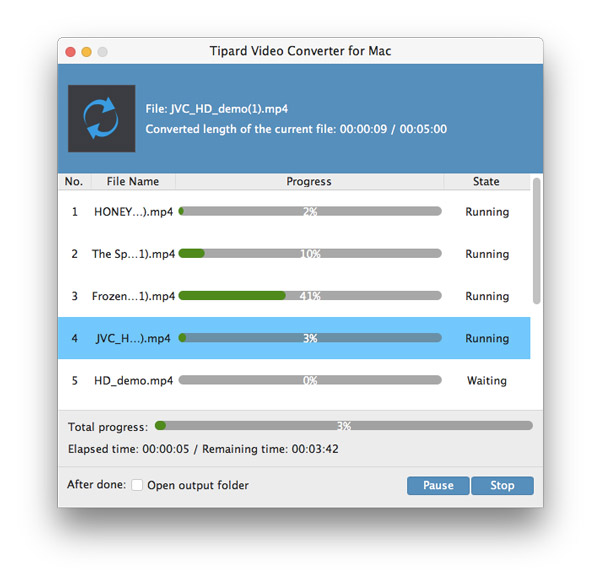 That's it!