YouTube Converter: Download and Convert YouTube Videos
YouTube is the leading video sharing giant that's popular throughout the world today. It can host an endless amount of content uploaded by anyone like you and me. You can find everything on YouTube site, ranging from hot event news to music concerts, fashion, sports to instructional pieces including cooking, computers, games, education, cars, baby care and much more.
If you're a video enthusiast, chances are that there has already been a bunch of download videos that're grabbed from YouTube in personal collections, or you want to download a favorite YouTube video for offline viewing, or even rip the audio tracks and listen to music on the go. Luckily, there are dozens of tools in the web that allows you to download videos off YT and save in any other formats you need. In this article, we're going to look at something at YouTube downloading and YouTube converting.
1. AllMyTube — YouTube downloader and YouTube converter
AllMyTube is a convenient solution that makes it easy to download videos from YouTube and convert into any type of popular format that's compatible with just about anything you play it on. the app supports grabbing video files from 1000+ video sharing sites easily and quickly such as YouTube, Viemo, Dailymotion, Break, Metacafe, Veoh, BlipTV, LiveLeak, Facebook and more.
There are a lot of customizable features built in this YouTube downloader and YouTube converter for Mac/ PC. You can specify what the resolution of video you want to download—Whether it's 8K, 4K, 1080p, 720p, 480p or 240p, and you can select from a library of device presets (iPhone, iPad, Andriod smartphones, Xbox, PSP, etc.) as output. For experienced user, you can even alter conversion settings like codec, bitrate, and frame rate.
Download videos in original YT quality;
Download directly MP3 soundtrack of a YouTube video.
Download YouTube videos of different resolution: 8K, 5K, 4K Ultra HD, 2K, full HD 1080p, 720p, etc.;
Download multiple videos simultaneously;
Convert downloaded video files into every video & audio format you can think of.
Three ways to pull videos from YouTube and other video hosting sites.
2. Video Converter — Convert downloaded YouTube video and other files
If you already have the YouTube videos downloaded to your computer and want to convert them to a more accessible file, you can just use a video converting tool. Video Converter is, as the name implies, a versatile application that can take videos from your computer or downloaded from YouTube (or other sites) and converts them into a wide range of formats on Mac and Windows. With a well-designed interface and a nice set of features, this YouTube video converter is a good option for users of all experience levels.
Intuitive and easy-to-use interface. The YouTube converter for Mac/ PC features a very friendly interface (see screenshot below). Even if you're a novice user, you can be able to use it without a problem. Everything is clearly labeled and easily accessible.
Lots of output formats. The YouTube converter for Mac & PC supports every digital movie files including YouTube video as input, and clearly listed a large number of file types as output, including the most common ones like MP4, MOV, AVI, WMV, MP3, WMA, and many uncommon ones such as MKV, FLV, 3GP, MPEG, VOB, M4A, FLAC, AAC, AC3, WAV, etc.
Related Article: How to Convert YouTube Video to MOV for Mac.
Pre-defined output profiles available. This YouTube video converter for Mac/ PC includes a great selection of presets that are organized according to device or player, such as Apple iPad, Apple iPhone, Android, Xbox, PSP, Samsung, TVs, Windows. This organization makes it very easy to convert (YouTube) videos for playback on device you own with correct resolution and quality. The YouTube converter even makes presets designed for use in video-editing software like Adobe Premiere, Sony Vegas, Avid Media Composer.
Customization Tools. Another great feature included in this Windows & Mac YouTube converter is its video editor that will make your output videos more enjoyable. It allows you to perform basic edits like cropping the YouTube video to remove the black bars, rotating the video to correct direction, trimming the video to get rid of unwanted parts, adding watermarks to your video, combine multiple clips into a single one, and more.
Output controls. More controls over conversion settings can be easy to access. The YouTube video converter for Mac and Windows gives advanced users full tweaks of the conversion factors such as: bitrate, codec, frame rate, aspect ratio, resolution, channels, sample rate.
Bulk conversions. The PC & Mac YouTube converter comes with Batch Conversion feature, which makes converting multiple files all at once the more convenient. So you don't have to wait for one YouTube video conversion to complete before you start another.
After downloading the program on your computer, double-click the setup file and follow the on-screen instructions to finish the installation. No additional codec installation required.
After the program is installed, double-click the icon and run it. Here we take video converter for Mac for example.
How to convert downloaded YouTube video to desired formats on Mac
When the application opens, a very streamlined interface like the one shown below appears.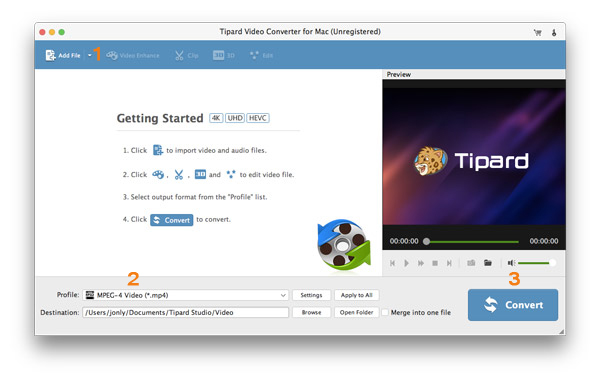 Stage 1 – Add downloaded YouTube videos from computer
To tell this YouTube converter for Mac which YouTube clips you want to convert, head to the upper left corner of top menu where you'll find a "Add File" button to help you on your way. Click it, a dialog box opens, from there browse to YT videos from your computer and click Open.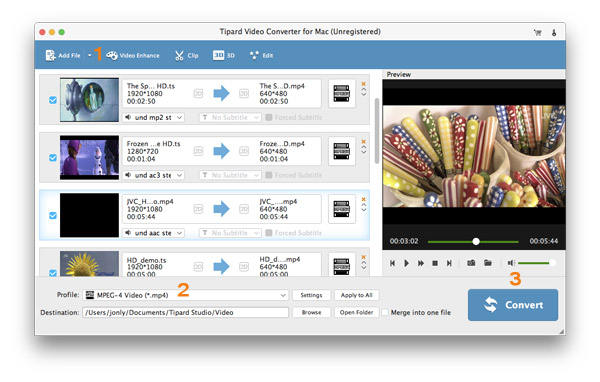 Stage 2 – Choose which file format you want to export to
Once the YouTube files you wish to convert are selected, click the "Profile" drop-down menu, a format-manager panel opens. The are a large set of video and audio format options and device-oriented presets available for you to choose from.
Assuming you want to convert a YouTube file into MP4, for example, simply highlight the "General Video" or "HD Video" category, depending the image quality of original YouTube video, and scroll its list until you find the *.mp4 format option, and pick it.
Afterward, click the "Browse button near "Destination" box (beneath "Profile" menu), select a location on your HDD for the output video file.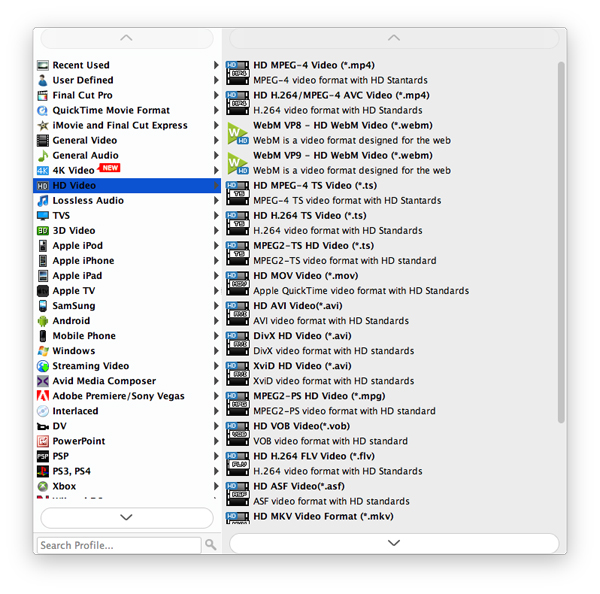 Adjust the Settings for your video (optional)
Click the "Settings" button on the bottom center, this will bring you into profile settings window where you can configure the conversion settings (bitrate, codec, resolution, frame rate, etc.). While the default value of settings can be good enough for the average user but, if you're experience with them, you can tweak those settings to further optimize the conversion process which you may like or require.
It's worth noting that if you want to use the tweaks you just made in the window next time immediately, you can click the "Save as..." button on the top right corner of the window and save it under "User Defined" category.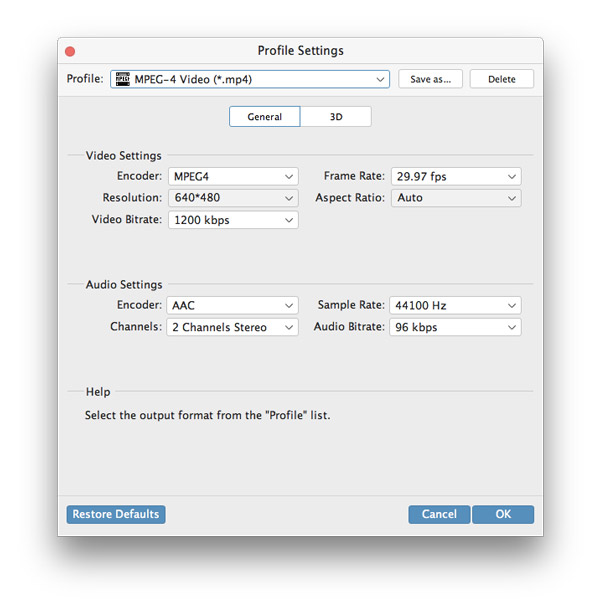 Use preset instead
Owning one or more multimedia devices is very common for us in these days however, most of us don't know exactly what tech specs your device(s) will be, then you may be interested in looking at the application's built-in device-oriented presets.
To take with minimal user interaction, the YouTube video converter for Mac comes with a host of different pre-defined presets including Apple Products, Andriod handheld devices, game consoles, making it fast and easy to convert any of your digital video so that it will play on your device.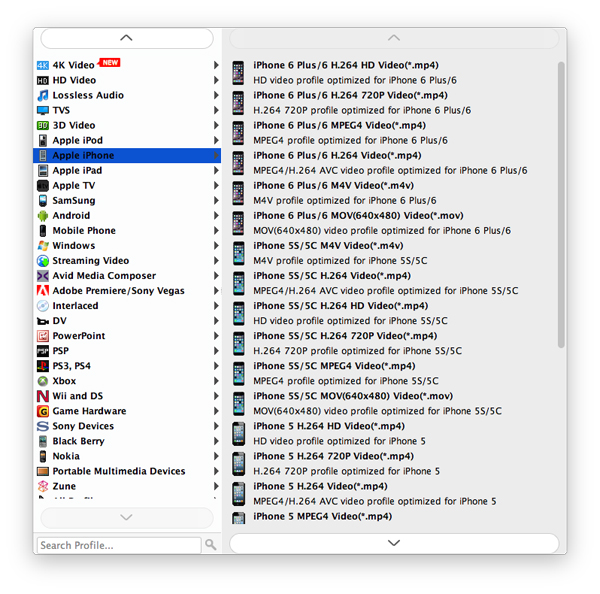 Video editing capability
There are some useful video editing tools available behind the interface. It may not be as powerful as professional editing applications such as Final Cut Pro or Sony Vegas, but it's handy for you to accomplish some basic video editing tasks.
Click the "Edit" or "Clip" icon at the top menu, the Mac YouTube converter will bring into video editing window where you can trim, crop, rotate, denoise, merge, take special effects to improve your source video.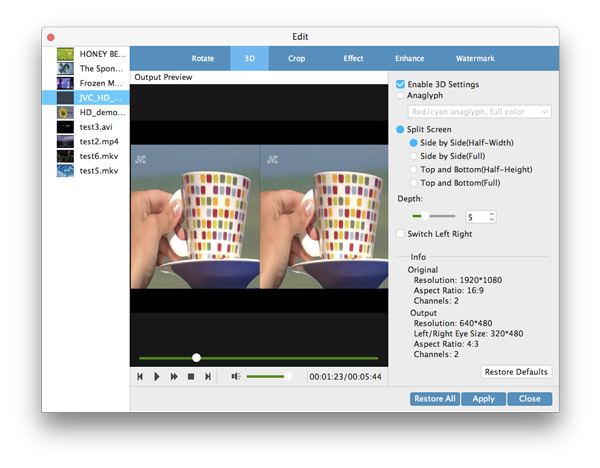 Stage 3 – Press "Convert" button and you're off
One everything is ready, head to the bottom right-hand corner of the interface, press the "Convert" button, the conversion process on Mac starts automatically. Let this Mac YouTube converter do its job.
You'll see a process window comes up, along with progress bars that you can follow to know roughly how long the conversion will take. You don't need to sit there and stare at it. Have a cup of tea or go for a rest.
Once you have converted YouTube video files on Mac, the newly minted files should be located in the folder that you specified previously. You may need some way (QT, VLC, etc.) of playing it to check if they are OK for you.
You're done!