How to Convert & Download YouTube to AAC
This article will include two parts: 1) Convert downloaded YouTube, 2) Download YouTube and convert to AAC.
YouTube is now one of the most popular video-hosting services on the Internet, with visitor around the world watching over 6 billion hours of user-generated video every month. Downloading a YouTube video to your local hard drive is actually pretty easy once you know how, but what if you want to get sound out of the YouTube videos and save in .aac audio file in Mac or PC machine?
File Type: AAC (Advanced Audio Coding)
AAC is a type of file standard for lossy digital audio compression. It is defined by the MPEG-2 standard and designed to be the successor of the most known audio format - MP3, and AAC generally produces higher-quality sound than MP3 at similar bit rates (128 kbps, 192 kbps, and 256 kbps, etc.). AAC is the default encoding used by YouTube, Apple iTunes, iOS players, DivX Plus Web Player, PS3 and others.
YouTube to AAC converter (Mac / Windows)
Thanks to a vast array of applications, the conversion of YouTube to AAC (MPEG-4 audio) file is not only possible, but simple. Today I'll be showing you how to use Video Converter to extract audio from YouTube to AAC format for both Mac and Windows, which is capable of converting a wide variety of media formats with excellent output quality. Besides, it comes with integrated presets for devices such as PS4, Kindle Fire, iPhone, iPod, Android phones, etc.
Now, we will guide you through how to convert YouTube files to AAC with the program on your computer.
Three basic steps will be involved:
Part 1: How to convert downloaded YouTube videos to AAC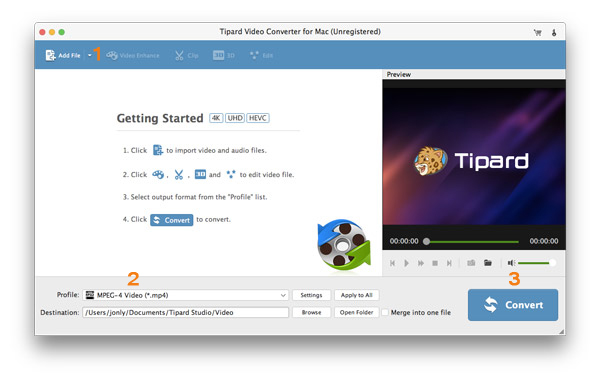 Stage 1 – Load source file(s)
Run this YouTube to AAC converter and press "Add File" button to add the downloaded YouTube clips you want to convert to AAC format on Mac and PC. Or you can use drag-n-drop for this aim.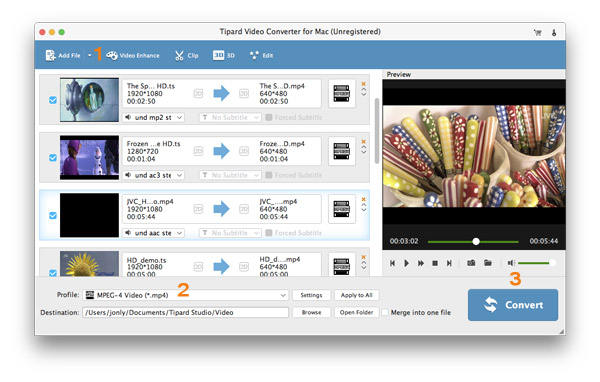 Note: the software comes with bulk conversion feature, meaning you can add multiple files to the list and process all of them simultaneously.
Stage 2 – Select AAC audio format
After we have YouTube files added, it is time to choose the conversion format, AAC in our case.
Click the "Profile" dropdown menu, you'll be presented with a window where you can see a library of format profiles as shown below: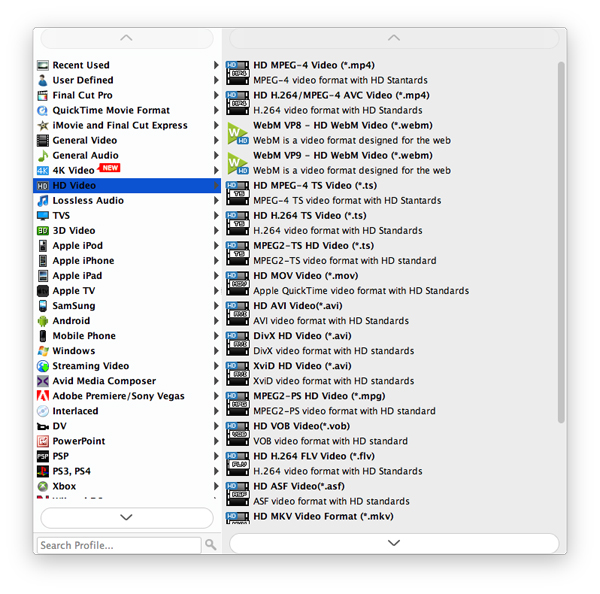 For our purpose, we select the desired output profile "AAC Audio" from the "General Audio" list.
Here's our detailed walkthrough on using the program to convert FLV to MP4 videos in Mac.
Stage 2.1 – Use presets
The converter has a group of pre-defined presets available for you to convert (YouTube) videos for playing on a certain device, all necessary settings will be optimized automatically when you select it.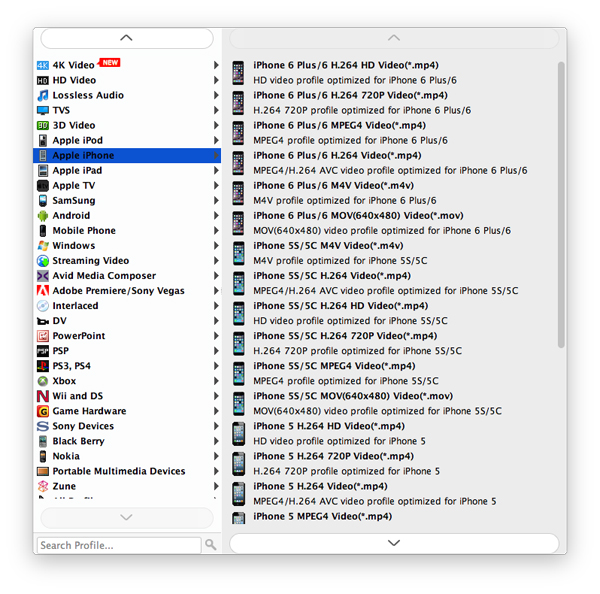 Stage 3 – Start converting your YouTube video clips
It's time to convert YouTube and rip into AAC sound track for Mac and Windows.
Hit the "Convert" button at the lower right side of the GUI, and wait until the conversion process finishes.
At the bottom of items the total progress bar of conversion is displayed. As this YouTube to AAC converter has GPU acceleration technology which decreases the time it takes to process files, generally, the process time would not be too long.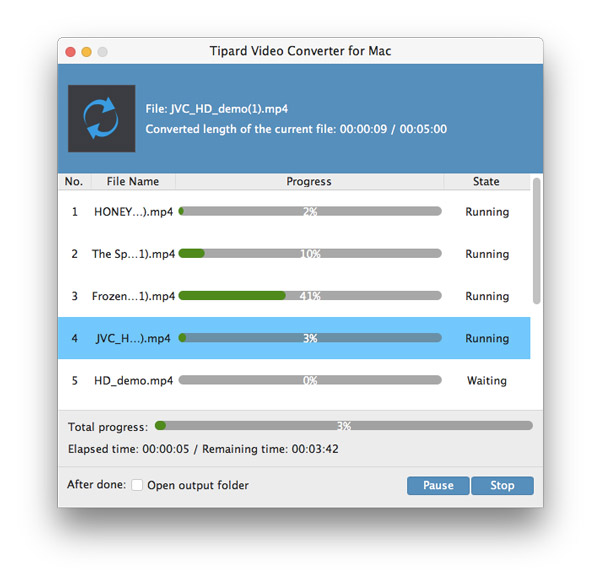 That's it! Find more about how to burn downloaded videos to Blu-ray disc for watching on TV.
Part 2: Download YouTube video and then rip to AAC
Today, there are many ways to grab video clips off YouTube, either using a browser plug-in or simply by pasting the URL of the video into online video downloading website. Below is a simple process to download YouTube video and convert to AAC audio file for Mac with a desktop program called AllMyTube, which can be also used on a Windows system. It also allows you to convert the download YT videos to another video type you desired, such as YouTube to WMV on Macs or PCs.
1. Start playing a video you want to download in YouTube.com, then simply copy the video URL and paste into "Paste URL" at the top left of program's window. Click OK to begin the downloading task.
Note: You can also directly click the "Download" button which appears at the corner of playing video in browser window to start downloading.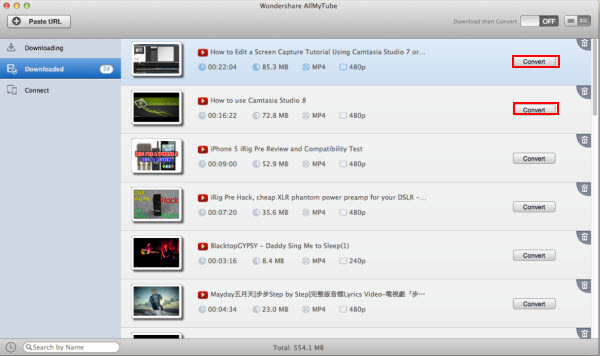 2. After the video is downloaded, move mouse to the left portion of program window, click the "Downloaded" category, you will see a list of video items appearing on the right zone.
Highlight the YouTube video you want to rip to AAC in Mac OS X (or PC), hit the "Convert" button at the right side. This will pop up a format panel asking you to select a target output file.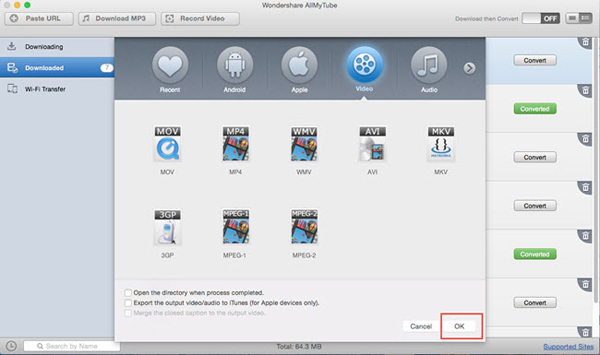 3. Select "AAC" from "Audio" tab, and then click OK to begin converting the downloaded YouTube items to AAC audio format.
The process will finish in a short time, be patient!