How to Download YouTube Video to AVI
The article will include two parts: 1) Convert downloaded YouTube, 2) Download YouTube and convert to AVI.
YouTube is a free video sharing website where use can easily watch online videos ranging from TV shows, movies to music and news. You can even upload your own home made video clips to share with loyal fans around the world, and grab favorite videos off YouTube to save on your local media collection.
However, videos downloaded from YouTube can be annoying to playback on a portable device or desktop application which has a limit support for video files itself. Sometimes, you may need to convert the downloaded YouTube video into an AVI format for Mac or Windows machine, which is still used widely by many of people.
Also see: how can you burn YouTube downloaded files to play on Blu-ray.
What is AVI (Audio Video Interleave)
AVI is a multimedia container format that often uses Xvid, DivX, Mjpeg and h.264 to encode videos. It supports multiple streaming audio and video in container. AVI format is one of the oldest formats and has been replaced by more advanced containers like MOV and WMV which can store the same video better and in a smaller size, but AVI still gains widespread use for its compatibility among platforms.
PC & Mac: YouTube to AVI converter
There are lots of programs allowing the conversion of YouTube video to AVI in Mac or PC systems. Video Converter is such a useful tool for you to do such kind of jobs. The application is an extremely simple and to-the-point video & audio converter that supports just about any conceivable format as input including YouTube videos (flv, mp4, webm), and exports to AVI and other most popular video file types including YouTube to MP4 for Mac, MOV, MKV, VOB, etc. It also includes a list of output audio formats like MP3, M4A, WMA, FLAC, WAV, and a bunch of others.
Here's a quick guide to help you get started:
Part 1: How to convert YouTube video to AVI file in Mac & PC
Screenshot: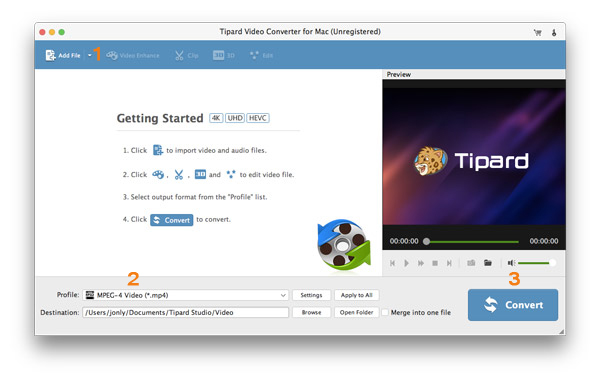 Stage 1 – Add YouTube video file(s)
Now you need to load YouTube file(s) for conversion to AVI (Xvid, DivX, h.264) file. Locate your song in iTunes.
Open the folder you save the downloaded YouTube videos, drag them and drop onto the big landing zone in the middle of the window.
Or you can use the "Add File" button on the top left side to load files.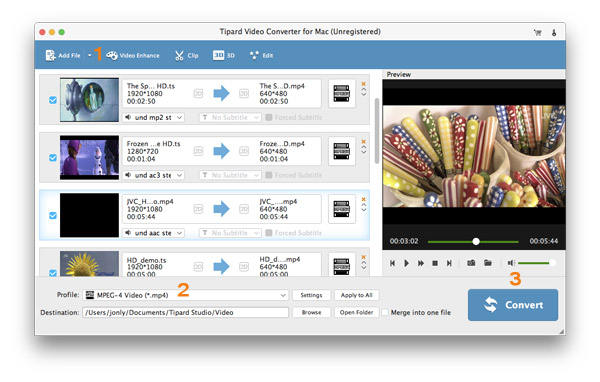 Stage 2 – Choose the desired format - AVI
Click the "Profile" drop-down menu, you'll find all of program's output format profiles as well as pre-configured presets on the panel.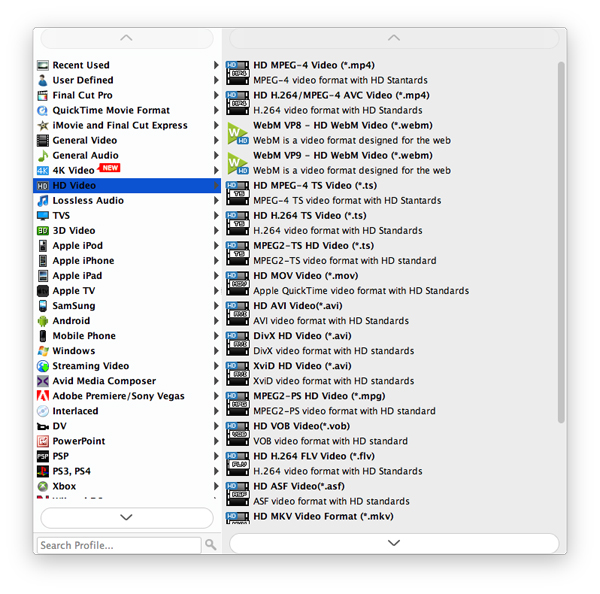 For our case, we select General Video > AVI Video.
Stage 2.1 – Tweak encoding settings (optional)
Video-savvy users may want to fine-tune encoding settings to get a video with desired quality and file size. This Windows yet Mac based YouTube to AVI converter understand this and enables users to optimize the settings by clicking the "Settings" (next to "Profile").
Note: You'd better go with the settings in their default conditions if you don't know what you're doing.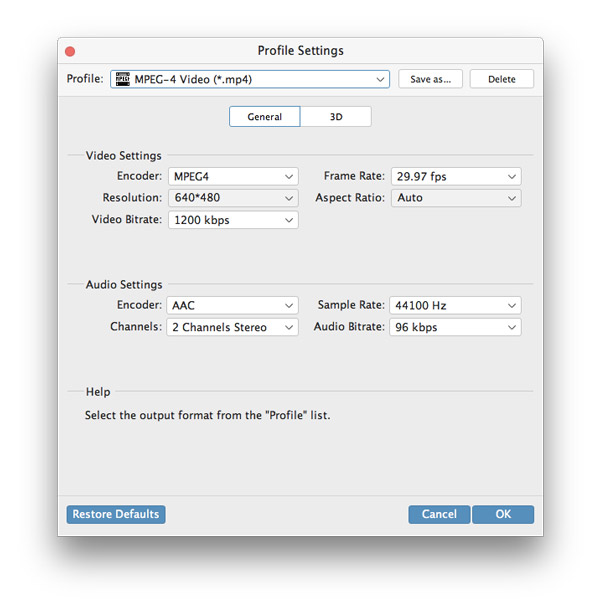 Stage 2.2 – Use preset to replace a format
Before we want to convert from YouTube video to AVI format on Mac or PC, take a moment to consider where and how we will use the resulting AVI videos.
If you just want to playback the AVI file on a device like PS4/3, for example, you can choose select a pre-defined preset from "PS3, PS4".
Instead of using a certain format, this program will automatically adjust the settings of preset to suit for device.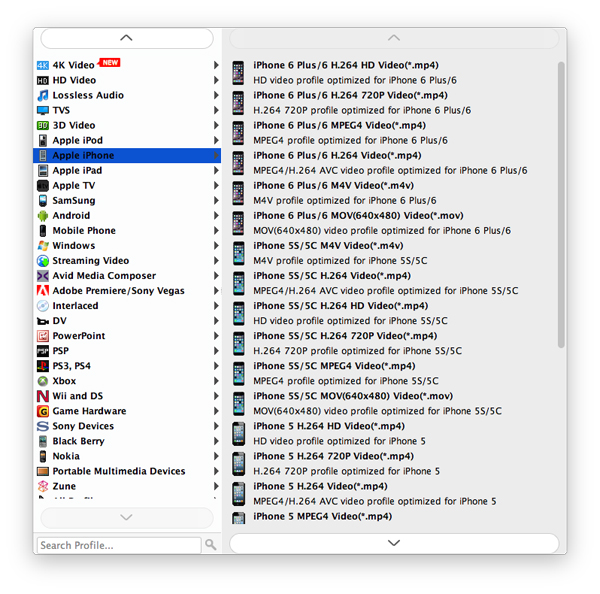 Stage 3 – Start converting YouTube to an AVI (DivX, Xvid, Mjpeg, h.264)
Now ready to convert the downloaded YouTube files, simply hit blue "Convert" button on the lower right corner t begin the conversion of YouTube to AVI for Mac & Windows.
All that's left for you to do is wait for the conversion to finish.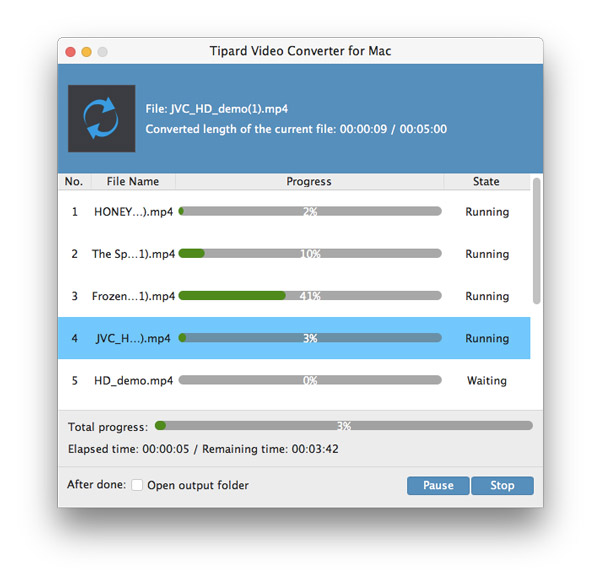 The process will take some time depending on file size of YouTube file(s), and will give a progress bar. Though, this won't be too long, as this YouTube to AVI converter takes full advantage of your CPU.
Part 2: How to get videos off from YouTube and convert to AVI
There are plenty of applications to download YouTube videos, and some of them even have capability of converting the videos to other popular file formats such as AVI, MP4, WMV, MKV, MOV. Today, we'll introduce a program called AllMyTube, it integrates video downloading and converting module all in one place.
Here is how:
Launch the program.
Open YouTube site and play the video you want to download. Right-click the address bar of the browser and copy the URL of the page.
Next, click the "Paste URL" button on the upper left side of program. Your video immediately appears in the download list, click it to begin downloading. Note that you can also drag-n-drop the URL of video to the window to process the downloading, or simply click the "Download" button appearing at the top right corner of playing video.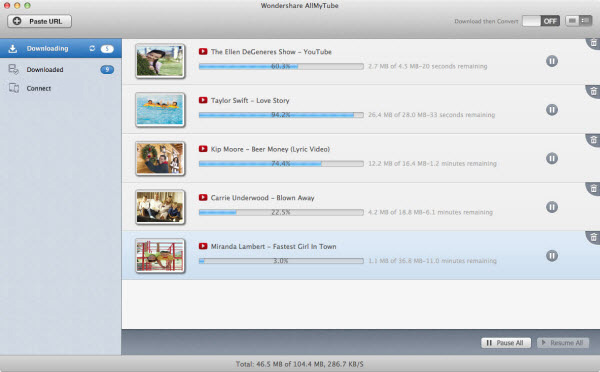 Then, on the left portion of screen, switch the category from "Downloading" to "Downloaded", you will find all downloaded videos shown on the list with a corresponding "Convert" button on the far right side.
Click the "Convert" button.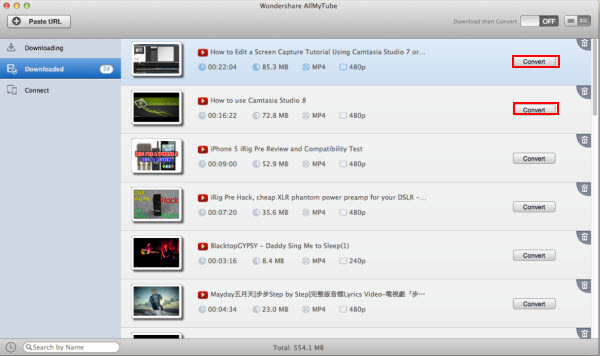 Next, select an output format and click OK to begin converting your YouTube to AVI and any other video format of your choice.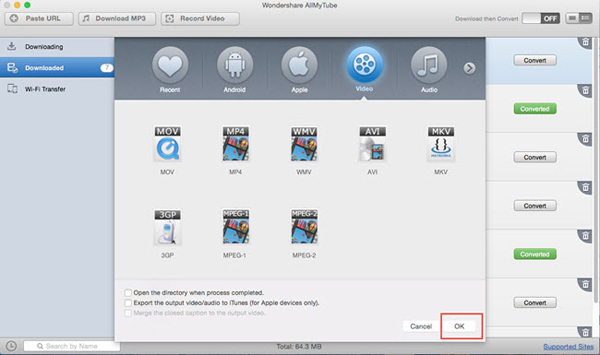 Note: If you would like to convert the YouTube to play on QuickTime, you'd better choose MOV, M4V or MP4 as the resulting file type.
More Tech Tips
MTS to MP4 - transcode AVCHD .mts files to an MP4 format