How to Copy A Blu-ray to Blu-ray on Mac/ PC
There are dozens of reasons for you to make a copy of your Blu-ray collection to another blank Blu-ray disc. You might want to play the movies contained on Blu-ray with different region codes that you bought while traveling abroad, instead of locally buying another standalone Blu-ray player. Alternatively, you might want to duplicate Blu-rays to avoid your originals getting damaged, scratched or lost.
No matter what situations are, create a backup copy of your Blu-ray to another Blu-ray on Mac and PC machine is simple and quick—you will find a number of practical solutions that exist to help rip and backup Blu-rays to either a blank Blu-ray or DVD disc that can be played on a standard Blu-ray player. In today's discussion, we will take a look at the process that will enable you to copy full Blu-ray movies to a single Blu-ray disc on a Mac or Windows computer, with the help of a program called Blu-ray Copy.
Blu-ray to Blu-ray Copy Software
Blu-ray Copy for Mac and its Windows based version Blu-ray Copy for Windows are our favorite for this purpose of task. It's an easy-to-use program that makes a perfect copy of your Blu-ray to Blu-ray, Blu-ray to DVD as well as DVD to DVD. The software comes with three types of copy mode you can choose from: you have an exact copy of your original Blu-ray disc, complete with menus, extras and special features with "Full Mode", or just copy the movie content with its "Main movies", or copy anything else what you want in original disc with the "Custom Mode". Also, you have the option to backup the disc to create ISO and Folder file.
Note, you will need to have a Blu-ray optical drive installed on your computer anyway to read the Blu-ray or DVD before the copy task. If you don't have one, you may get one from local retail store or online (Amazon, for example). For Mac users, you can attach an external USB Blu-ray disc to your Mac.
Before we go into detail about how you can create backup Blu-ray discs, make sure check your country's copyright laws and rip your legally purchased BD movie collection for your own use.
This guide below will walk you through the process of copying movies on a Blu-ray to fit onto another blank Blu-ray disc on Mac OS X (El Capitan 10.11). The same goes for Blu-ray to DVD copy. Let's get started:
How to make an exact copy of a Blu-ray to another Blu-ray disc for Mac
Place a Blu-ray you want to make a copy into your Mac's Blu-ray drive and open up the program.
Click the "Add Blu-ray/DVD" and navigate to the Blu-ray drive path where the disc is located. The program will automatically analyze the disc for a while and present you with a list of titles it's found.
Here, the program also supports importing DVD discs for DVD to DVD/BD copy, or choose the disclose triangle to select other items like ISO, BD/DVD Folder files for burning.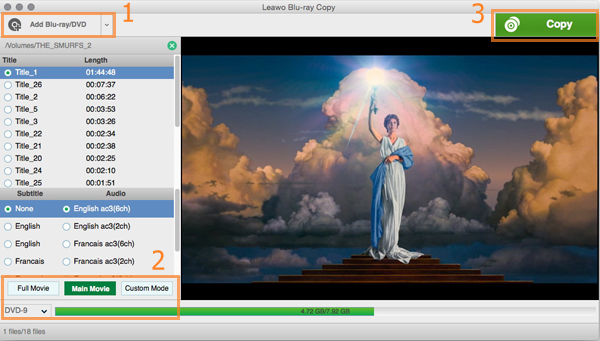 STEP 2
Configure output settings
The next thing you need to do is set up output settings.
Whether you want to make exact disc copies of your Blu-rays to a blank Blu-ray in Mac/ PC, or just copy only certain segments, you can do it all with this program. In the bottom left side there are "Full Mode", "Main Mode" and "Custom Mode" options available.
Full Movie: This means you can make a full 1:1 copy of your Blu-ray disc including titles, movies, menus, trailers, subtitles, extras, etc. for full-featured enjoyment.
Main Movie: Copy only the movie itself or selected chapters.
Custom Mode: Select exactly what you want to copy. To save quality and space, you can get rid of unwanted foreign language audio tracks, trailers, etc.
Next, under the "Full Movie" option there is a pull-down box where you're required to specify a type of disc you want to copy the original Blu-ray to. It's important to note here that a blue bar will tell you how much space it will occupy on a new disc. Since we're copying a Blu-ray disc to burn back to a blank Blu-ray on Mac, BD-25 or BD-50 is your choice.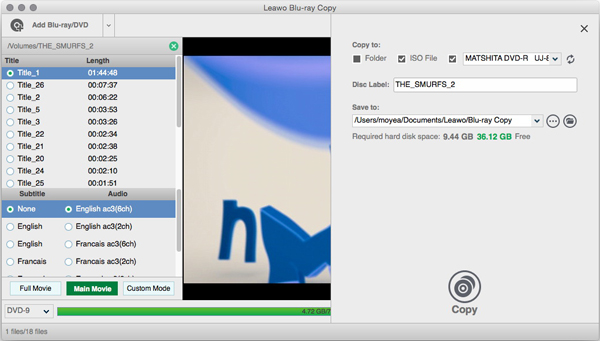 STEP 3
Click "Copy" to begin copying Blu-ray to a Blu-ray
All you need to do now is press the green "Copy" button on the upper far-right corner, a dialog pops up asking you to select where you want the content to go to in "Copy to" field, you can check the Folder and ISO option at the same time if you want to backup the Blu-ray to ISO file and Folder locally, and give a disc label.
After this, again click the "Copy" icon on the bottom of dialog, and wait for the program takes care of the rest. The conversion only took a matter of seconds and produced an exact copy of the song we chose
It's worth noting that the process of cloning a Blu-ray and create your own Blu-ray disc on Mac OS X will take several minutes. Be patient!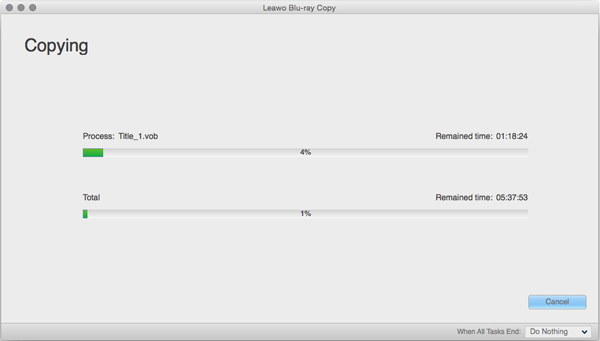 After the copying task completes, take the freshly disk out of optical drive, and place it in a Blu-ray player and check if it works. In our simple experience, this new Blu-ray is as good as the original, with no noticeable loss of image quality.
Enjoy your newly copied Blu-ray movie!