How to Burn Blu-ray to DVD Disc on Mac/ PC
The Blu-ray disc often stores a large amount of data, including the high quality main movie titles as well as the audio track, subtitles and extra features. Blu-ray movie files are generally only viewable on a Blu-ray player. As the movie is on an encrypted BD disc, to copy the movies of Blu-ray to physical DVD that you home DVD player can play back very easily, you'll need to rip the Blu-ray before you can burn to a DVD.
If you have Blu-ray collections and you want to play the favorite movie contents on a standalone DVD player, but you don't want to re-purchase the movies that you already own in Blu-ray to have them copied to DVD disc, here's a way to do it.
Blu-ray to DVD Copy
In our today's discussion, we'll use a program called Blu-ray Copy for Mac on Mac machine; it is one of the most popular cross-platform applications for cloning your Blu-ray to DVD disc. For a Windows user, you can get a copy of its Windows client here - Blu-ray Copy for Windows.
This Blu-ray to DVD copy software allows you to protect your investment by enabling the decryption of a Blu-ray on the fly in the background, and gives you one-click option to create the extract copy of Blu-ray disc to DVD that will then play in a home DVD player. Alternatively, you can choose to copy the Blu-ray to hard drive in Blu-ray or DVD file folder and ISO image file for later burning. You can even make perfect copy of Blu-ray to Blu-ray with 1:1 ratio, and DVD to DVD clone as well.
The following guide we are going to walk you through the steps on how to copy and burn a Blu-ray to a DVD for Mac OS X, the process in Windows is the same as the Mac.
(Tip: if you want to convert the Blu-ray to MOV on Mac for example, or other video files to save on hard drive, please refer to Blu-ray Ripper here, which works on both Mac and PC systems.)
3 Steps for Burning Blu-ray Movies to A New DVD on Mac
STEP 1
Import source Blu-ray files
Insert a Blu-ray disc into optical drive and launch the Blu-ray Copy software.
Loading Blu-ray contents is as easy as drag and drop. Or you can go and from the top menu, hit "Add Blu-ray/DVD" (#1) button to open the file browser window, go to the path of optical drive where your Blu-ray located, select it and press the Open button.
This Mac application will take a few minutes to scan the disc looking for real chapters, when it's finished scanning it will put all of available Blu-ray files onto the interface as screenshot shown below.
BTW, in addition to make a backup copy of your Blu-ray to DVD, you can also click the disclose triangle to import BD/DVD folder, ISO file(s) to be burnt to discs.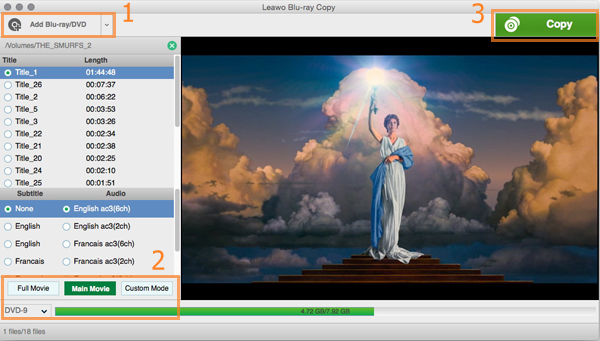 STEP 2
Select DVD-9 or DVD-5
After the Blu-ray files loaded, as you can see in the screenshot above, all of the necessary options activated.
This Blu-ray Copy software offers you three intelligent copy modes to either copy the full disc, main movie only or custom movie, letting you create a disc copy to match your need.
Move eyes to the left section, you will see 3 copy modes (#4):
Full Movie: Make a complete 1:1 copy of your original Blu-ray, everything (language, subtitles, etc.) included.
Main Movie: Copy only the main movie portion and uncheck other things.
Custom Mode: Only include your favorite scenes, and ignore other unwanted portions. Something like menus do consume a decent amount of space, so you can choose to remove them to keep better quality for the main feature.
Another important thing that needs doing is go to the drop-down menu for selecting an output disc type. Since we intend to make backup copy of Blu-ray to DVD disc on Mac (and PC), make sure to choose DVD-5 (4.7GB) or DVD-9 (8.5GB) from the options.
As the storage capacity of a dual-layer DVD disc is about 8.5 GB, so here we check "Main Movie" copy mode and select DVD-9 for example.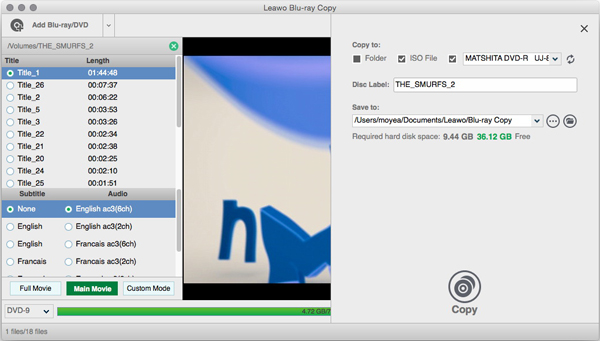 STEP 3
Begin copying and burning your Blu-ray to DVD in Mac
Now, click the green "Copy" (#3) button on the top right side, it will ask you to configure the final settings in pop-up small window before ripping the Blu-ray to DVD on Mac OS X.
Simply check the option next "ISO File", give a name in "Disc Label", and click File icon in the "Save to" box and point it at the temporary path where you'd like the original Blu-ray movie to reside.
Again, press the "Copy" button and go make yourself a coffee.
It will now take several minutes for your new DVD to be created. Two blue bars will show up where you can track the process of burning BD to DVD. Find more about how to convert Blu-ray movies for importing to iTunes on Mac.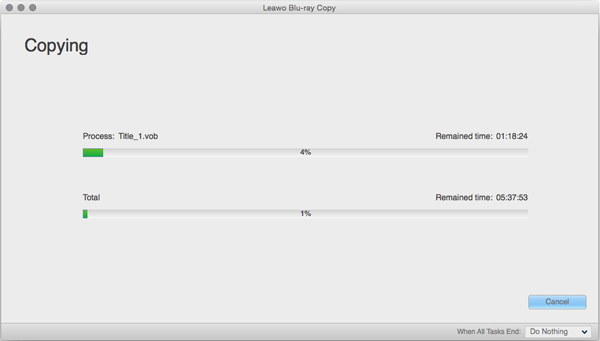 When the status ends to 100%, the copy process complete, and you can pop the DVD. You should be able to play the new created DVD movies on your DVD player—just make sure to place the original Blu-ray back to your media library.
Hopefully this has provided much insight on how you should go about copying Blu-ray to a DVD disc for Mac.