How to Put Movies of Blu-ray onto iMovie
There was once a time when we enjoy movies by means of a standalone Blu-ray/ DVD player connected with big screen TV, but things are definitely progressing into the digital age of streaming movies and TV shows online via Internet connection. If you're a videophile, you've probably have a sizeable collection of Blu-ray movies lying around the house. For some reason, you may want to rip Blu-ray movies to backup on hard drive on computer or copy Blu-ray movies onto iMovie on Mac, so that you can work your editing magic on it to create clips.
Apple iMovie is a consumer-level video editing application that works on both Mac's and iOS devices. It combines simplicity with powerful tools to balance the needs of the vast majority of its users. The integration with iPhoto/ Photos and iTunes make it convenient for you to access to your media libraries and create an iMovie project without having to import individual files time and again. The latest update even gives you Hollywood-style trailer creation and 4K resolution movie making. The export options in iMovie are also impressive: QuickTime movie (.mov), iTunes, MobileMe Gallery YouTube, Facebook, Vimeo, CNN iReport, and Podcast Producer, Final Cut XML.
You'll see a slew of programs that claim to rip a Blu-ray to iMovie in Mac. If you are looking for a simple solution, look no further than Blu-ray Ripper for Mac. The program is easy to use and it works for both DVDs and Blu-Rays. It's capable of stripping the protection schemes from a disc so you get the movie content out of DVD/ Blu-ray disc and import into iMovie, or just back up on hard drive for later use.
In addition, the software even allows you to convert the Blu-ray to movie to save in high-definition digital formats such as MP4, WMV, MOV, MKV, AVI, H.264, AC3, WAV, MP3 for playback on your device of choice. Do note that please use its equivalent - Blu-ray Ripper for Windows if you're on a PC machine.
What You Need to Start
Firstly, make sure the hard drive containing your destination folder to save your ripped Blu-ray movies on Mac has enough free space on it. Depending on the Blu-ray disc, this could take up to 50GB of HDD space. You might want to get an external hard drive if you're going to work with a library of Blu-ray discs.
Secondly, since Apple doesn't support Blu-ray playing on Mac, nor has any Mac shipped with a Blu-ray drive. So you'll have to get an external USB Blu-ray drive to connetect with your Mac. You can buy one fairly inexpensively from local retail store or Amazon online.
How to rip Blu-ray to import into iMovie for editing
STEP 1
Load Blu-ray files
Once you have installed this Blu-ray Ripper program you launch it and place the Blu-ray you want to rip for iMovie into the BD drive. As soon as your disc is inserted into the drive, the program works on-the-fly to automatically scan the disc for the contents on the disc. The entire process might last a few seconds.
You then click the "Add Blu-ray/DVD" button on the upper left side of main interface, a file-browsing window opens. Now you have to decide which titles the program found you are going to rip.
Generally speaking, the movie you want is the longest of the available titles, which contains the actual movie, together with associated soundtracks or subtitles.
After the titles loaded, you will see them in the list on the program window as shown below.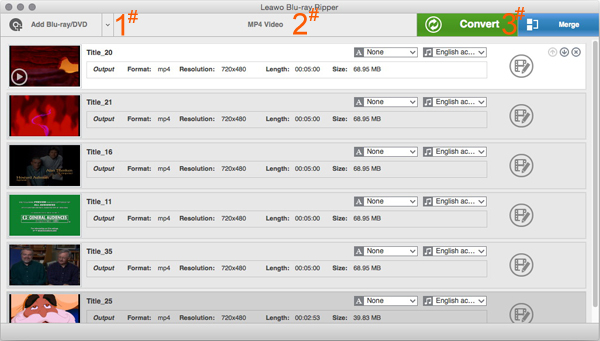 STEP 2
Pick an iMovie-friendly file type as exporting format
Before we go to rip Blu-ray movies to add to iMovie for editing, we need to know about which types of video formats are recognizable by Apple iMovie.
According to Apple iMovie official site, iMovie will accept .mp4 (h.264, mpeg-4), .mov(QuickTime movie), MPEG-2, AVCHD, DV/HDV.
So, the next thing we need to do is select an iMovie compatible format to rip the Blu-ray movies to. If you intend to rip a Blu-ray in Universal format, MP4 typically meet your requirement.
Click the "MP4 Video" drop-down button on the top middle of program window, in the drop-down menu hit the "Change" option.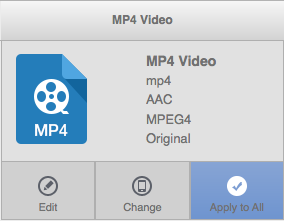 You'll then be presented with a format choosing panel as image shown below.
In Format tab, choose HD Video > HD MP4 Video (or HD MOV Video).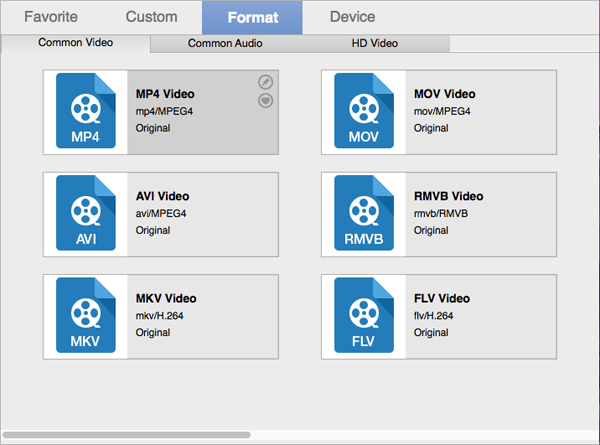 You can adjust additional settings of the choosing format including bitrate, frame rate, resolution, codec, channel, sample rate via the PEN icon located on the top right corner of format. You can see that icon in "MP4 Video" in the image above.
The profile settings window is like the screenshot as shown below.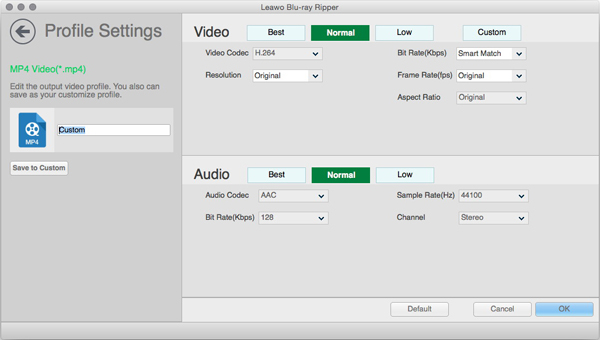 In this example we are keeping all of things in its "Original" or "Smart Match" status. If you want to downscale the movie quality of original 1080p to 720p, for example, just click the "Resolution" field and in its pull-down box select 1280 x 720.
Anyway, it's advisable to leave the options in their default settings unless you really feel the need to fine-tune further.
When you finish tweaking settings, click the OK button to save them and close the profile settings dialog box.
STEP 3
Click "Convert" to begin ripping Blu-ray to iMovie friendly digital format
Next, what you need is click on the green "Convert" button at the top right of the interface. In the next pop-up window, select the target folder for the ripped Blu-ray movie files. Please make sure that you have plenty of free space on your hard drive on Mac.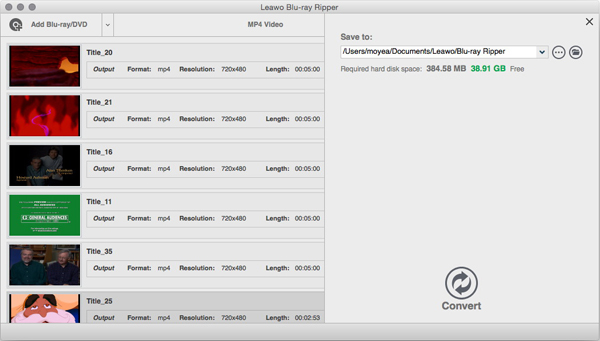 After that, again, click the "Convert" to continue. This will bring up the converting window, showing you the status of ripping and converting Blu-ray to iMovie video files on your Mac.
The complete process will take anywhere from a few minutes to hours, depending on your Mac hardware, the speed of the BD drive and the data of Blu-ray you're trying to handle, so you can let the software do its work while you move on to do your own business.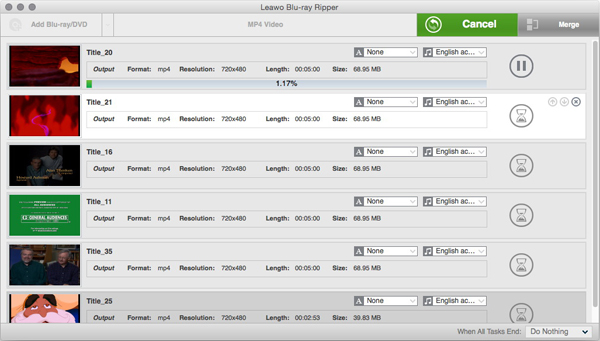 Note, in the encoding window, you can set "When All Tasks End" field to do nothing, or shut down your PC, which it a convenient feature to use if you want to rip your Blu-ray collection at night.
The last thing, launch iMovie on your Mac and create a new project. From the File menu choose Import -> Movies. In the dialog that appears, navigate to the movie you just ripped from Blu-ray and click Import. iMovie will go about its business and eventually import the clip. Now you're ready to edit it in the timeline with iMovie's powerful tools. Enjoy!