How to rip Blu-ray and import into iTunes
Yes, the times are changing. There was once a time when we purchased DVD discs to enjoy quality movies on home DVD player, and then Blu-ray full HD 1080p movies got its ground. But things are definitely progressing into the digital age. You can watch HD (High Definition) Movies and TV shows downloaded from iTunes Store right on your iPad, and access to millions of lossless songs through online streaming service like Spotify.
Yes, we still have a large collection of Blu-ray discs lying around on dusty shelves in the corners of attic. Why not make a backup copy of your Blu-ray collections onto computer so that you then can add those Blu-ray content into iTunes library to be able to access all these quality movies on your iPhone and iPad.
Although Blu-ray carries much complicated algorithm to protect its contents than DVD, there are several applications capable of ripping the disc and convert the Blu-ray movies to iTunes readable files to other digital formats such as Blu-ray to MKV, AVI, Xvid, MPEG. Unlike the situation that you are required to get one of them to bypass the protection and the other to convert the files, today we'll stick with a highly-respected utility to get the job done in one-stop experience.
What You Need to Rip Blu-ray for iTunes
Blu-ray ROM. You will need to have a Blu-ray drive built in your computer, or has an external USB Blu-ray drive to read the Blu-ray disc. Note that Macs hasn't shipped with a drive for years.
Blu-ray Ripper for Mac. It has always been the go-to app for ripping your Blu-ray and converting the movie to any different types of file formats of your choice. This makes it a pretty good choice for converting Blu-ray to a format suitable for iTunes for use on your iOS players, or just to store the video on your Mac library. Windows user can refer to Blu-ray Ripper for Windows to rip off the movies off Blu-ray and copy into iTunes.
Free hard drive. Blu-ray has a capacity of 25GB for a single-layer structure and up to 50GB for that of dual layer, so the size of the resulting ripped files would be very large. Make sure you have enough storage on your computer hard drive for all films. If you don't have the space, an external hard drive will work just fine.
Steps to rip and put your Blu-ray film onto iTunes
Providing you have all things ready, it's time to begin ripping your Blu-ray to iTunes.
STEP 1
Load Blu-ray source
Insert the Blu-ray Disc into ROM, and launch the software. Click program's Add Blu-ray/DVD (#1) button and point it at the Blu-ray in the optical drive. The program will take a little time to analyze the disc and identify its list of titles.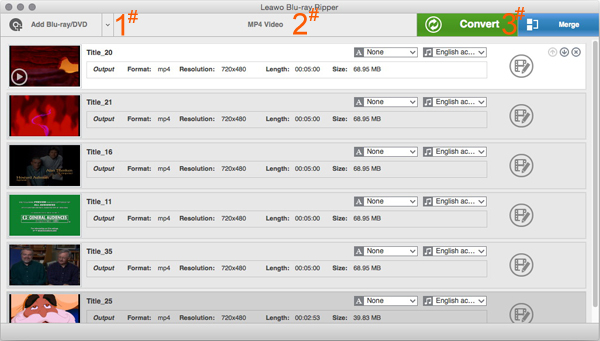 Tip: you can choose to rip parts of titles and remove other titles, and merge any of them into a single file by clicking the "Merge" option on the top right corner.
STEP 2
Select Preferences
The immediate purpose for us in this article is save Blu-ray movie files for backup on iTunes, so here we'll select iTunes's friendly format as the output format.
Back to the main interface, you will find "MP4 Video" shown on the top middle, this is the default format when you open the program. Here, we click MP4 Video (#2).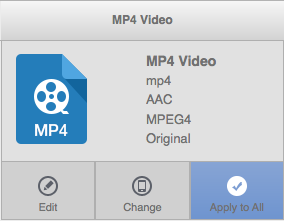 Then hit Change from the dropdown menu, this will essentially open up the format list window, see screenshot below.
Select Format > Common Video (or HD Video) > M4V Video (or MP4, MOV) from the list.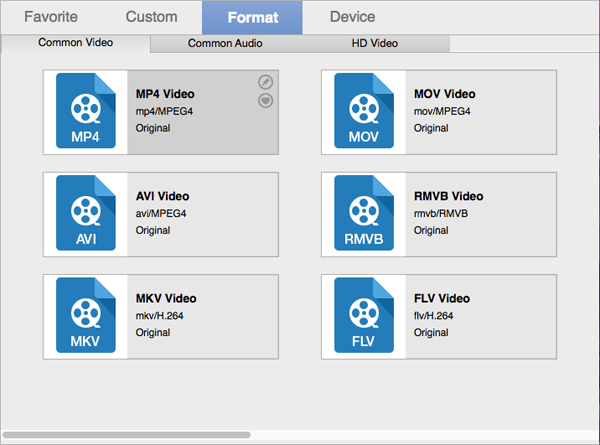 By clicking pen icon on the corner of the format, you have options to tweak the quality and size of the resulting files, here we do leave all things alone.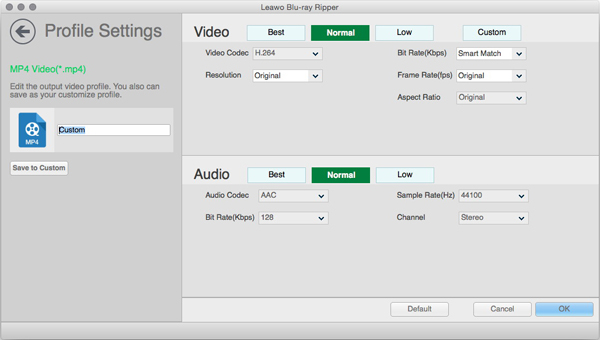 If you're copying Blu-ray video to iTunes library it's probably because you want to play the Blu-ray on iPad, iPhone, or other iOS devices. Luckily, this is a nice program that includes device-targeted profiles available for you to simplify the process. You can simply switch to "Device" tab to pick your desired preset profile.
BTW, the program is continuously updated to meet new demands for popular multimedia players and games consoles.
That's all, you're ready to rip your Blu-ray now. Just click the Convert (#3) button at the top corner. Next the Convert screen opens, you need to specify where the movie should be saved on your Mac. Please remember that this directory has to have at least 9GB of free space, 25GB or 50GB is recommended.
After that, click the button again. The rip begins! A progress bar will display showing the complete percentage of the process. Please keep in mind that the Blu-ray ripping to iTunes file process consumes a significant amount of CPU time, for a faster conversion speed, you are recommended to stop some of non-important tasks on your desktop.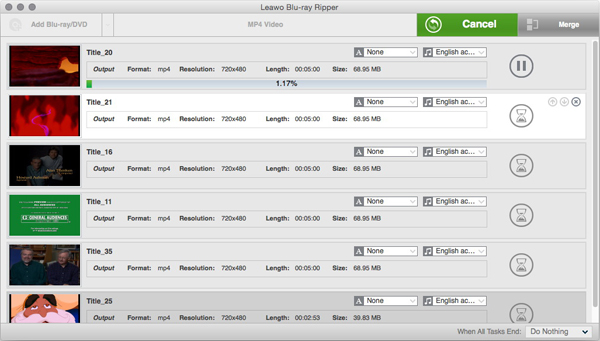 A few hours later you should have the digital copy of your Blu-ray waiting on your hard drive.
STEP 4
Add the ripped Blu-ray files into iTunes
Open iTunes, drag the file or folder to the iTunes window, you then are able to play the movies in your Library.
Have a nice time!