How to Stream Blu-ray Movie on Apple TV
While the world has clearly moved on to the era of rapid development in mobile internet, downloading services and streaming services like Apple iTunes Store and Spotify have brought revolutionary changes to the movie/music industry. Hundreds of millions of people now getting the new ways of home entertainment – You can listen to your favorite music, browse through the music collections of friends, check out new releases with subscriptions service online, and purchase a digital copy version of the hottest Hollywood films through Mac iTunes Store and play on your iPad, iPhone or Apple TV.
Even if you are, you may have ever bought a sizeable collection of Blu-ray Discs to play 1080p quality movies on your home theater centre. Is it possible to make your favorite high definition Blu-ray movies playable on Apple TV 3, which can play videos in 1080p and supports Dolby Digital 5.1 surround sound, without repurchasing them in a digital form from iTunes Store? Of course you can!
Related: how to convert a Blu-ray to h.264 video files on Mac.
Lucky for all of us, there are several ways to rip a Blu-ray to Apple TV (4/ 3/ 2/ 1) on Mac OS X or Windows. As long as you rip the Blu-ray and extract the contents out of BD, and convert to an Apple-approved video format, you then can put the file to play on Apple TV. Here we've outlined exactly what you need to rip your 1080p Blu-ray to a manageable file for watching on Apple TV.
What You Will Need:
A tool to get Blu-ray ripped to Apple TV. I use and recommend Blu-ray Ripper for Mac for ripping your Blu-ray/DVDs in Mac. The software can read Blu-Ray discs that are protected with AACS and BD+, as well as encrypted commercial DVDs, and convert the movies contained in Blu-ray for playback on Apple TV and other devices. It also has options to omit menus, languages and tracks, add external subtitle streams, and edit video for a quality video. Its equivalent Windows version - Blu-ray Ripper for Windows is available for you as well to deal with the task on your Windows system.
An integrated or external Blu-ray Drive. You won't get far if your computer have no Blu-ray drive. You need its help to read Blu-ray before the real beginning of ripping your Blu-ray collection for Apple TV.
A ton of free hard drive space. There's vast amounts of data (25GB ~ 50GB) stored on a Blu-ray. Depending on what you're ripping and the quality you want in final file, you'll need a good amount of space, 60GB or so to be safe.
Steps to Rip and Play Blu-ray onto Apple TV (4, 3, 2, 1)
The following steps will show you how to convert the Blu-ray to Apple TV on a Mac, the steps are actually the same for PC Windows system.
The first thing we're going to do is extract movies from encrypted Blu-ray on Mac.
Open the Mac Ripper, click Add Blu-ray/DVD (#1) and locate the path of the Blu-ray disc you want to rip. The program will then analyze it, which will take a minute or so.
Once the program has finished analyzing your disk, it will display a list of the titles on a window like the one below. As you can see, I have selected just some of my preferred titles and my preferred subtitle tracks (English).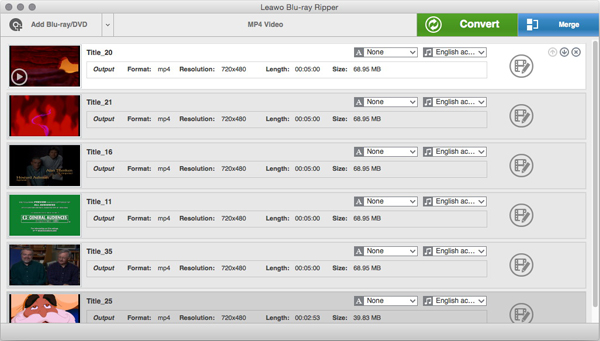 To make identifying a title you want to rip for Apple TV, you can click the preview button on the thumbnail to preview the scenes.
STEP 2
Select an Apple TV preset
Now select which Apple TV resolution you would prefer from the Apple TV Preset.
Click on MP4 Video (#2) on the top middle menu.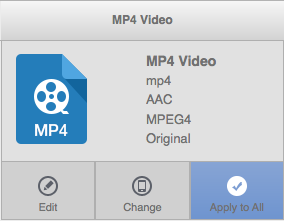 And then hit "Change" option to enter the profile window.
There are 2 ways to you can choose from. Click Format > Common Video > M4V Video to make a specific format as the output file, or select Device > Apple > Apple TV to make a ready-configured preset as the output file.
Beware that the default resolution of Apple TV preset is 1080p for the latest Apple TV 4 and Apple TV 3, you can descale it down to 720p for the previous generations of Apple TV such as ATV2, ATV1.
Tip: for those who're using other entertainment media players and want to play Blu-ray to Xbox One/ 360, PS4, Nitendo, etc., you can also find the corresponding preset profiles on the panel.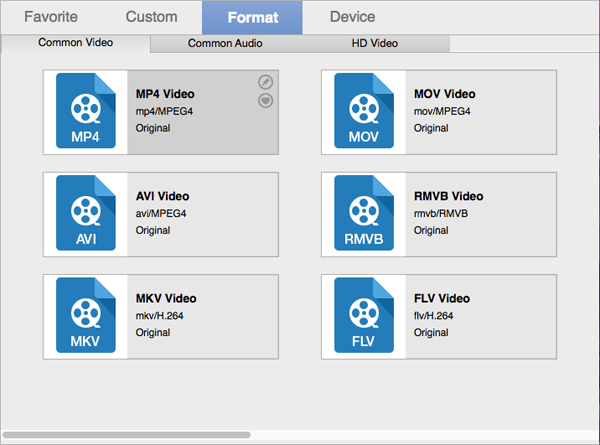 STEP 3
Convert the Blu-ray
Lastly, click on the big green Convert (#3) button on the top right side, a window appears prompting you to set a location in "Save to" box where the program will put the output file after converting it.
Now, make the ripping of a Blu-ray Disc for Apple TV with Convert button again! Let the program do the rest things. Here is a snap of that process in action: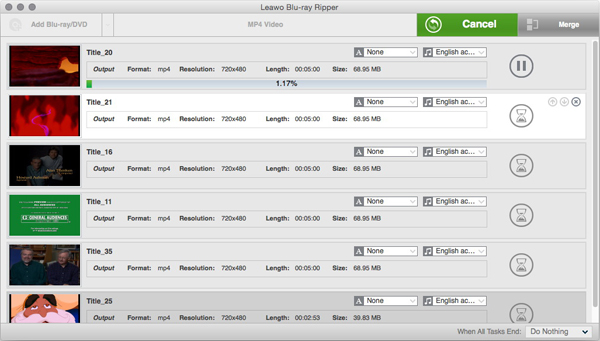 Watch out! Ripping a full quality Blu-ray movie to your Apple TV file can take hours, depends on the size of the data on the disc and the speed of your Mac.
Read next: How to convert Blu-ray movie to FLAC, WAV, MP3, M4A, AC3, AAC audio file.
STEP 4
Play the ripped Blu-ray movies onto Apple TV
To stream videos off of Blu-ray on Apple TV, open iTunes and import the files into the library and use local network to sync with your Apple TV. Or you can use an iOS device and use AirPlay to play on ATV.
As a final step, remember to delete the local temporary files of your original Blu-ray, as it eats too much of your hard space.