How to Play Blu-ray Movie onto iPad
If you're a movie fan, you may love to purchase Blu-ray Discs to watch full quality 1080p Hollywood films and popular TV shows on your home theater center. As the years go by your collection of Blu-ray discs has likely grown large, and you made them stored in the basement next to your DVD media collections in boxes.
With the advent of portable player like the iPad which gives you convenience to play movie files where you are, many of you would like to make a digital content of the existing Blu-ray so that you can enjoy the full quality Blu-ray movies on iPad (Pro, Air, Mini). Especially for those who take a long flight or road trip, enjoy the digital copy of Blu-ray on iPad proved to be a life saver to spare time. Also see - how to play Blu-ray movies on QuickTime in Mac.
So you have a Blu-ray Disc that you want to rip the movie off so you can watch them on iPad. How can you do this without involving a complicated process? Thankfully, ripping the contents of Blu-ray to iPad is actually extremely easy. Today, we're going to introduce you a nice tool I use to rip high definition 1080p Blu-ray movie files for iPad (Pro, Air, Mini).
Three Things You Need
A ripping and converting utility. Here we'll use a program named Blu-ray Ripper. It is a specialized ripping tool with a nice graphical user interface that lets you get around of the AACS or BD+ security lock on Blu-ray disc automatically, and take the contents compressed into a Mac-and-iOS playable file which you can then transfer onto your iPad, iPhone, Apple TV. One of extra features is the program has ready presets for you to converting Blu-ray for Apple iPad and other mainstream devices so you don't need to think what parameters to set.
A Blu-ray drive. Obviously, you need a Bluray drive to attach to your PC to read the Blu-ray disc before ripping to iPad. Since Macs don't support an integrated Blu-ray drive, you're going to need an external USB Blu-ray drive to do this. There are a huge number of brands you can choose from in Amazon and eBay.
Enough hard space. As Blu-ray has capability of storing massive amount of data in one disc (25GB - 128GB), you're required to have enough storage on your computer hard drive.
How to rip Blu-ray and put the movies onto iPad
Insert a Blu-ray and fire up the Ripper. Click on Add Blu-ray/DVD (#1) on the top menu to open a file browser. Select the BD you've inserted and click Open. The software will scan the Blu-ray, get information about the different streams and load the titles into the interface, as can be seen below: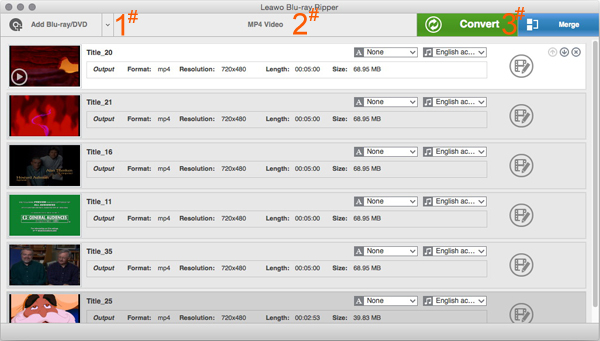 STEP 2
Select a preset or format
The application gives you presets that optimize the resolution to suit different Apple devices such as iPad Air, iPad Mini, iPhone 6, Apple TV 3 and more.
Alternatively, we convert a Blu-ray to a format that will be recognized by iPad. The M4V container is a format developed by Apple and used to distribute video content on Macs ecosystem, and it can be played by QuickTime and iOS devices (iPad, iPhone, ATV) smoothly. So here you can also choose M4V as the output format instead.
Move your eyes to the top menu of main screen, and click on the "MP4 Video" (#2), this will display the dropdown menu like so.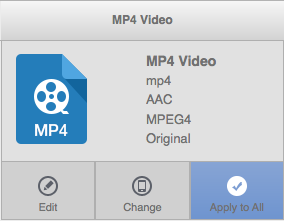 Then, click on the Change button, and enter to the final targeted window (see below).
Now, select a preset through Device > Apple > iPad Air (or iPad Mini 2, iPad Mini, New iPad, iPad).
Related: how to convert Blu-ray to play on Xbox One or Xbox 360.
Or choose a container format through Format > Common Video > M4V Video.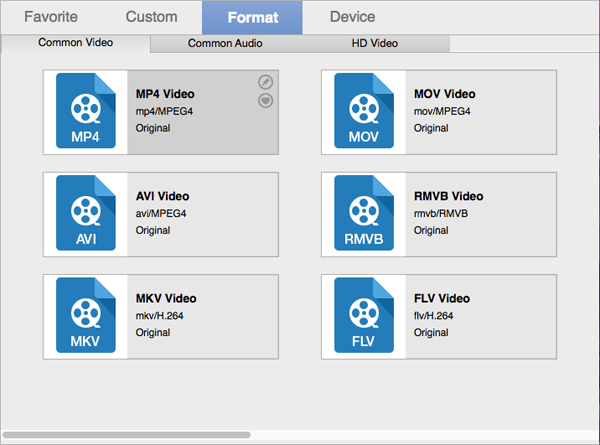 STEP 3
Convert your Blu-ray
When everything is set the way you like, click the Convert (#3) button on the top corner to begin the rip from Blu-ray for iPad. And then wait. The whole process of ripping a Blu-ray disc to iPad file takes hours. Be patient!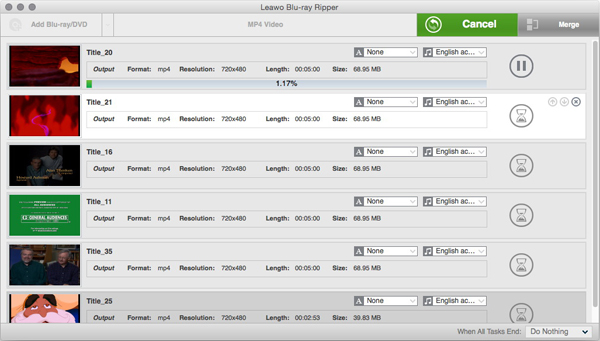 When the Blu-ray rip finished, you'll find the new created iPad playable file in folder on hard drive, it's time to import file into iTunes to add to your iPad.
Open iTunes and click the Movies Tab. Hold the (.m4v) file and drag it into the Movies Section of iTunes.
Next, connect your iPad with iTunes and begin to sync the movie onto your iPad.
Read next: how can you convert Blu-ray movies to a MP4 format on Mac OS X.
Related Exented Source:
A List of iPad Models / Generations: The iPad Pro, iPad Mini 4, iPad Air 2, The iPad Mini 3, The iPad Air, The iPad Mini 2, iPad (4th Generation) , iPad Mini 2, iPad (3rd Generation), iPad 2, iPad