How to Convert Blu-ray to Final Cut Pro (X)
The world of disc-based media has shifted from DVD to Blu-ray, which holds much more data than DVD disc and provides much higher picture quality for playback. While Blu-ray lets you sit back and enjoy the full HD 1080p movie on home theater with kids, there's a chance you'd like to put your Blu-ray collections onto Final Cut Pro X for editing, regardless of whether you need to grap parts of the entire movie, or add some special effects to make a gift, or anything else.
Unfortunately, copying the contents of Blu-ray into Final Cut Pro X application on Mac is not as easy as you do that in DVD. Blu-ray discs carry with more complicated encrypted algorithm against ripping than DVDs. Something like VLC won't gives you option to bypass the protection so that you will use Handbrake to convert the Blu-ray movie into a more accessible file that will work on Final Cut Pro X.
Thankfully, there's plenty of Blu-ray ripping software available for you to do just that. Amongst them, Blu-ray Ripper for Mac (Blu-ray Ripper for Windows available) is our favorite, which does all the work with a few easy clicks. The program allows users to strip both DVD and Blu-ray of their protection and convert the movie into a format that can be imported into Final Cut Pro X, and offers options to convert the Blu-ray movies to a variety of popular file formats that you can then playback on your PC, a portable device, or a media player.
Before the actual ripping task, you will need to prepare the following things.
Make sure you have an external USB Blu-Ray Drive ready to connect with your Mac. You can't rip a Blu-ray to Final Cut Pro X file without using a Blu-ray Drive to read the disc firstly. If you don't already have one, you can get tons of choices from a 3rd party retailer like Amazon, Currys, Tesco, John Lewis, and more.
Anywhere from 30GB to 60GB of hard disk space. Blu-ray disc can hold up to 25GB of data (single-layer) or 50GB of HD content (dual-layer), so depending on the duration of movies in Blu-ray you're ripping for FCPX, you'll need a good amount of space on your hard drive.
At this point, assuming that you've installed the program on your Mac, we're ready to rip the first Blu-ray disc for Final Cut Pro X application. Let's begin.
See also: How to convert a Blu-ray to MOV video files on Mac OS X
STEP 1
Scan the disc and load movie content
Insert the Blu-ray disc you want to rip for importing into Final Cut Pro X and launch the program.
The program will work on the fly to scan through the contents of Blu-ray for a while automatically. Once the disk has been opened, you will see a list of titles that including main film, extras and trailers. Simply select the title with the largest file size which is usually the main movie (often more than 20 or 30GB), along with the audio tracks and subtitles if you want to include in the rip, and click "Open".
After the title(s) imported, you will see something like the screenshot shown below: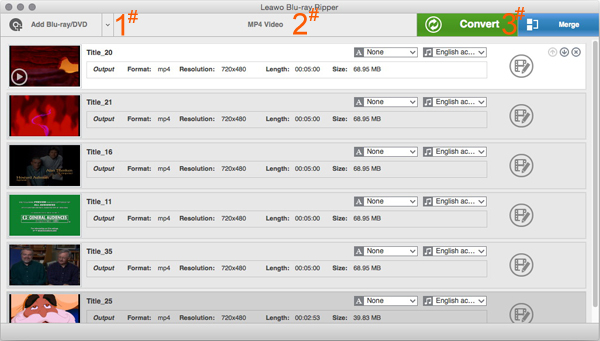 STEP 2
Select output options
According to Final Cut Pro X: Supported media formats from Apple official, Final Cut Pro X accepts MP4, MOV, MTS, 3GP, AVI, containers and H.264, AVCHD Apple ProRes video formats well.
Since Blu-ray adopts H.264/MPEG-4 AVC standard to encoding videos, to keep things simple, we'd like to select h.264 video with .mp4 (recommended! the most widely supported file type at current) file extension, .mov or .mts as output.
So we click the "MP4 Video" drop-down menu on the top menu of interface, from the drop-down menu click the "Change" option to enter format-choosing panel. You should see a window like this: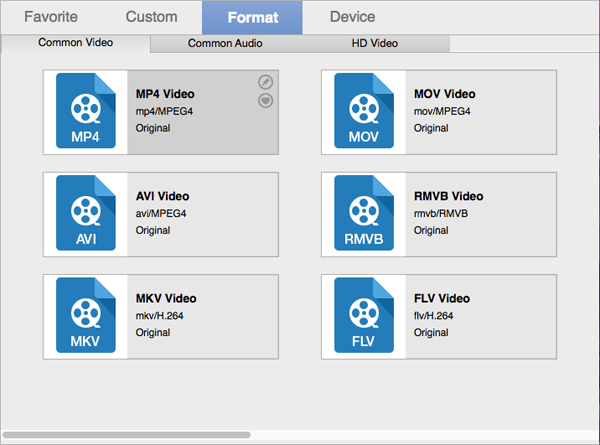 In "HD Video" tab, pick "MP4 Video" as the export file format.
This Blu-ray Ripper for Mac lets you access the complete library of exporting settings by clicking the Pen icon at the upper right corner of format profile, as you can see in MP4 profile.
You can keep the original 1920 x 1080 pixel in "Resolution" box, for example, or reduce it to 1280 x 720 which will sacrifice a bit of image quality but dramatically cut down on the file size.
It's worth noting that in "Video Codec", make sure you select H.264 in the box.
It's advisable to leave everything to their default values, if you have no experience about them.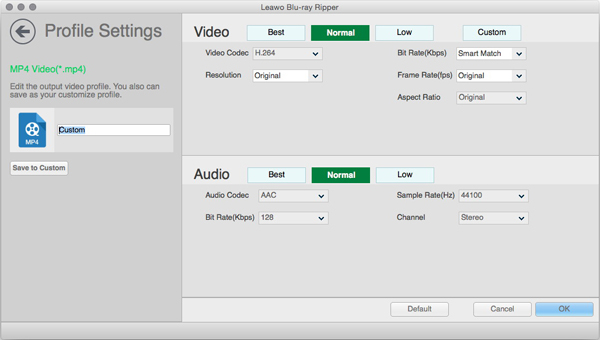 In addition to convert Blu-ray movie files to MP4 (or other formats) for editing in Final Cut Pro X, one particularly handy feature of this Blu-ray ripping tool is it gives you a large selection of preset profiles in "Device" tab next to "Format". It's really useful when it comes to converting Blu-ray movies for watching on a device of your choice such as iPad, iPhone, Kindle Fire, PS4, Xbox One, Apple TV, etc. Also see - How to rip Blu-ray to play on iPad.
STEP 3
Click "convert" to begin converting Blu-ray movies
Before you get started converting Blu-ray movies to Final Cut Pro X video files, you will want to decide where to save the result MP4 files.
Click the "Convert" button on the top right side, this will pop up a dialog where you're going to specify a local path in "Save to..." box.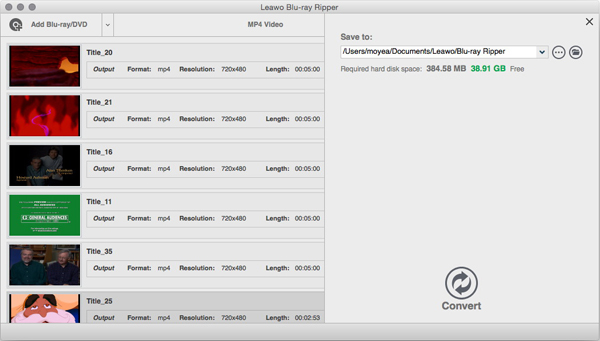 Once you've done that, you can press the "Convert" button again to get the Blu-ray to Final Cut Pro X rip started. The process will take anywhere from a few minutes to hours, depending on the size of the 1080p movies in Blu-ray, computer hardware and converting settings.
After the Blu-ray conversion finished, you've got yourself high-definition MP4 files that can be imported into Final Cut Pro X for editing, or just keep on your local folder you set previously for using later.