How to Rip Blu-ray to flac, mp3, wav, m4a, acc
There's always great audio content in whatever Blu-ray disc collections you have in your library. Those of you probably want to get a Blu-ray to audio converter tool to rip just the audio of Blu-ray into flac, mp3, wav, m4a, aiff, m4r, ogg, ac-3 5.1, aac on Mac OS X & Windows, and export the soundtrack to your audio player so that you then listen to just the music.
Thankfully it's not too hard to rip a Blu-ray to audio files (FLAC, 320kbps MP3, 24bit WAV, WMA, AC3 5.1, AMR, AAC, OGG, AIFF, MKV, MP2, M4A, AU) on your Mac & PC computer and then watch them on your gadgets of choice. There are a lot of different ways of ripping Blu-ray and extracting audio files out of it. This article will guide you on how to get the blu-ray ripped to different types of audio formats including MP3, FLAC, AC3, AAC (MPEG-4 audio), MKA, M4A and much more using Blu-ray converter software.
What You Will Need:
A Blu-ray ripping program. Blu-ray Ripper is designed to be easy and straight-forward to use. It does not require you to dump the digital copy of blu-ray/ DVD disc on the hard drive and then another step to convert to audio files. It's perfectly capable to read the contents of both DVD and Blu-ray and automatically bypass any current protection you disk may have as soon as you open the disc in the program, you then can implement the converting procedure from DVD/ Blu-ray to AC3 5.1, MP3, AAC, FLAC, M4A, M4R, MP2, MKV, AU, AIFF, WAV, OGG, AMR and WMA in Mac.
You can even use the program convert the Blu-ray to M4V, MP4, AVI, MOV, MKV and other digital videos with the program hassle-free. Here is one of full instructions about converting Blu-ray to MKV file format for Mac/ PC.
A Blu-ray drive. You will have to need a BD drive to read the blu-ray disc before the next procedure.
Enough of free hard drive space to save the exported audio files.
How to rip a DVD/ BD into MP3, AC3, AAC, FLAC, M4A, WAV, AIFF, WMA
This guide will describe the basic steps to extract the audio files from your Blu-ray and save as lossless flac, wav, ac3, aac, mp3, m4a, aiff, ape, ogg, mka, au on Mac OS X.
STEP 1
Add source file(s)
The operation is straightforward and very noob friendly. Insert the DVD or Bluray you wish to rip in your Mac, click "Add Blu-ray/DVD" (#1) at the top left of the window. The program will display a window asking which file(s) should be opened. Select the BD/DVD files and then click 'Open.'
Wait a few seconds while this Blu-ray to audio converter loads the titles from the disc.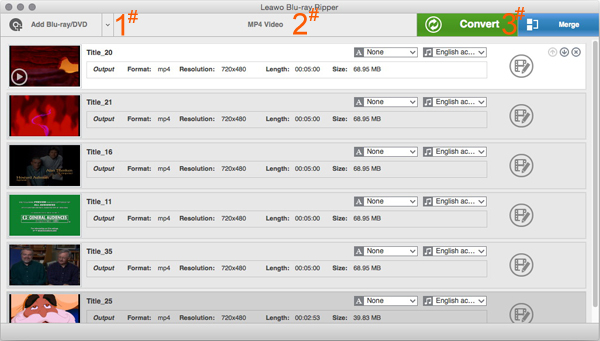 STEP 2
Select your desired Audio format as output
After the movies loaded, select an audio file as output format under "MP4 Video" > "Change" >"Format" (#2) on the top middle of the screen.
This Blu-ray ripper supports a large number of audio formats as output. You can choose rip your Blu-ray to AAC, M4A, AC3, M4R, AIFF, MP2, AMR, MP3, OGG, MKA, AU, FLAC, WAV and WMA.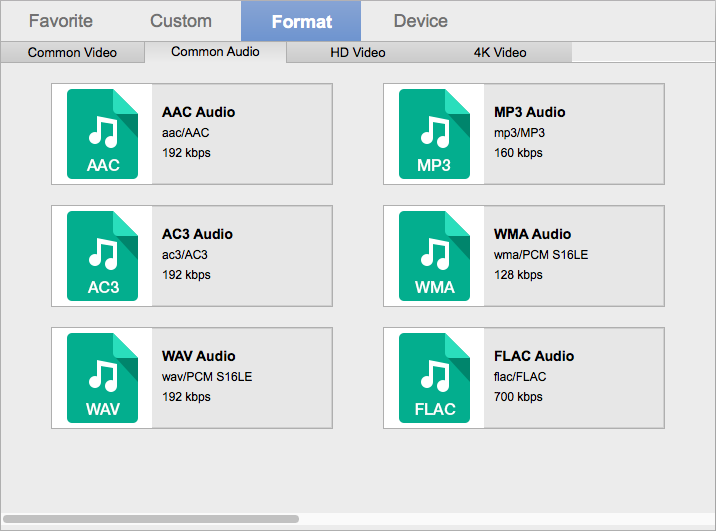 You can then configure the audio settings such as codec, kbps, sample rate and channel. For example, you can rip the disc to AC3-128kbps, AC3-192kbps, AC3-320kbps, AC3-512kbps. Some of other common used audio formats such as FLAC and MP3 have a wide range of adjustable kbps: 128 kbps MP3, 160 kbps MP3, 192 kbps MP3, 320 kbps MP3; and 352 kbps FLAC, 700 kbps FLAC, 760 kbps FLAC, 1520 kbps FLAC.
Yes, the final size will be larger of smaller if you choose different settings. Or leave all those things alone to keep the original quality, it's your choice!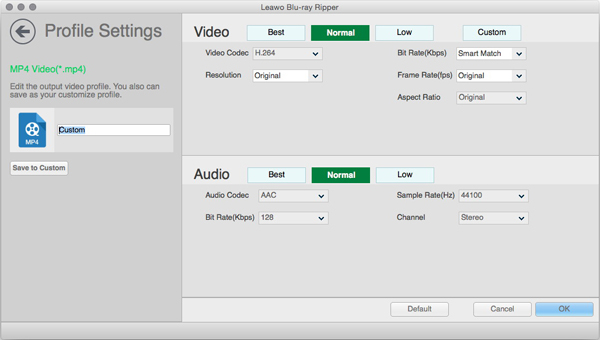 Also see - how to convert a Blu-ray disc to MOV video on Mac for a tutorial.
STEP 3
Start converting Blu-ray to audio files
Next, click the "Convert" (#3) button, it will bring up a sub-window, from there you select the target folder for the extracted audio tracks.
Again, click the button to start the encoding when all is ready and go and make a cup of tea.
The process of converting Blu-ray to FLAC, MP3, AC, M4A, AIFF, OGG, WAV, WMA for Mac will take several minutes or hours. This will vary a lot depending on specs and your Mac's hardware.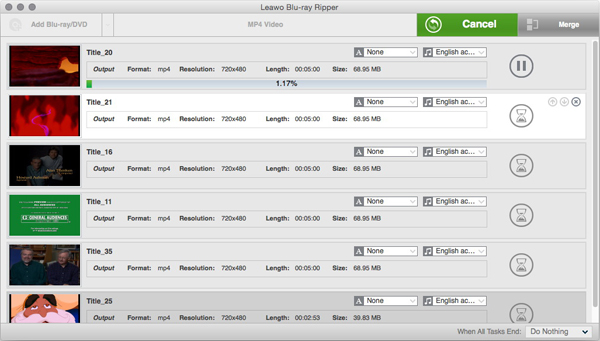 When process completes, you would get pretty good results for audio playback.
It's your time now, enjoy it!
Aside from converting the Blu-ray to FLAC, AC3, MP3, WAV, MP2, M4A, M4R, MKA, AMR, OGG, AU, AIFF and WMA audio files, you have options to rip your Blu-ray movies to popular video files like MP4, MOV, H.264, MKV, AVI...
More Tech Tips
WMA to MP3 Mac - transcode the audio files in .wma to a more popular .mp3 digital audio