How to convert Blu-ray to H.264 video
Over the years we've talked about ripping DVD movies you own to H.264 compressed file. Now, Blu-ray Disc has been gaining a lot of ground. Is it possible for you to convert Blu-ray movie to H.264 quality file?
As a successor to today's DVD format, Blu-ray offers more than five times the storage capacity of physical DVD and carries HD movie content to our HDTVs. If you want to enjoy full-definition quality 1080p movies, Blu-ray is just the medium of choice.
However, you won't get far to watch Blu-ray movies if there is no a Blu-ray player connected with your HDTV or a Blu-ray player software on your Macs and PCs. And the fact is that as the Blu-ray has Digital Content Protection, you won't be extracting the digital copy of Blu-ray to stream on your iPad to pass the time when on a boring road trip or plane flight. Well, time comes to our today's topic - Why not rip your Blu-ray collection and convert the movies of Blu-ray into H.264 video in Mac or PC.
As we all know, the movie files on most Blu-ray discs is encoded with MPEG4 AVC codec and wrapped in .m2ts container, so to create your own digital copy of a Blu-ray movie while as the same keep the loss of quality to a minimum, you are recommended to rip your Blu-ray to H.264 video, a standard for video compression of high definition content in industry. Plus, video using the H.264/MPEG-4 AVC format has a great playback experience in today's Apple Mac products and Android phones.
Three Things You Need
Blu-ray to H.264 ripping utility. Here we're going to use a program called Blu-ray Ripper. In my example, I will be using its Mac version - Blu-ray Ripper to rip and convert Blu-ray into H.264 movie file. The process is fairly simple and straightforward. You fire up the program, it automatically remove the copy protection and read the contents of Blu-ray as soon as you insert it into the drive, then set the output H.264 format and path, and click the "Convert" button to let it do the rest.
A Blu-Ray Drive. This is pretty obvious; You'll first need a Blu-ray drive to read the disc regardless of whether you have a Mac or PC. There are many brands out there you can choose from Amazon, Newegg, eBay. For Mac machine, you will need to get an external Blu Ray drive attached via USB.
Enough hard disk space. Blu-Rays are big. A standard dual-layer Blu-ray Disc can hold 50GB, and we're going to rip the whole Blu-ray Disc to H.264/MPEG-4 AVC quality video, which preserves good video quality at substantially lower bit rates, so you'll need a good amount of space. In my experience, 60GB+ of free space is recommended.
Related: how can you convert Blu-ray movie to a lossless MKV format.
How to convert a Blu-ray to H.264 files on Mac
STEP 1
Load Blu-ray sources
Open up the program and click Add Blu-ray/DVD (#1) to navigate to the drive where you put the Blu-ray disc. All of the Blu-ray contents will be shown in front of you. Now, the real power of this Blu-ray to H.264 converter is that you can select specific titles you want to rip, after that, click the "Open" button, the program should then load it up, as you can see below.
Here, you can select Subtitles and Audio tracks for each title, which gives you immense flexibility, and saves you a lot of time and space.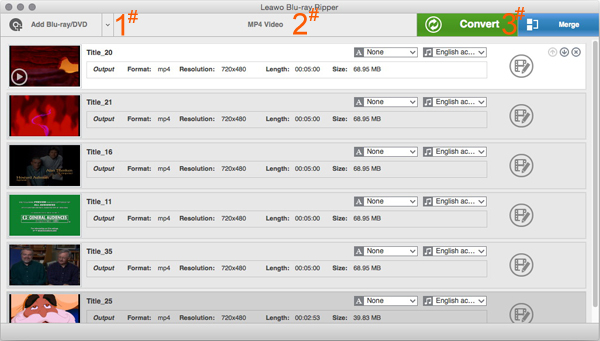 STEP 2
Set the output to MP4 with H.264 compression
Here choose a video format a preset you need.
You can choose MKV, MP4 and M4V as the resulting container file with H.264 encoded video in the Output (#2). MP4 is the default and our prefer for its high compatibility for both Windows and Mac. Click it then hit the Edit button in the drop-down menu and move to the next step.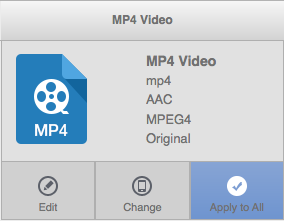 Here make sure H.264 is selected as the Video Codec. You also have options to tweak the file size and picture quality. I chose not to touch any of these.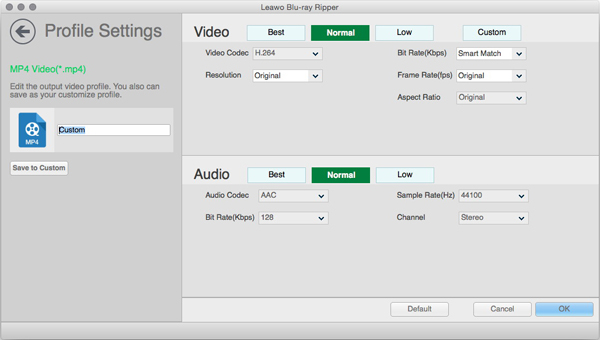 After you've set the encoding parameters, click OK to close the window.
You can also follow the instruction about how to rip and play Blu-ray movie onto iPad.
Back to main interface. There is a clicking Edit icon on the right side of every title.

Click it you can then enter the editing mode where you can choose to crop, trim the video and add effects on it.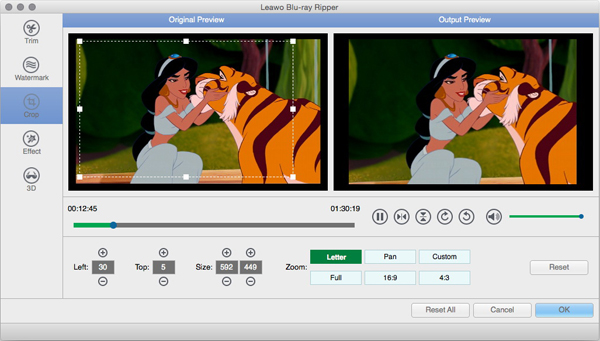 It is time to transcode Blu-ray movie to H.264 now. Press the big green Convert (#3) button. In the window that opens it will ask you where to save the ripped Blu-ray files. After that, hit the "Convert" button again. The process of ripping the files from Blu-ray disc to H.264 video for Mac OS X will begin.
Process times will vary hugely depending on your Mac's hardware specs and which titles and extra features you selected. You can monitor the progress through the bar below the title you are ripping.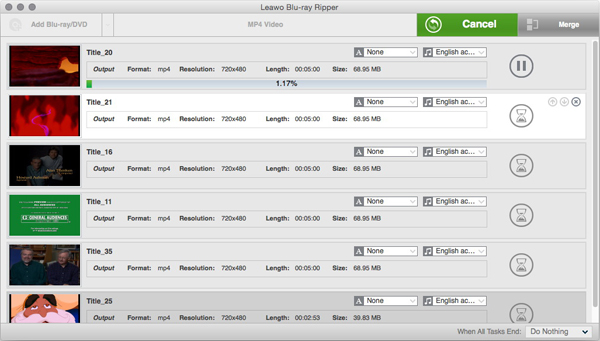 Now that you have all your Blu-ray movies ripped into H.264 MP4 file in Mac, you can move on to putting them into your iOS like iPad for example, and watch them anytime.
Have a good time!