How to Backup Blu-ray onto Hard Drive on Mac & PC Computer
We live in a world where we can easily watch hot movies and TV shows at our fingertips on our smart phones or stream right to big screen HD TV in living room via Internet connection. However, you've probably got some Blu-rays lying around the house which you'd like to copy the content of those Blu-rays to your Mac/ PC computer, or better still want to transfer them to your portable player so that you can watch your movies wherever you want.
Whatever the reason, ripping a Blu-ray disc on computer and copying to (external) hard drive is as simple as you handle the DVD ripping; it takes a bit more time than ripping your DVD collection, but it's not much more difficult. Please note that the process involves of using decryption algorithms that circumvents protection schemes covered in Blu-ray discs, you can only rip your own Blu-ray movie collection for personal use.
Getting the software
To make digital copy of Blu-ray to your hard drive on computer that you have a lot more flexibility when it comes to the playback on media player or portable device, you have to rip it from the disc. Blu-ray Ripper is what we'll use in this workflow. This clever piece of software will circumvent any known protection mechanisms the BD/DVD disc may have and offering all sorts of options for managing audio tracks, subtitles, and converting the content to common files like MKV, MP4, H.264, WMV, MOV, AVI, M4V, FLAC, MP3, AC3, AAC. Also note that Presets are available for ripping both Blu-ray and DVD to device-compatible formats such as an iPhone, iPad, Samsung, PS4, Xbox One.
Getting the hardware
Enough hard drive space to hold the ripped Blu-ray movie files. The size of a Blu-ray can vary from anything from 25GB to even 50 GB, so whether you want to copy Blu-ray to the Mac & PC computer or backup on an external hard drive for later use, ensure you have got enough amount of free hard drive space.
Blu-ray optical drive. Obviously, you must have a BD drive capable of reading data on a Blu-ray disc. Since Mac OS X doesn't ship with an optical drive any more, to make a copy of your Blu-ray movies and save on your Mac you'll need to buy an external USB Blu-ray drive. For Windows users, you may check if your computer comes with a BD drive by default, or else get one.
Note, if you want to rip the Blu-ray to (external) hard drive as ISO file, please refer to Blu-ray Copy.
How to put a Blu-ray onto the hard drive on your Mac & PC computer
Given you have installed the right version on your computer, it's time to begin ripping and copying Blu-ray to your hard drive on computer to create a library of digital movies that're playable on a desktop, laptop, smartphone or tablet, here's how to do it.
Note, the process is the same for backup your DVD collection to your computer.
Place a Blu-ray disc you want to copy to hard drive into the optical drive and open up the program.
Upon inserting the disc, this Blu-ray ripper program will work seamlessly in the background to get around the copy protection covered on the Blu-ray disc, with built-in decryption algorithms.
Click the "Add Blu-ray/DVD" button on the top left side, a dialog box appears. Navigate to the path of the BD optical drive where your Blu-ray located.
After scanning through the disc for a while (depending on how much data is on your disc) the program will show you a list of video titles. If you couldn't decide which one was the main movie, check the resolution, size and bitrate. In general, select the largest one which often has a size of more than 20 or 35GB.
Also, pick the audio, subtitle tracks, menus and other special features you want to include in the rip to load them onto the program window. Or select all of them to make an exact copy of your Blu-ray onto hard drive on computer.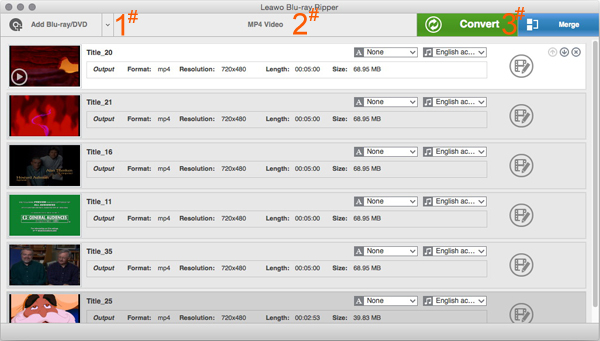 If you need performing some editing on the imported video titles, click the edit icon to the far-right of each item – you'll enter an editing window where there are filters including trim, crop, effect, watermark ready for you.
Since in this article we just intend to rip the contents of the Blu-ray to Mac & PC computer hard drive, we here won't make any change on original files of disc.
STEP 2
Select a universal digital format as output
The next thing we need to do is select a format profile we want to rip the Blu-ray to be.
Hit the drop-down menu named "MP4 Video" at the top middle of window, in the pop-up window press "Change" option.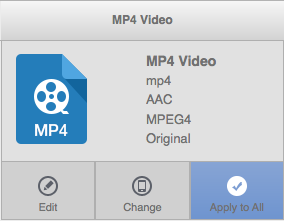 Next, a Format profiles windows will show up with a list of different formats including MP4, WMV, AVI, MOV, M4V, MKV, FLV, MP3, WAV, AC3, AAC, FLAC.
Select any of them you like as exporting file format. Personally, MP4 is our prefer file type which has become a common denominator across multiple platforms. However, MKV is also popular for its capability of including multiple audio tracks, extra features such as subtitles and multiple languages without sacrificing image quality. You can still use MOV as output especially if you're on a Mac, while its counterpart - WMV is perfectly accepted on Windows operating systems.
Also, in "Device" tab, you can find a slew of pre-configured device presets, meaning you can rip Blu-ray disc to your hard drive and then copy to that device of choice for playback without setting any resolution, bitrate or frame rate.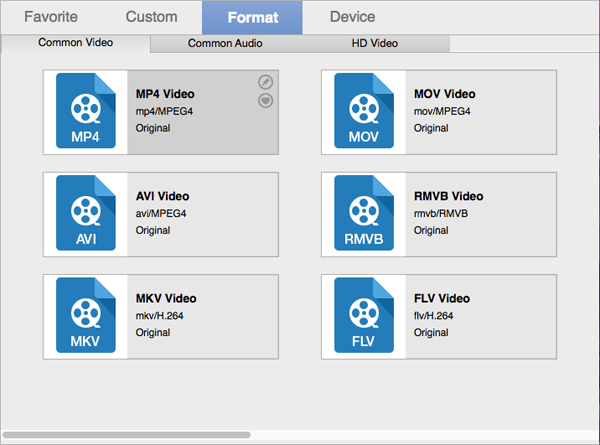 Aside from getting movie files off your Blu-rays and copy to hard drive, there are also plenty of advanced features that allow you to fine-tune the final quality of your movie. Because of the size of the original movie file would be 25-35GB, you may want to adjust a couple of settings to compress the file to a smaller size, for example.
In that case, you click the Pen icon on the top right corner of format (you can see that icon on the "MP4" profile as screenshot shown above) and it will bring up a "Profile Settings" window where you will be experimenting with everything (bitrate, frame rate, aspect ratio, channel, resolution, sample rate) you like.
Generally speaking, for Blu-ray you set anything in "Bit Rate" box should give you no visible loss of picture quality as long as its value higher than 8,000kpbs. 12,000kbps is advisable. Plus, you can consider toning the resolution of original movie from 1080p down to 720p in "Resolution" box, 720p is still HD, but takes up quite a bit less space.
However, you'd better leave all settings at their default if you don't know what you're doing. The software already keeps the video at "original" or "smart match" value.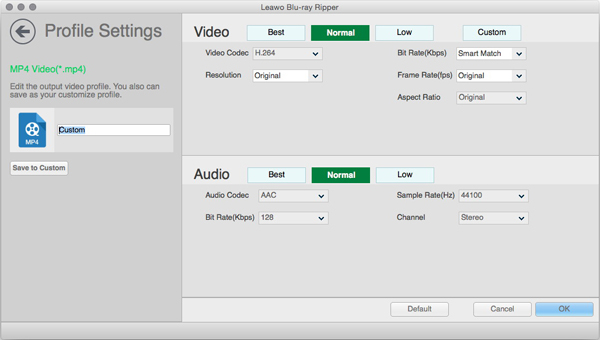 STEP 3
Press "Convert" to start copying Blu-ray movie collection to hard drive
Now it's time to rip and extract the video and audio files from Blu-ray and put them on your (external) hard drive on computer.
Hit the green "Convert" button, a pop-up window will prompt you to specify a path for saving digital copy of Blu-ray on your hard drive and give a name. Fill in the appropriate information.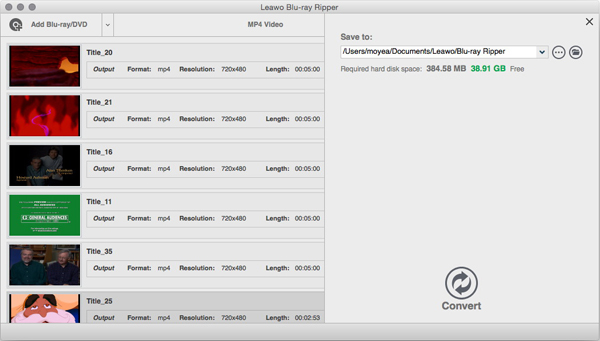 Again, hit the "Convert", the program will start its engine and begin ripping the Blu-ray movie onto your computer (Mac & PC).
Processing all the information contained on a Blu-ray will take a significant amount of time, anywhere from a few minutes to a couple of hours, depending on the speed of your Blu-ray drive and computer hardware.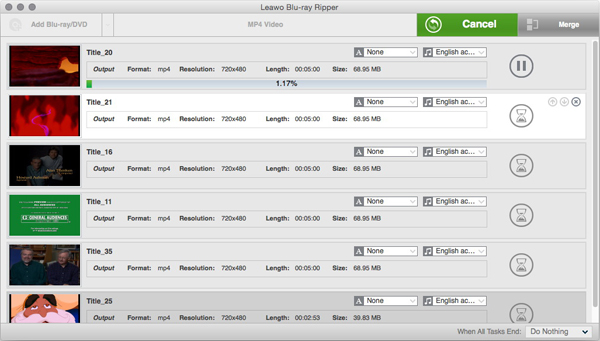 Once the process is finished, you will find the digital files of Blu-ray on hard drive folder ready to be enjoyed either in favorite video players on your Mac or Windows computer or put onto a portable device for playback on the go.
Enjoy!