How to Rip Blu-ray/DVD to ISO for Mac and PC
If you're looking for a quality method to create ISO image files from Blu-ray/DVD discs lying around your room, you've come to the right place.
An ISO image is an archive file of an optical disc, the file is large and completely uncompressed. ISO is capable of storing a lossless copy of a Blu-ray or DVD with keeping the quality exactly the same as the disc itself. Desktop media player on your computer like VLC can easily play these ISO image files backup on hard drive, and some stand-alone players also support the playback of DVD/ Blu-ray ISO files in your external hard drive. One big advantage over archiving DVD/ Blu-ray as ISO files is you can re-burn those ISO files to Blu-ray/DVD disc later on, or convert to whatever file type of format of your choice.
It's actually easy to backup Blu-ray disc to hard drive as ISO image file on Mac OS X or Windows, as long as you get a right Blu-ray to ISO ripping tool. Although Blu-ray comes with very heavy copy protection than that in DVD, you still can find some hassle-free solutions for ripping Blu-ray movie to ISO images to your hard drive.
Please refer to our detailed walkthrough on how to convert Blu-ray to MOV format on Mac if you want to get a more manageable file from Blu-ray disc.
What You Will Need:
A Blu-ray ripping tool to create ISO file. Blu-ray Copy is our favorite. It's an efficient program that enables you to copy the encrypted Blu-ray disc to an .iso image file, offering one-click option for dumping the contents of a Blu-ray to ISO or disc (DVD or BD) folder on your hard drive. You can even use it to clone your Blu-ray or DVD to new blank BD/DVD disc with 1:1 bit-to-bit ratio without quality loss.
Enough free space. Blu-ray can hold 25GB - 50GB or more GB of data, the ISO files are exact replications of the Blu-ray disc, so the ISO file will be the same size as the original Blu-ray. You will have to prepare enough amount of free space on your computer or use a terabyte external hard drive.
A Blu-ray/DVD drive. Obviously, you need it to read BD file before you can backup the Blu-ray content.
The following guide we will take the process of ripping Blu-ray to ISO in Mac for example.
Steps to Copy DVD/ Blu-ray to ISO File on Mac OS X
STEP 1
Load Blu-ray or DVD source
Connect your external USB Blu-ray drive to your Mac and insert the disc you want to backup for ISO images.
Open the Blu-ray Copy and click Add Blu-ray/DVD (#1), it pops up a dialog asking you to select the source file you wish to import into the program.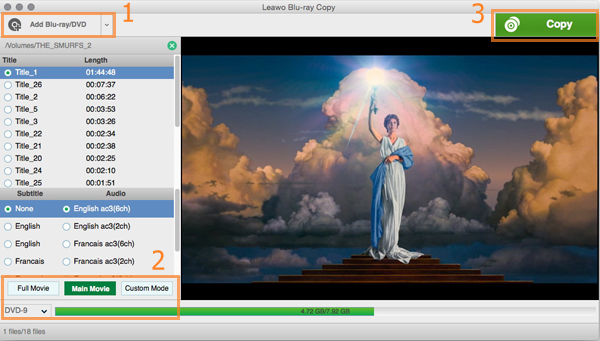 STEP 2
Set necessary options
After your Blu-ray or DVD content loaded, choose a copy mode (#2) to select Blu-ray content you need to rip to ISO.
The "Full Movie" allows you to copy the whole disc, "Main Movie" mode will automatically just copy the main movie title with longest duration, while the "Custom Mode" gives you the ability to select exact title/subtitle/audio track you wish to backup.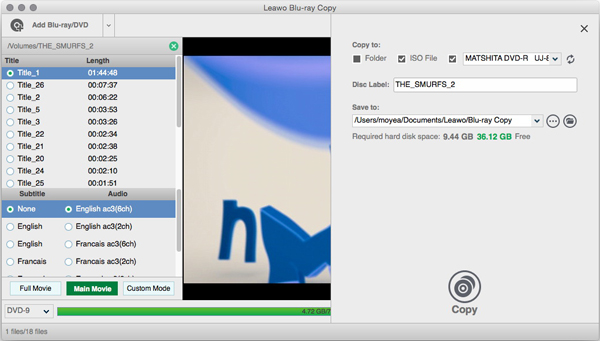 Tip: the program will automatically analyze the output files and display an estimated size on a green bar on the bottom of the screen.
STEP 3
Start copying DVD/Blu-ray to ISO image in Mac
Now, click the big green Copy button (#3) on the upper right-side of the screen, it will bring up a backup setting panel, where you need to check the "ISO File" option, and define the location to save the resulting ISO image file.
Again, click the Copy button, the process of creating the ISO image of Blu-ray (or DVD) on Mac begins.
The process of creating ISO doesn't take a long time, because the program just copy data, without doing any format encoding & compressing task. But that is exactly why the resulting ISO file can be very large.
A few minutes later you'll have your Blu-ray copied to ISO image in your Mac hard drive (the location you selected earlier) for further processing. You can then play it with VLC, or convert it to a common video for viewing on handheld devices, or re-burn to a disc. It is your freedom!
Read next: how can you convert a Blu-ray to MP4 (h.264/mpeg-4 AVC) videos on Mac.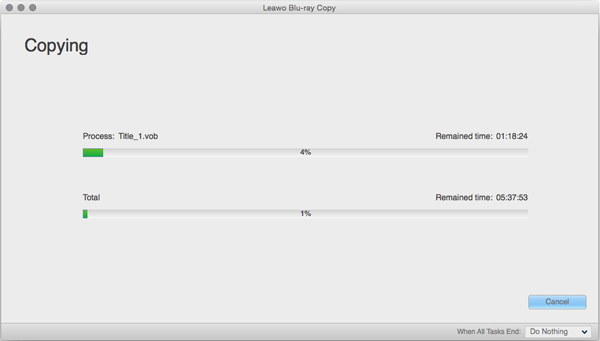 Important: If you want to rip Blu-ray to ISO as well as clone the Blu-ray to DVD at the same time, you don't need to open another new project.
Simply go with the same Step 1 and Step 2, in Step 3, aside from checking "ISO File" option, you'll have to check the option next to "ISO File", and set the disc type (DVD-5, DVD-9, BD-25, BD-50 available), and finally click Copy button to begin the process. After the process complete, you pop up the source disc, and you'll be prompted to insert a disc to start write process, just insert a blank or rewritable Blu-ray/DVD according to what you choose for the disc type. Then Blu-ray to DVD/BD write process will begin.
Related Articles