How to Copy Blu-ray to M2TS File
M2TS is a filename extension that's based on the MPEG-2 transport stream container. It is commonly used for digital broadcasting and the AVCHD camcorder format. It is also a standard used on Blu-ray Discs.
In a Blu-ray disc, there has been a set of .m2ts files placed in the …/BDMV/STREAM/ (or …/BDAV/STREAM/) subdirectory. In addition to playing Blu-ray films and movie on your computer with a Blu-ray player, you may want to extract the main .m2ts movie file from Blu-ray and backup onto hard drive to protect your optical drive from excessive usage. Rather than the time-consuming process of converting your Blu-ray movie to a high definition video format (mp4, mov, mkv, h.264...) to make a digital copy of the disc on your HDD, ripping and copying the whole Blu-ray disc into the original M2TS file will actually save you a lot of time.
There are various of Blu-ray to M2TS ripping applications out there you can get to do this on your own - What we'll use is a simple enough program called Blu-ray Copy. It is a cross-platform product that works for both Mac user: Blu-ray Copy for Mac, and Windows user: Blu-ray Copy for Windows. It decrypts and copies a Blu-Ray disc to M2TS file with just one click, and the resulting output files are gorgeous without any quality loss.
Please keep in mind that as Blu-ray rips typically are between 20GB and 50GB in size, you will need the hugh free disk space on your computer. For the sake of safety, you'd better prepare as much as 50GB free space for the target M2TS movie files, depending on how much data you Blu-ray disc holds. Alternatively, you can choose to backup Blu-ray movies onto external hard drive if you're going to work with multiple Blu-ray discs you want to copy to M2TS.
I'll describe how to do everything you need to do in each step to get your M2TS movies copied from a Blu-ray disc. Here I will take Blu-ray to M2TS on Mac for example, the steps are exactly the same for Windows.
How to Rip a Blu-ray to M2TS video files for Mac OS X
STEP 1
Load Blu-ray source
Insert the Blu-ray into optical drive in your Mac, click the "Add Blu-ray/DVD" button, and navigate to the drive to select the Blu-ray titles, then click Open button.
The program will now scan your Blu-ray titles. This takes a few seconds depending on the contents of the BD and the speed of your optical drive.
Please note as the main movie on a BD often consists of a single large .m2ts file, if you just want to rip the Blu-ray main movie to M2TS file, simply select the longest movie title as input.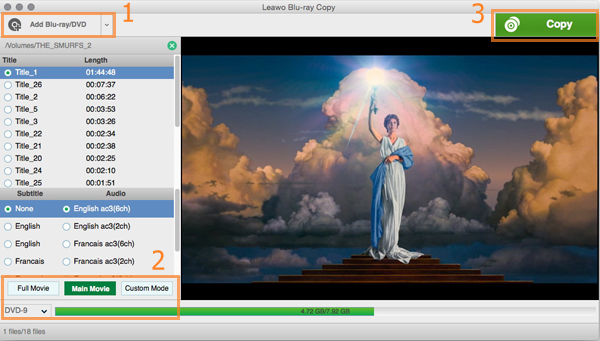 After the source imported, the program will display the titles with relatively information including length, subtitles and audio tracks.
There are 3 modes on the bottom left-side of the screen you can choose from:
"Full Movie" to copy the whole contents of Blu-ray onto the Mac's hard drive without any data left alone, "Main Movie" to just copy the main movie, and "Custom Mode" to choose things selectively.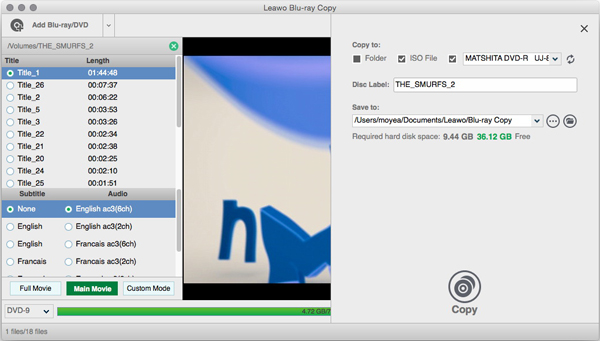 Next, click the blue "Copy" button on the top right side, this will pop up a panel asking you set some necessary preferences before the process. See the right-side section of the screenshot above.
Tick the "Folder" option (important!), set a disc label, and then choose a local destination in "Save to" box where you want to save the resulting files. Here you can also tick the "ISO File" option if you want to copy the Blu-ray to ISO image at the same time.
STEP 3
Begin copying Blu-ray movies to M2TS file on Mac OS X
Again, click the "Copy" button to start the process of copying your Blu-ray to M2TS in Mac.
The program will show you both the time remaining and percent completed via its 2 blue bars.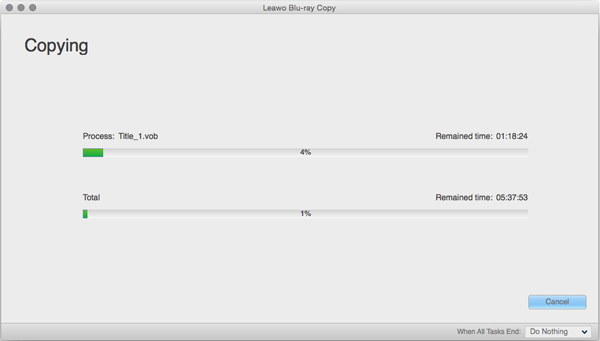 A few minutes/hours later you will have M2TS file(s) containing the exact video and audio streams of your Blu-ray disc in the folder …/BDMV/STREAM/ (or …/BDAV/STREAM/) on the location you specify in the step 2.
There you have it! Also see a detailed walkthrough on how to play Blu-ray movie on Apple QuickTime.
You can then compress the M2TS to a smaller-size file and transcode to a more efficient format like MP4, MKV, MOV, AVI if required with tool like video converter software.