How to Rip a DVD / Blu-ray to MP4 for Mac & PC
If you want to rip your DVD & Blu-ray movies and convert to MP4 HD format on hard drive on your personal computer, likely because you want to moving the video from Blu-ray Discs to "on demand" digital content so that you then can view it on portable device of your choice. The fact is that the process of converting DVD and Blu-ray to mp4 on Macs and PC's is easier than you may think.
Blu-ray is not a friendly of format for most of game consoles and multimedia players, the digital content included is highly encrypted and protected by AACS and BD+, and it only works in a few desktop computer programs which has ability to read it. For those who're running a Mac machine without an external Blu-ray drive, you can't even insert it in your Mac for reading or burning data on a Blu-ray disc, let alone make a play.
In this article, I describe an easy way for ripping and converting a Blu-ray to the broad compatibility of MP4 files on Mac computer. Here I mainly talk about the task on Mac circumstance, but the method also works for the corresponding Windows system. Related article: how to rip a Blu-ray to a single MKV file for Macs & PCs.
What You Will Need:
A Blu-ray drive. The external (USB) Blu-ray drive player is necessary because Macs do not include optical drives by default these day, you may get this type of BD drives on Amazon or eBay.
Blu-ray ripping software. Here I am partial to Blu-ray Ripper for Mac for its inclusion of a ripper and a converter tool that allows you to rip the DVD & Blu-ray and take a quality full Blu-ray converted to a MP4 file on Mac OS X which will play on a wide range of gadgets. (Note: The program is cross-platform and you can use its Windows version - Blu-ray Ripper for Windows, to convert your DVD & Blu-ray to MP4 file format.
Enough hard disk space to save the resulting .mp4 movies. Anywhere from 30 to 100 GB of free space, depending on the size of BD disc you want to rip. Blu-ray Discs is always big which contain 25 GB per layer, and 50GB for dual layer and 100GB for triple layer.
How to convert Blu-ray movies to .mp4 video on Mac
STEP 1
Select Blu-ray disc content
Open the Blu-ray ripper on your Mac, click Add Blu-ray/DVD (#1) to navigate the Blu-ray disc movies you want to rip into mp4. The software will scan the disc a few seconds.
Next you will be shown with a window claiming which titles you want to rip, you can choose full movie (all title), parts of movies, or just the main movie (the largest titles).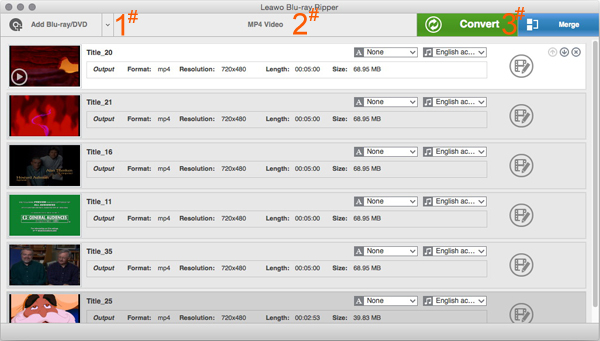 STEP 2
Set the Output Format - MP4
With the titles loaded it is time to choose the target video format for ripping Blu-ray. Head to the top menu and click the default MP4 Video (#2) option, this will bring up a drop-down menu, then click the change option.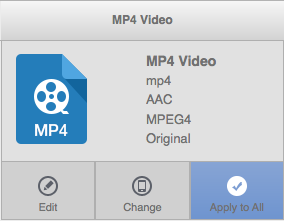 Then, a format list window displays, as can be seen below. Select Format > Common Video > MP4 Video. Or Format > HD Video > HD MP4 Video.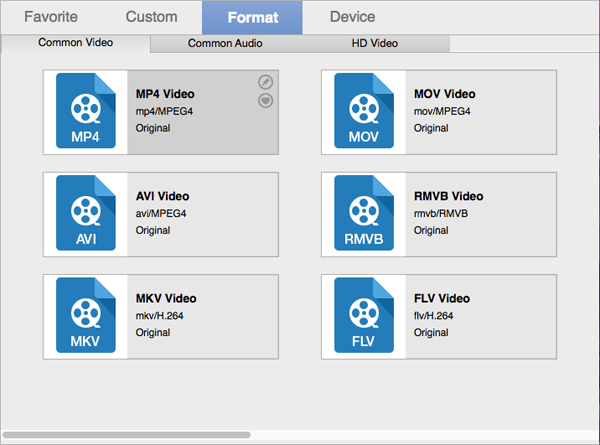 Next, move the mouse on the format, a pen icon on the upper right corner appears, click it to enter edit window: You have the options to further tweak the HD MP4 file with respect to quality, resolution and audio/video codecs as you wish. In this example we are keeping the original resolution so we leave them to the default.
If you want to experiment with it, you can manually configure the settings. For example, you can end up with an H.264 video streams and AC3 (or AAC) audio stream with 1920p x 1080p resolution, or set the video codec to MPEG4 with size of 1080p x 720p.
Note: Aside from ripping Blu-ray to an mp4 for Mac, the tool has an array of other options for exporting to work with different players and devices. You can convert Blu-ray to MOV on Mac, or to AVI, Winodws WMV, MKV, YouTube FLV, M4V and more.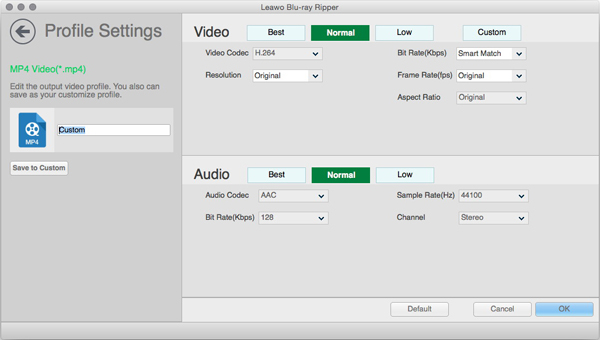 STEP 3
Convert Blu-ray Movies
If all looks and sounds good, go ahead and click the green Convert button (#3) in the very top right corner, you will be presented with another dialog box, then select your output file destination in "Save to" box by clicking on the folder icon like so: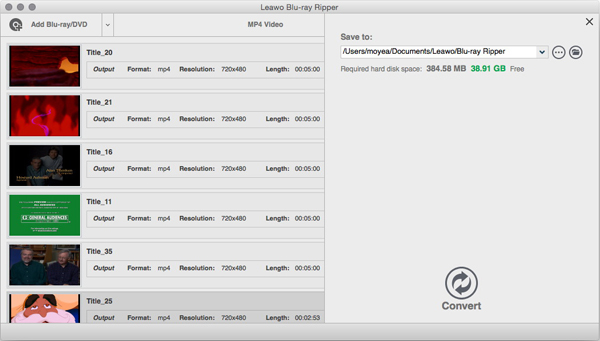 Again, hit the green "Convert" button and watch as the application transcoding the 1080p Blu-ray movie streams into a MP4 file format on Mac.
Be aware that as a Blu-ray disc always carries huge capacity of high definition movies (1080p), the encoding process is intensive and typically uses a lot of CPU capacity.
When the Blu-ray to mp4 Mac encoding is running, you can monitor the % complete and time remaining with a progress bar shown at the bottom of the corresponding title.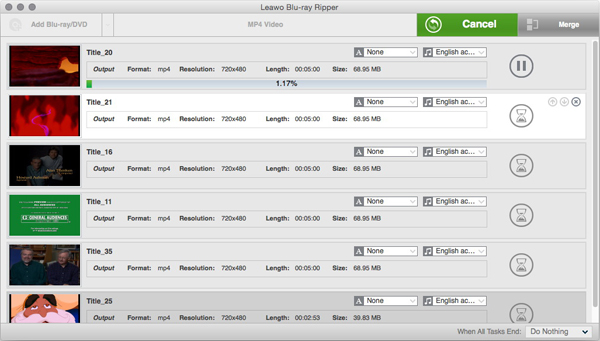 You can set the program to shut down your computer after it's finished ripping Blu-ray discs or do noting in "When All Tasks End" field at the lower right side, making it very convenient if you start converting Blu-ray to .mp4 video at night before you go to bed.
That's it! Have a good time to enjoy the new quality MP4 movies.