How to Convert PDF to BMP Image on Mac/ PC
PDF, short for Portable Document Format, is a popular file format for eBooks and manuals that has the option of jumping to a specific page or chapter. PDF can keep the original layout and formatting and assure the data included in it isn't changed unless you use a PDF editing application. However, viewing PDF files requires you to use a PDF reading program such as Adobe Acrobat Reader or plug-in on web browser. If you want someone without PDF reading application to be able to read the PDF, you may want to convert the original PDF file into BMP or other image file (jpg, png. tiff) since almost all of computer, handheld devices and mobile players has built-in capability to view high-quality BMP and other image files. See also: how to convert PDF to Word on Mac.
Before the discussion on how to convert PDF to BMP image for Mac and Windows machine, let's firstly get to know something about what is BMP. BMP, short for Bitmap, is a commonly used raster graphic format for storing digital images. The .bmp format was intended to be used on Windows platform, but is now recognized by many Mac programs. The files ending with .bmp extension offer great image quality without any compression, but also produce large file sizes.
There are methods to convert PDF and save as .bmp images on a Mac or Windows computer. In this article, we'll use a powerful and comprehensive software called PDF Converter that gets the job done in a quick way. The software provides a solution for converting your PDF documents to BMP format, and include other image files (jpg, png, tiff), Microsoft Office files (Word, Excel, PowerPoint), Text, EPUB, HTML. It also has extra features like batch conversion, Page selection and more.
Note: The Pro version of this PDF converter even gives you the ability to get scanned PDF converted to BMP file on Mac or Windows, or to other popular formats.
Steps to convert PDF to BMP image format on Mac or Windows
STEP 1
Load PDF source file(s)
Find the PDF file you want to convert by clicking "File" option on the top menu, select them and click "Open".
Or you just highlight the target PDF files, drag and drop them onto the PDF to BMP converter.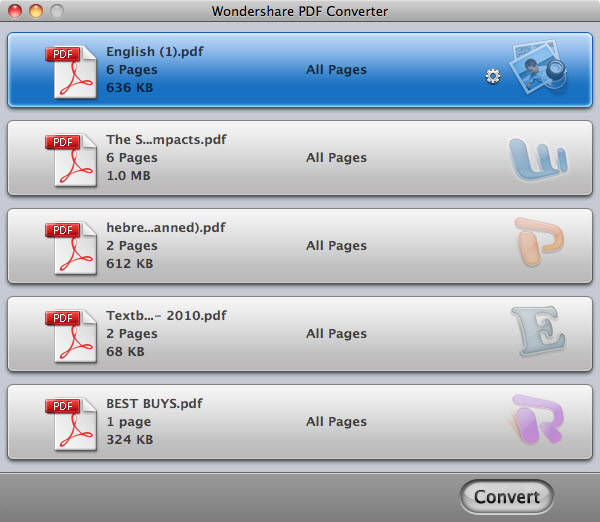 STEP 2
Pick Image as output
After the PDF documents loaded, on the far right side of the item list, you'll see a Gear icon.
Click the Gear icon and you'll be presented with a small panel where there are output profile options you can choose from. In our case, select Image from "Format" drop-down menu, and then select BMP as final file extension of image by clicking the "advanced settings" option.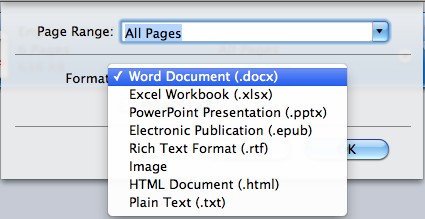 STEP 3
Begin converting PDF to BMP file on Mac and Windows
When everything is ready, move the mouse to the bottom of the interface, and hit the "Convert" button.
Let the PDF Converter to do its thing. The process could take a few seconds or minutes, depending on the number of PDF files that you are converting to BMP and your computer hardware.