How to Convert PDF to ePub on Mac/ PC
Both PDF and EPUB are common ways of disseminating information. PDF is a file format created by Adobe and is highly portable across on devices and platforms. It ensures your documents aren't changed and can preserve the exact layout and formatting of the original files that you intended. EPUB, on other hand, is the open e-book standard designed for reflowable content, which will optimize text size to adjust to the dimensions of your ePub reader or tablet's screen.
However, there are a number of situations you want to change the file from PDF to EPUB format on a Mac or PC machine. If you got a lot of ebooks in PDF format, you will find mobile e-Readers—like iPads you own—will natively read ePUB file, but none of PDF file. Also, due to PDF structure itself, the experience of reading PDF on e-Readers is not always good, you often have to zoom and pan back and forth to see everything on the page. So, in order to work better with your PDF documents in e-Readers, converting PDF to EPUB is a wise move.
While Windows and Mac don't include a native PDF to ePub converter, there are a large number of online and desktop applications can take a PDF document and convert it to ePub format you wish for Mac or Windows. Today, we'll use a program called PDF Converter. It sports a clean and simple interface, and innate supports for exporting a group of popular formats such as EPUB, Excel, Word, PPT, Image, Text, HTML. You can also choose to convert all pages of a PDF into EPUB format or convert only certain range of pages from PDF document.
Note: The pro version includes all features of Std. version, and even has an extra benefit which lets you convert scanned PDFs to epub file or any other supported formats.
This tutorial will guide you through the process of converting PDF files on Mac to EPUB file format so that they can be copied into iPad and read with iBook or other e-reader apps. You can also check the tutorial of converting PDF to Excel (.xlsx) on a Mac here.
How to convert PDF books to ePub for Mac OS X
STEP 1
Import PDF file(s)
To add your PDF file(s) to the program, press "File" button in top menu. Or you find the PDF source files you want to convert in your local folder, drag them and drop onto the program window.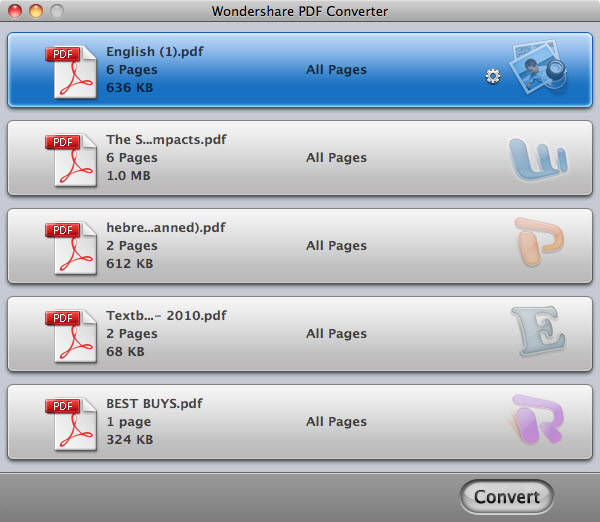 STEP 2
Choose EPUB from output profiles
After you have PDF files added, click the Gear icon on the right side of items. This will open a small panel and let you select various output options.
In our case, we simply pick Electronic Publication (.epub) from "Format" menu.
In the "Page Range" field, enter the range of the pages in PDF that you wish to convert. You're allowed to extract specified pages from a large PDF eBook or all of pages.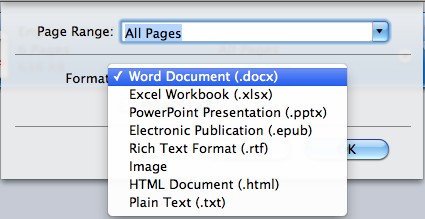 STEP 3
Convert PDF to ePub format on Mac
It's time to begin the PDF conversion procedure. Hit the "Convert" button at the lower right corner of main screen and let the conversion roll. The application will start convert your PDFs to .epub file format on Mac in a fast way.
A few seconds or minutes later, your new ePub books will be ready in your local folder. You then can transfer them to you Apple iPad for reading in iBooks or to many of other eReader devices on the market, well, except for Kindle, which only supports a .mobi format.
Enjoy! And that's it.