How to Convert PDF to Excel (.xlsx) for Mac/ PC
PDF, short for Portable Data File, is a file format developed by Adobe that's used for capturing the native elements of a document. You can use Adobe Acrobat Reader to read the PDF file on local computer or use plug-in to view on a Web browser. PDF has gained its popularity – It always carries a very small size, it's compatible with all mainstream operating systems, it preserves the original formatting and layouts from being edited or changed. This is really useful when you trying to show out documents such as product brochures, business contract, bank statement, game rule and more.
However, sometimes you may need to make a change for your PDF files to Excel. Let's say you downloaded some free eBooks on your computer recently, these eBooks are in PDF format and now you want to extract tables from such PDF into Excel on your Mac (or PC) and then edit the data for your work. Is it possible to convert a PDF file to Excel (.xlsx) on Mac OS X or Windows, without losing the correct fonts and tables layout?
There is a vast array of methods out there that claim to extract data from Adobe PDF into Excel spreadsheets. PDF Converter is our preference. It's the simple and straight-forward software: Choose the PDF file(s) you wish to convert, then select the export format and begin conversion. The program converts PDF document to excel file on Mac/ PC, and to other formats such as PDF to Text, PPT, EPUB, HTML, Text, and images, so that you then will be able to edit and analyze data that originates in a PDF for business or personal use further. You can even specify a range of pages in PDF to convert into Excel or other formats.
Important: The Pro. version of this PDF converter, bundled with OCR technology, even enables you to convert scanned PDF documents to editable Excel .xlsx spreadsheets for Mac and Windows system.
This article will show you how to turn data from PDF to save as Excel workbook (2007, 2010, 2013) for further analysis while preserving the original layout. As I'm running an iMac, here will take Mac procedure for example.
How to convert native PDF file to Excel in Mac
STEP 1
Add PDFs to program
Head to the "File" option, find the PDF file you need to convert, select them and click "Open" button.
Or open the folder where save your PDFs, drag them and drop into the program window.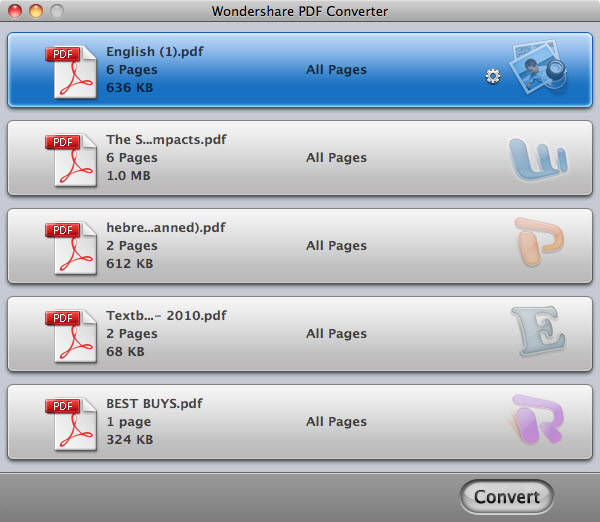 Just click the GEAR icon on the right side of PDF items on the screen, and select Excel Workbook (.xlsx) as output result from the "Format" drop-down menu.
Note: There are other output options you can see on the panel. You can also convert the PDF to TIFF, PPT, Text, ePub, HTML and image files.
In "Page Range" area over the "Format", this Mac PDF to Excel converter gives you options on how you want to convert the PDFs. Your selection can include all pages, or a range of pages ("1, 5, 17, 20, for example).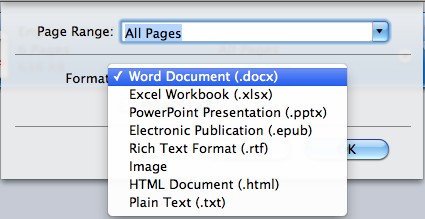 STEP 3
Start converting PDF into Excel spreadsheet on Mac
Before the actually conversion, go to "Preference..." to choose a location for your Excel export file.
Next, click "Convert" button on the lower right-hand corner of interface, then wait while the PDFs are converted into Excel (.xlsx) files on Mac OS X.
The process is rather smooth and fast, in most of cases, it only takes a few seconds or minutes.
When conversion completes, you'd better examine your converted Excel spreadsheets to check if they show what you want. If you notice any flaws, correct them and re-save the file.
How to convert scanned PDF to .xlsx Excel on Mac
A common issue many users may come across is how to convert image-base PDF document to Excel, Word (See how to convert PDF to Word on Mac tutorial here), TXT or other formats in a Mac or PC computer. There is no doubt that you have to perform "OCR" (Optical Character Recognition) on the scanned file. Thankfully, the PDF converter understands this and features OCR technology in its Pro. version. See download link below:
Download the right Pro. version according to your operating system, and install it following the wizard.
STEP 1
Install OCR plug-in
Open this PDF to Excel converter for Mac (pro. version), and load scanned PDF documents into the main window.
Next, move mouse to the lower left-hand side of window, turn the OCR button on.
Then a prompt will display asking you if install OCR plug-in or not. Simply click "Install OCR" button to install the package on the program.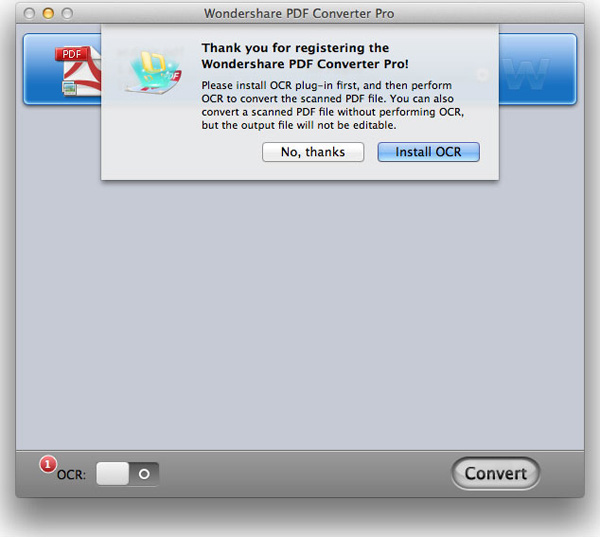 STEP 2
Configure Preference
Reload the program.
Again, import the scanned PDF files to the program and turn OCR button on.
Next, head to Preferences… > OCR menu and set the right language for the document.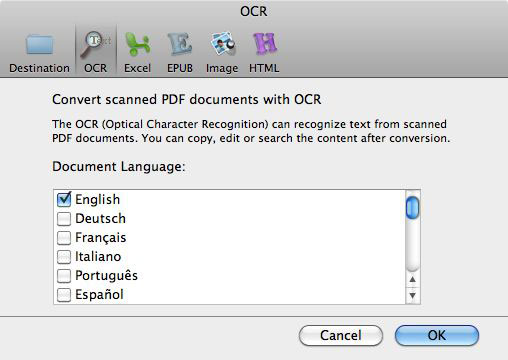 STEP 3
Pick output format
Select Excel Workbook (.xlsx) from "Format" drop-down menu by clicking the Gear icon at the right side of items. In this step, you can also choose to convert all or parts of pages in PDF in "Page Range".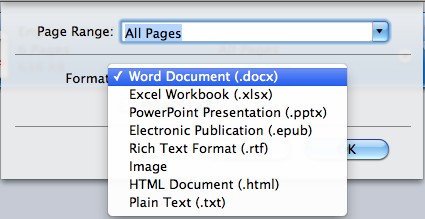 When everything is ready, hit the grey "Convert" button on the bottom to begin converting image-based PDF into fully formatted Excel spreadsheets on Mac or PC machine.